| | | |
| --- | --- | --- |
| Grampians, December 2002. | | |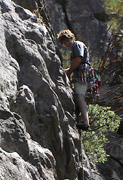 The days between Christmas and New Year have always been highly popular for climbing holidays. This year was no exception. Originally slated as a granite jamming appreciation trip to Buffalo, the plan fell through at the last minute due to overcrowding at Lake Cataini and our inability to book a site. What to do? We wanted tall adventure routes. Something to almost but not quite invite epic struggle. Challenge. Atmosphere. Hell we wanted to "feel the serenity". The answer? Mt Rosea in the Gramps of course. And so a slightly abbreviated team, consisting of myself, Kent and Ben departed for the scenic range early Friday morning, expecting to put in four long, fun days. And we did!
We found Rosea campground oddly uncrowded and quickly set up camp to stake our claim. Within minutes of arrival we were trudging up the approach hike to Rosea's impressive cliffs. Debutante, the 117m grade 15 was to be our objective for the day. After a bit of debate as to the starting point, Kent racked up and launched up the first pitch. A somewhat unexpectedly wild traverse to a double bolt belay added spice to the first lead of the trip. With all three of us settled on the small ledge I racked for the next lead, a nice corner crack, which proved challenging for the grade but containing great rest stances from which to place gear. The belay a top a detached pinnacle offered an airy seat on which the others soon joined me. A quick doddle up a short pitch brought us to the base of another corner crack. This time Ben took the sharp end, finding himself on the crux of the route. Committing moves for the grade lead up to an exposed right traverse. Well done Ben! I polished off the last easy pitch and we all assembled on the summit for the walk off, getting back down to camp with just enough light to cook by.
Above Right: Kent leading the first pitch of Debutante 117m grade 15. Above Left: Ben seconding the last pitch. Below Right: Ben seconding the last pitch of Heretic, 117m grade 17.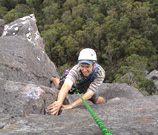 The morrow saw us upping the ante and taking on Heretic, the 117m grade 17 a little ways right of the previous day's line. Kent lead the first pitch, finding a mid-way overhang somewhat "goey" for the grade. I grabbed the second lead, swearing at the march flies and unnecessarily stressing on what were actually easy moves up a nice corner crack offering good pro. Next Ben again got landed with the crux pitch, a steep and committed corner chimney crack. Valiantly he fired up the moves which I found very taxing when it came time to second. Jamming finger locks and smearing on nothing, with a pack on... hmmm, it seemed harder than 17 at the time. I led us up the next two pitchs, which, as luck would have it turned out to be a hoot, linking huge jugs over terrain far easier than below. We walked off and were back down, this time with ample light to cook by.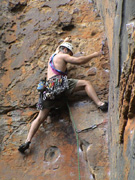 Two days of multi-pitching left us somewhat tired, so we decided to take a "rest day" at Bundaleer. We made our way to Blimp, the grade 20 corner crack that I remembered with fondness from a previous clean onsight lead. I got so excited at the sight of it, I talked Ben into letting me take the sharp end once more. Unfortunately I botched the job, getting pumped early on the route and dogging it many times before finally arriving at the chains too pumped to tie knots. Where did all my forearm endurance go? Must be getting old. Tis all down hill from age 30 or so I'm told :-)
Left: Me leading Blimp, grade 20. Below Right: Jacqui leading Angular Perspective 35m grade 27/28. (See: Bundaleer images page for more pics and video footage. See also: An interview with Jacqui).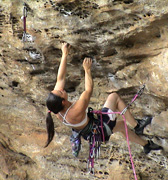 Ben seconded easily enough with a couple of rests and we decided to spend some time watching a group of climbers taking on Angular Perspective, the awesome, grade 28, massively overhanging route in the camping cave. A slight girl called Jacqui (pictured right) and her partner Rohan worked the moves for some time, giving us much entertainment while we rested up, and swore we'd train harder. She had the moves to the second bolt wired by the time we left, failing on the reachy dyno above.
Check the video clips

Angular Perspective 2 (4.7 Meg, 1 min 15 seconds) Low Res (2.3 Meg) as Jacqui powers through the first two bolts of the super overhanging route before falling trying to make the committing dyno to the third clip.

Angular Perspective 1 (1.5 Meg, 24 seconds) Jackie's partner Rohan cranks to the first bolt. (See: Reader's feedback below).
All that sitting around watching people climb hard made us tired, so we filled in the afternoon ambling our lethargic bodies up Scarab, the three pitch grade 12. Ben lead the crux first pitch, quietly running out the exposed chimney. I got a small fright leading us across the easy hand traverse on the second pitch when a large jug I'd placed gear behind wiggled loosely. Climbing under the massive double prongs that mark the third pitch was fun, and felt oddly like we were breaking into a house.

As we left the crag we heard from another party climbing (pictured right) on a nearby grade 17 we'd done once before. We had seen them earlier in the day and warned them the route was hard for the grade with the crux corner crack being very stiff leading up to a single piton and really requiring big cams. One of the members had taken a fall onto his smallest wire and hit a ledge, injuring his foot. They'd been forced to rap off, and abandon climbing for the day.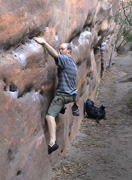 We awoke on our fourth and final day to a light rain, causing the temporary inhabitants of the Rosea camp to scurry for shelter. We packed up and drove Mt Zero, hiking in to Taipan Wall mainly in search of dry rock, but also because Ben had never touched this halloed ground before. We had visions of battling some of the easier ticks at Spurt Wall, but instead got captivated by the incredibly fun bouldering to be had at the base of Taipan. How is it that I've never bouldered here before? Surely the most fun traverse I've ever encountered in the Grampains!
Left: Ben bouldering the awesomely fun traverse at the base Taipan Wall. A varied and continuously exciting traverse for several metres is possible, along with many challenging upwards problems. A boulderers heaven!
With the rain gone, but our tendons strained, we called it a day mid-afternoon and managed the long drive home well before dark. All up a great trip, with several memorable moments, such as Kent getting his entire lunch stolen by creatures at Bundaleer. (Hehe). Good food, good company, great climbing - what more can you ask for!
The update on "Angular Perspective" project, if it is of interest to you ... well we headed back to it on the weekend. I've now got the first section leading up to the dyno wired perfectly. Nice and smooth. I have all the other moves sorted out... have almost done the dyno... but no prize yet! Rohan on the other hand, powered his way through it, ticking the 27 version yesterday (it's 27 to the first set of chains.... 28 if you continue to the top). Quite an impressive feat for someone that's had a couple of years rest from climbing, and has been back only a couple of months! We then all treated ourselves to gelati in Halls Gap :)
- Jacqui (6th Jan 2003)
Home | Guide | Gallery | Tech Tips | Articles | Reviews | Dictionary | Forum | Links | About | Search
Chockstone Photography | Landscape Photography Australia | Australian Landscape Photography

Please read the full disclaimer before using any information contained on these pages.
All text, images and video on this site are copyright. Unauthorised use is strictly prohibited.