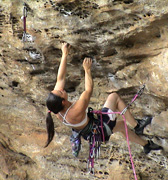 Interview: Jacqui Middleton
[ More Interviews | Video ]

Date: 8th Jan 2003
Intro: Jacqui is a Melbourne based climber currently leading sport routes up to grade 26 (trad 21/22), though she admits to having fallen up a 29. She often frequents Arapiles and the Grampians. Chockstone caught up with Jacqui as she worked Angular Perspective at Bundaleer, and this interview followed. Right: Jacqui attempting to lead Angular Perspective, grade 27, Bundaleer.

Q: Jacqui, can you tell us a little bit about yourself? Where you grew up, when and how you got into the sport of climbing?

I grew up in the West of Melbourne, and then settled into uni life at RMIT. By complete accident, (beer was involved!) I joined what was then known as the "RMIT Outdoor Pursuits Club". There were a few club trips on offer at Easter time, and as I recall, the Caving trip was already full – which left Bushwalking or Climbing. I wasn't particularly interested in Bushwalking; so by default, I went on a Climbing trip. I had no idea what Climbing was, and didn't bother to stop and think about it. I was your typical vague beginner - tied into a harness wondering what on earth was going on!

Q: So, how did you progress from bumbly to way honed? Did you find a "mentor"? Was there a distinct point at which you realised climbing was going to be more than just a casual recreational activity for you?

Um… The progression HAD to start about a week after my first introduction to climbing! I was marched down to Burnley Bridge, where I could do nothing but hang uselessly by my arms. I couldn't move! It was very embarrassing. So I used to go on secret missions during my breaks at uni, and practice heaps without anyone watching! Burnley is a bit overhung, so from the very beginning, I suppose my body got used to climbing on yukky angles!

Q: What style of climbing do you pursue the most, be it sport, trad, ice, aid, etc?

Sport and Trad. Love both. Trad is always a challenge in itself, as there are so many factors to be considering. You turn up at the base of the climb, armed with everything you think you'll need to get to the top. There's nothing there to help you. It's just you and your rack versus the rock. Awesome!

Sport is also very cool. It allows me to climb harder than I can manage on trad.

Q: You're ticking some impressive grades. I got tired just watching. Can I ask what motivates you? Do you ever kick back and cruise up something 15 grades below you lead max, just for the pure fun of it?

Absolutely! I've also spent quite a bit of time training people up (eg on lead), so I've often found myself repeating the same route in the Organ Pipes at Arapiles over and over again; simply because it offers fantastic pro placements for new leaders. It can also be fun going back to leads you did a couple of years back, when you can climb a bit harder than you could then… and wondering how on Earth you managed to get so freaked out last time. It gives you some perspective about how far you've progressed. As for what motivates me? I don't know. I've never quite worked that out. I definitely have a bit of a competitive streak, and I hate it when the boys can do a climb that I can't do. I don't think being female is any excuse for not being able to do something! So I'll work at it and work at it, hopefully till I can finally tick it!

Q: Is there a particular climbing destination or trip that stands out in your mind as memorable? Can you tell us a little about it?

Yes – There are two that stick out in my mind, actually.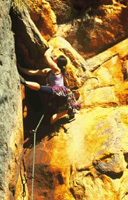 The good one: A trip to the Blue Mountains in March 2002. It was my first real introduction to sport climbing. I was terrified of falling on lead, but managed to keep my head together to "flash" a 23 and 24. (Note that I had to learn the local lingo in order to understand the difference between flashing; onsighting etc!!) I'd never done that before. It was a key moment as I realised it was certainly feasible that I could climb a few grades harder than that some time in the near future.
The bad one: Three of us set out to do "Trinity Wall" (21 trad) on the front of the Pharos at Arapiles about a year ago. I was to lead, and the guys would second. "Trinity Wall" is an intimidating 30m traverse under big orange roofs. Anyway, it was more run out than I was used to… the rock more polished than I was used to… and the wall is covered in white chalk dots. It's a spaghetti mess of routes intertwining with each other. As I found out, it's really easy to wander off-route. I managed to wander off my climb into "Aftermath" (a grade 25 trad route). I was mortified to realise the only way out was to climb a section of "Aftermath", with a big runout, to rejoin "Trinity Wall". Anyway, after my mates nearly got killed by rockfall the size of tvs, and I got up the guts to climb on, we finally finished the route, and headed straight to the pub so the boys could down some bourbon (without coke!).
Above Right: Jacqui on the FA of "Hell Bent" (21 M2) at Mt Fox in the Grampians. (Photo By: Melanie Benson)
Q: What are some of them more exciting and remote place you've climbed?
Remote? Hah! I hate long walk-ins. Exciting? Well, to me, any given crag can be exciting one day, and not-so-exciting the next. It's all in the planning, and the company you keep. I find that I will have my best climbing days if I decide the day before what climb I'm going to try… and get myself psyched up for it - convince myself that I can do the climb. I find that then, it is all about turning up to enjoy the climb and claim a bit of glory, rather than trembling in your boots at the base of the climb, worrying about whether you can do it or not.
Q: So would you say the mental aspect of climbing is key for you?
Definitely. Without it, I don't perform as well as I could.
Q: Do you have a nemesis? A project that you've been working for sometime that yet eludes you?
I've only recently started setting myself "project" climbs. So far, that's been going quite well. A few years ago, I tried "Steps Ahead" (29) at Mt Arapiles. I basically wanted to know how hard 29 would feel – and I found out! I managed to pull all the moves - completing the climb (on top-rope) with approximately 60 rests. (!!) I would quite like to climb it clean one day. It is the ultimate crimpfest!!
Q: Do you have a climbing hero/heroine?
HB. That man is freakishly strong! Very nice bloke to go with it, too.
Q: How often do you climb? Do you train in the gym? Any particular system you follow?
Twice a week in the gym, and all weekend on the rock. Is there a system? Yes. A typical training night usually features lots of roof climbing, lots of onsight practice or lots of leading. Either way I find that roof climbing, and lots of it, is the answer to most of your problems.
Q: You're obviously very strong on overhangs. Can you attribute this to training, genetics, something else? Do you have a weakness? If so, do you try to train for it?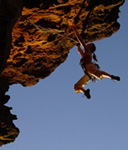 Genetics? No!!! I suppose I'd have to put it down to training. Three times a week for years… always on overhangs and in the roof. Sooner or later, you're bound to get stronger if you follow that formula! My friends, who are very supportive and provide constructive criticism, play a big role in my progress. Diet can also have some influence over things. I don't think there is any standard rule you can follow, because everyone is different. For most people, I suspect that eating pasta the night before a climbing day is a good move. In my case… I can't be expected to do anything unless chocolate or lollies are involved! These two items are ALWAYS included in lunch at the crag.
Right: Jacqui pops the dyno at the end of the roof section of Stepping on Snakes (23), Sentinel Cave, Grampians. (Photo By Neil Monteith).
Q: Do you have any suggestions or advice for us mortals still feeling lucky to tick lines 10 grades lower?
Sure! Practice is the key. Select say, two weeknights that you will allocate to training (eg in the climbing gym). Choose nights that will rarely be interrupted by social events, and ensure that some of your good climbing buddies are available to climb on the same nights. Then, stick to your routine! Don't cancel training to do something unimportant. Other advice is that you will never learn hard moves, till you get on a hard climb! Toprope things that are a little bit hard for you. Dog them to death! It doesn't matter if you have 15 falls on the way up, or if you can't do the whole climb. If you learn one new move in the effort, then it has been worthwhile.
Q: Can I ask what it is you do for a living? How do you find balancing career with climbing aspirations?
I work as a Datawarehouse Consultant in the I.T. department at Foster's. Like most people, I am becoming increasingly frustrated that holding down a decent job means being there 5 days out of 7 per week! Obviously I would prefer to spend more than two days a week doing my own thing. However, it is handy that the climbing gym is 15mins drive from the office, so I can get to gym and get a good 4 hours in a couple of times a week. Currently I have lots of annual leave up my sleeve; so there is an abundance of long weekends. I'm not sure how I'll cope if I run out of days off work!!
Q: Do you see climbing being a part of your life well into the future? If so, what role/places/goals do you imagine?
Climbing IS my life… and always will be! I could lose my job tomorrow, and be terribly disappointed… but if I can't climb, I'm a shambles and horrible to be around. I'd very much like to do some climbing in Europe, and have always considered climbing a 30 to be a fantastic goal. I've often been involved in climbing instruction, so perhaps that could resurface as well.
Q: Someone recently told me about climber who lead Punks In The Gym at Arapiles (31), and subsequently sold all his gear and gave up climbing to escape the obsessive hold it had taken on his life. Can you imagine something like this ever happening to yourself?
NO! I could never part with my rack; or climbing!
Q: From a philosophical standpoint what does climbing bring to your life? (Fitness, friends, challenge, adventure..?)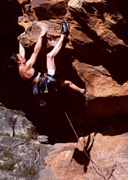 Fitness and strength are two different things. I have developed a lot of strength from climbing, but fitness is more of an aerobic thing that I try to avoid! I'm just too lazy for that sort of thing! Climbing has always been challenging and adventurous – and of course it also provides a great bunch of friends. Climbers tend to be friendly and encouraging people, full of enthusiasm to "get out there and have a go". I think that is a really great environment for anyone to be in. But back to the main question; I find that people either love climbing or hate it. There is no in between. Personally, climbing gives me direction – a purpose. I have no idea what I would think about all day, and which goals I would focus on in life, if I couldn't climb!
Right: Jaqui on the lower moves of the very steep Army of Ants (27), Sentinel Cave, Grampians. (Photo By Neil Monteith).
Q: Can I ask, as a woman in what appears to be still (unfortunately) a male dominated sport, have there been any experiences positive or negative that stand out?
Well, when I first started climbing, there weren't many female climbers around. As a result, there was always an abundance of boys offering to help the girls out with their climbing technique. It was fantastic! These days, women still have a long way to go in the climbing world. There aren't that many women climbing hard grades, in comparison to men, which is a shame. I'm a little disappointed to note lately that when pictures of women in climbing (in Australia) are being published, the focus is not necessarily on the climbing. The pictures are instead more consistent with what you might expect from a men's magazine. Come on guys! Women can climb hard grades... and they ought to be recognized for it.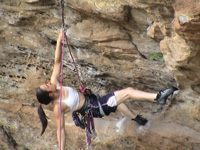 Above: Jacqui Leading Angular Perspective, grade 27, Bundaleer. For more pictures, see: Bundaleer, The Watchtower, Sentinel Cave, Scoop Rocks.

* Angular Perspective 2 (4.7 Meg, 1 min 15 seconds) Low Res (2.3 Meg)
Jacqui powers through the first two bolts of the super overhanging Angular Perspective at Bundaleer in the Grampians, before falling trying to make the committing dyno to the third clip.
* Little George (3.3 Meg, 53 seconds)
In the setting sun, Jacqui Middleton grabs the FFA of Little George, a new grade 22 sport route at The Guardhouse. Jac's smooth, leisurely pace appears more dynamic in this footage edited to reduce file size.
My Friend Flipper (1.9 Meg, 30 seconds)
Jacqui makes a valiant attempt at on-sighting My Friend Flipper, getting a good way up this crimpy grade 26 bolted face at the Watchtower near Halls Gap, Grampians. Footage shot from above.
* Poison Bait (5.9 Meg, 68 seconds) Part Two (4.8 Meg, 55 seconds)
Or the full sequence in Low Res (3.8 Meg, 2 mins). Jacqui finally makes a much anticipated tick of Poison Bait (25) at Scoop Rocks in the Grampians. In part one, she valiantly fights gravity on the reachy opening moves. In part two, she tackles the pumpy horizontal roof while the winter winds lash cruelly. See also Jac's Trip Report Part 1 & Part 2.
Home | Guide | Gallery | Tech Tips | Articles | Reviews | Dictionary | Forum | Links | About | Search
Chockstone Photography | Landscape Photography Australia | Australian Landscape Photography

Please read the full disclaimer before using any information contained on these pages.
All text, images and video on this site are copyright. Unauthorised use is strictly prohibited.