The Guardhouse, Grampians
[ Overview | Map | Images | Forum ]

Quick Stats
Climbs
***
**
*
Hardest
Longest
Rock
Access
2
0
0
1
22
25m
Sandstone
25 mins
[ This guide contributed by Neil Monteith. Disclaimer: Rock climbing is a dangerous sport. None of the information contained in this document has been verified. Treat all fixed gear with suspicion, route grades may be incorrect and the rock may be poor. The editors of this document take no responsibility for any injury arising from the use of this information. If there are mistakes in this guide then let the editor know by emailing nmoneith@yahoo.com. ]
NOTE: This is now out of date. See http://www.climb.org.au/index.php?page=27&area_id=588
A small gently overhung amphitheatre of rock with a couple of good Blue Mountains style sport routes and plenty of potential for new routes. The orange wall is clearly visible on the hillside when driving in from the highway past the olive grove. Walk in as for Sentinel Cave (see: detailed approach map). After hopping over a big dead tree about 8 minutes into the walk turn left and follow small creek bed steeply uphill heading for the obvious orange wall high on the hill. Scramble up ledges and small fixed rope to get to base of wall.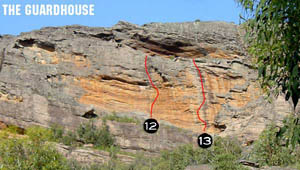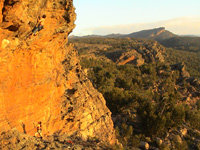 Above Left: Topo of the Guardhouse. Above Right: Neil attempting the second ascent of Little George (22).
12) Ranger Danger 14m 24
Weaves around black streak on far right side of crag. Bouldery start (stick clip ring) up slots to easier ground. At halfway head slightly right to hidden RB and crux dyno. Finish up steep jugs. Five RBs and DRB lower-off. FFA Neil Monteith Kent Paterson 14.6.2003
13) Little George 25m 22 *
Named after George the baby gecko, that hitched a ride on a backpack all the way to Brunswick... causing havoc at Jac's place for two weeks before being returned to the Grampians! Follows left-trending line of four ringbolts in centre of crag just right of big scoopy hueco in rooflet. Stroll through delicate start just left of first bolt, locate the secret hold, and march your way to glory over steep juggy terrain. Double RB lower off. FFA Jacqui Middleton, Neil Monteith 25.04.2003.
Check out the video clip

Little George (3.3 Meg, 53 seconds) - In the setting sun, Jacqui Middleton grabs the FFA. Jac's smooth, leisurely pace appears more dynamic in this footage edited to reduce file size.


Home | Guide | Gallery | Tech Tips | Dictionary | Forum | Links | About | Search
Please read the full disclaimer before using any information contained on these pages.
All text, images and video on this site are copyright. Unauthorised use is strictly prohibited.