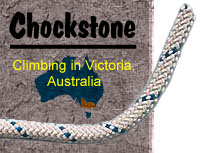 Sponsored By
ROCK
HARDWARE

| | |
| --- | --- |
| | For All Your Climbing Gear! |

Petzl: "CORAX" Harness. Size 2. (Current Model) Double Buckle waist. Fitting Range: Waist = 75-105cm. Legs = 56-68cm Sensational all-rounder. For a short time only... $99.00
21% Off

Climbing Media Reviewed
[ Books | Movies | Screen Shots | Best Stuff | Aussie Titles | Latest Reviews | Reviewed Only | All ]

The Eiger Sanction
(Action, R) Clint Eastwood plays James Bond on the Eiger in the Swiss Alps
| | | | |
| --- | --- | --- | --- |
| Format | Video | Category | Fiction |
| Title | The Eiger Sanction | Mins | |
| Starring | Clint Eastwood | RRP | |
| Director | Clint Eastwood | Reviews | 10 |
| Edition | (1975) | Ave Rating | (4.00 of 5) |
User
Comments
Anonymous
7/25/2002

One for the DVD collection.

Although old and a Clint movie, the climbing is as real as it gets. The shot backing away from the pillar they are sitting on is one to be seen. I love the sandstone sequences, but they did a great job with the Eiger as well.

If you can get past the fighting and boobs, a really good movie to watch.
timstich
7/31/2002

Ah, but the fighting and the sex are what make this such a great '70s film. And don't forget, climbing guides actually died to bring you this entertainment. Eastwood really does cut himself from a rope dangling above the train window on the face of the Eiger, no special effects here. And George Kennedy delivers the best comeback line ever to the woman who belittles men who would climb the Eiger to "prove their manhood".

"Lady, get screwed. It would probably do you a lot of good."
Anonymous
1/12/2003

One of the best mountaineering films I ever saw.
The problem whith this kind of films is either they are totally unrealistic (Cliffhanger, Vertical limit), or they are kind of documentaristic films.
This one has a relal plot, and mountaineering is not depicted like circus.
I have been a mountaineer and a rock climber for more than ten years now (I climb in the Alps, Italy mostly, but I have been climbing in many other countries,) and in my opinion this film is really worth the time you spend seeing it.
Max
Mad Dog
8/8/2003

This is one of the very best climbing fiction flicks. It's got its share of technical errors (like Clint being on toprope in the desert climbing scene when he's supposedly leading) but they don't really stick out in your face too much. The movie has the typical Eastwood bravado and humor, which gives it a big dose of personality. And it's full of classic lines, like when they top out the desert spire and George Kennedy says he's in the mood for a beer and Clint says something like: "Who would be dumb enough to carry beer up here?" Then George reaches into Clint's pack, pulls out a beer and says: "You did."

One thing I really like about the movie is that climbing is just a vehicle in the story line. There are plenty of beautiful views that get you into the climbing scenes, but it's well integrated into the story, making for a very entertaining flick. Go ahead punk, make my belay...

Romfrantic
12/30/2003

Few climbing/mountaineering movies have a plot with a 'plot'....worth seeing...also for those classic Eastwood lines.
Anonymous
2/16/2004

I had only been climbing a few years when this film came out. I liked it then and I'm gratified to see it has endured for 30 years. Perhaps that is because most climbing films are poor quality. The climbing realism can be attributed to the likes of John Cleare and other climbers who worked on the film. John Cleare does a cameo in one of the telescope scenes with George Kennedy. My favorite quote is in on top of a spire in Monument Valley where after George Kennedy pulls a six pack of beer out of Clint's pack, Eastwood complains that it is warm. Kennedy responds, "I thought you'd draw the line at carrying ice."
Nico
5/21/2004

Thank God for Fast Forward. The climbing scenes are as good as they get (for Hollywood) - but the first third of the movie is really dated ... tired Cold War macho stuff, and wooden acting. Ho hum. But ... real climbing! John Cleare (who did that great picture book on 'Mountains') and Dyrenfurth and some real non-studio rock. Worth a look but keep the remote handy.

IdratherbeclimbingM9
7/27/2005

I (like anonymous above) had only been climbing a few years when this film came out. This film served as climbing inspiration for me then and does nicely as nostalgia in the form of a video in my collection now!

Mad Dog (above) indicates Clint being on toprope in the desert climbing scene when he's supposedly leading. This is true but only for the chimneying sequence on the lowlands area. When it came to the desert tower Clint is on real lead. In fact Clint had actually taken up rock climbing as a sport prior to the making of this film and rumour has it that he then pushed the system to do a climbing movie so he could combine both passions.

Whacking a bong in the fist crack on that tower still makes me grimace that he did not use a hex for pro, but if I recall correctly this movie came out at about the time of transition to 'clean-climbing' ethics.

The vista of exposure, and then taking the fall from above the train window on the face of the Eiger blew me away back then as an impressionable youth, … and still does now! In fact that scene and the desert tower scenes remained with me long after seeing the movie when to my retrospective astonishment, the naked sheila scenes didn't !!

The fact that the movie has a plot is a bonus, and Clint Eastwood certainly has a cult following (including me), as an actor.

Another gem line from the movie;
Clint "Do you think we will make it to the top, or die in the attempt?"
Fellow climber "I don't know my friend but either way we will do it with style!"

The film is a classic to measure all other climbing related ones by.

garbie
4/20/2006

Haven't seen it for 20 years, but the best bit I remember is where that gay guy's little dog humps his leg.
dmnz
1/4/2011

Fantastic and a classic
---
Further Reading:
Amazon - Details on purchasing, reviews, etc.

Home | Guide | Gallery | Tech Tips | Articles | Reviews | Dictionary | Forum | Links | About | Search
Chockstone Photography | Landscape Photography Australia | Australian Landscape Photography

Please read the full disclaimer before using any information contained on these pages.
All text, images and video on this site are copyright. Unauthorised use is strictly prohibited.