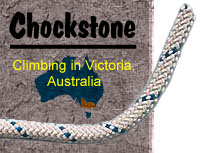 Sponsored By
ROCK
HARDWARE

| | |
| --- | --- |
| | For All Your Climbing Gear! |

Black Diamond: SET of 3 "C4" Cams and 3 matching wire Gates. Camalot sizes 1, 2 & 3 and 3 matching "Neutrino" karabiners. N/B Comes with a FREE carry bag. $295.00
19% Off

Climbing Media Reviewed
[ Books | Movies | Screen Shots | Best Stuff | Aussie Titles | Latest Reviews | Reviewed Only | All ]

K2
(Thriller) Two climbers join an ascent on K2
| | | | |
| --- | --- | --- | --- |
| Format | Video | Category | Fiction |
| Title | K2 | Mins | 104 |
| Starring | Michael Biehn, Matt Craven | RRP | |
| Director | Franc Roddam | Reviews | 3 |
| Edition | Trans Pacific Flims, 1991 | Ave Rating | (3.50 of 5) |
User
Comments

Mike
7/6/2002

K2 is one of the few climbing movies to make it into the mainstream. As opposed to the hard to find documentary films, this one is available from just about any local video shop, in the same aisle as Cliff Hanger and Vertical Limit. Unlike those titles, however, K2 is actually almost believable. Itís still pure fiction, full of melodramatic clichť and emotionally charged, fabricated moments where-in itís stars, Michael Beihn & Mat Craven play characters who test their friendship, and mountaineering skills high on the peak. But at least some of the technical aspects have a certain degree of realism, making the movie watchable, and even quite enjoyable to an audience of climbers.

The plot centres around Michael & Mattís characters obtaining a place on a team, funded by a billionaire headed up K2, the second highest mountain in the world. About half the movie builds background on the two as a climbing partnership and friendship, before the action moves to the ascent itself. Thereís several rock and ice climbing scenes. Including a lead up a steep granite wall, complete with hanging belays, pendulum traverses, and the occasional lead dyno. The bright blue and red tights, and supposedly stirring music remind you that it was probably shot in the late 80ís. The body belays are a nice touch. Most of the drama, however, occurs during the assault on K2, where we see ice climbing leads and hard slogging up fixed ropes, mixed in with the close ups and conversations that build the plot.

You won't be suprised to hear that the scenry is not really that of K2 (Karakoram Peak 2 at 28,250 feet), but in fact various mountainous regions of Canada and Pakistan. The plot touches slightly on issues such as leaving loved ones behind to do something crazy like climbing mountains, and general expedition dynamics though how relistically either topic is protraited is undoubtedly somewhat distored by dramatic flair.

In summary, this is one mainstream climbing video that is actually worth renting and watching with the intention of enjoying it for the drama, action, scenery and climbing. Iím not saying it doesnít suffer from poetic license and over dramatised incidents, but at least itís not a complete joke. You wonít see any bolt guns, explosions, computer graphics, or car chases. Nobody cuts a rope letting their comrades fall, nor does anybody leap out of a helicopter, or double dyno, solo 1000m off the deck. Instead the movie is forced to rely on acting skills and an interesting plot. Fortunately, at least in my opinion, it more or less succeeds despite the lack of big name actors, predictable sequence of events and total absense of nitroglycerin. However, bear in mind that to non-climbers this movie will probably seem dull in comparison to Vertical Limit.


Mad Dog
8/8/2003

Sorry, but I have to downgrade this to 3 satrs. I'll gladly give it 5 stars for image quality and humor, but the technical errors are just too severe for me to take it seriously. What technical errors? I think the stuff that rankles my feathers most are the inconsistencies. In one scene, climbers use fixed lines and ascenders while climbing low angle, crevasse-free snow but in the next, a bunch of them are simu-soloing step ice. Then there's the footage of the last few steps to the summit. Sorry, but climbers approaching the summit of K2 don't move anywhere near that fast, especially those without bottled O2. Etc., etc.

But don't get me wrong - I love this movie. I've watched it many times and I'll watch it again. But it was SO CLOSE to being one of the great all time climbing fiction pieces, I'm bummed they didn't have a slightly better perspective on the technical end. They got so much of it right, it wouldn't have taken much to fix the glaring errors. In comparison, Vertcal Limit is at least consistent - consistently bogus, that is.

albion
9/20/2007

This is the only really good fictional climbing film there is (in my humble opinion). Not sure about the final rescue, but the rest is almost believable.
---
Further Reading:
Biehn - Fan club page on the movie
rottentomatoes.com - Review
Amazon - Details on purchasing, reviews, etc.

Home | Guide | Gallery | Tech Tips | Articles | Reviews | Dictionary | Forum | Links | About | Search
Chockstone Photography | Landscape Photography Australia | Australian Landscape Photography

Please read the full disclaimer before using any information contained on these pages.
All text, images and video on this site are copyright. Unauthorised use is strictly prohibited.