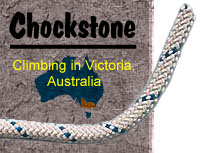 Sponsored By
ROCK
HARDWARE

| | |
| --- | --- |
| | For All Your Climbing Gear! |

Black Diamond: SET of 3 "C4" Cams and 3 matching wire Gates. Camalot sizes 1, 2 & 3 and 3 matching "Neutrino" karabiners. N/B Comes with a FREE carry bag. $295.00
19% Off

Climbing Books Reviewed
[ Books | Movies | Screen Shots | Best Stuff | Aussie Titles | Latest Reviews | Reviewed Only | All ]

17 Down Under
A celebration of moderate grade climbs
| | | | |
| --- | --- | --- | --- |
| Format | Book | Category | Narratives |
| Title | 17 Down Under | Pages | 184 |
| Author | John Morris & Steve Morris | RRP | $54.00 AUD |
| Publisher | self published | Reviews | 1 |
| Edition | | Ave Rating | (5.00 of 5) |
User
Comments
TimP
5/4/2015

When I first got a copy of 17 Down Under my thirteen year old son
flipped through it and was chuffed to see a bunch of climbs he's done.
He can't do that with a climbing magazine.

Disclaimer- this is not an impartial review. I've been buying climbing
gear from Rock Hardware for a couple of years now and have got to
know and like Steve and John. I've been following this project with
interest; just the concept sounded great when I first heard about it
chatting in their relaxed store in Bendigo — Rock Hardware. So this is a
personalised response to the book, as are the stories of each climb in it.
When I think how climbs imprint in my memory it is the atmosphere
around it: people, place, a bit of history, my state of mind - this is the
tone of 17 Down Under and the stories are of climbs I've done.

I was very pleased to see 17 Down Under make it to print; it was not an
easy road but John and Steve persisted and this book is the payoff for
all their hard work. They got through the long process to create
something many climbers new and old will enjoy.

This book is truly a celebration of moderate grade climbing: which is the
sub-title. How rare is that? Climbing media is full of elite climbers, as if
anyone climbing below grade 20 doesn't exist. Yet I'm sure the audience
who can climb over grade 30 is not big enough to sustain a climbing
magazine or website. Sure we all admire, even aspire to this level of
climbing but I believe it's the relative challenge that is the satisfaction in
climbing - getting a few moves on a climb above your grade is a great
feeling. Thankfully for all of us there will always be climbs to challenge
us.

I've enjoyed the fragments of stories and [background] in the
guidebooks but even these give a scant survey of lower grade climbs;
I'm often scratching to find enough stuff I can do, these books are of
course made by higher grade climbers so there is little enthusiasm for
the moderate stuff. For myself and a lot of new climbers the collection
of climbs in 17 Down Under is a great tick-list. The book expands on
each climb giving a personal account, more than just topo / beta. It's
like chatting with friends about worthwhile climbs (but these friends are
very experienced - both hold guide qualifications). There are also
broader passages in the book like "why I climb", and photos of the
places, people, and gear.

You get the feeling this project was done within a community, there are
contributions of words and images from many people. 17 Down Under
comes also from within a family. One of the threads being Steve and
John's relationship: a father helping a son through the tough times of
youth. What fuller duty in life is there than guiding your children and
helping them through difficulties.

The revelational power of climbing: physical and mental, leads us to
achieving beyond where we think our limits are (with a little help from
fear / adrenaline which you appreciate only after the climb!). Climbing
offers very real yet simple challenges that are rare in our complex lives.

On first scan through the book it dawns that the imagery is different.
These are average climbers on climbs I've done, not the professional
photo of the elite full-time athlete swinging their legs in the air on a
desperate 30 something overhanging climb (they've got to have some
payoff for campus boarding), actually I'm beginning to dislike those
shots, impressive as they are the first 200 times you see them.
Photography tends to exploit the extraordinary to simulate drama that
can't be captured in a 2D image. As climbers we know the drama of
being there, especially the climbs in 17 Down Under, and I feel this has
been captured by climbers photographing climbers. The quality is there
though, and the overall design and colour balance of the book is good
for all the printing technicalities that can go wrong.

The personal nature of this book caused me to reflect on my own
experience - climbing specific routes, and climbing in general. Having
the shared ground of moderate grade climbing enables this reflection.
Reading an elite climbers perspective, though interesting, is well out of
my experience and so, abstract.

In the years it took to complete this project Steve and John immersed
themselves in: printing, self publishing, photography, writing, graphic
design, and editing. This was a mammoth task, and a task well outside
the fun bit of the actual climbing. Perseverance got them through the
problems; perhaps this is one of the many things climbing teaches: just
keep going and you'll get there no matter how impossible it seems at the
time.

Congratulations to Steve and John on this effort. It has already formed
the core of my climbing trip planning (actual and imagined trips) climbs I
can do that are treated with respect in 17 Down Under.
Home | Guide | Gallery | Tech Tips | Articles | Reviews | Dictionary | Forum | Links | About | Search
Chockstone Photography | Landscape Photography Australia | Australian Landscape Photography

Please read the full disclaimer before using any information contained on these pages.
All text, images and video on this site are copyright. Unauthorised use is strictly prohibited.