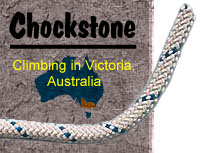 Sponsored By
ROCK
HARDWARE

| | |
| --- | --- |
| | For All Your Climbing Gear! |

Mad Rock: Mad Rock "Bottle Nose" Quick Draw. This is one nice looking quick-draw. Top Straight gate is BLACK body/yellow gate. Bottom Bent gate is YELLOW body/black gate. Both karabiners are 24 9 9 kN. 150cm (6") black NYLON dog bone (22kN). Set of Qty 10 Q/D's. $225.00
25% Off

Climbing Videos Reviewed
[ Books | Movies | Screen Shots | Best Stuff | Aussie Titles | Latest Reviews | Reviewed Only | All ]

Low Gravity
B grade 90's Australian Climbing Video
User
Comments
Joe
2/24/2003

This is one of the funniest films I have seen in a long time. This is B grade at it's greatest. Low Gravity has the quality of a home video, a shocking soundtrack, and some less than inspiring footage, but yet still has snippets of good climbing. I'll start with the good bits...
Dave Jones on Punks in the Gym, I'd never seen footage of someone on it before. HB on his 50m mega roof all trad, welcome to barbados (29), this climb seems to go forever, although it's good to hear that he's a bit pumped at the end of it. Chris Jones on Bustin' down the door' (27), at Kalbarri, and Martin Lama styling India (28) are cool, there is also some interesting footage of some guy soloing the three sisters with a pole mounted camera on his back. Other good stuff is some brief shots of Garth on sexy is the word (31) at Nowra, Robyn Cleland on Red Baron (26), and Paul Westwood on Sperm Bitches (31). Some of the footage I was most interested in was of Steve Bullen bouldering at Cheesedale. The footage is like a film clip to the crappy band who keep zooming in and out of the screen, it is weird and really annoying video editing but the footage is actually quite good. Some of the stuff Steve Bullen was doing back then was really cutting edge. Oh yeah there are some cool bridge jumps.
So now the bad bits....
The soundtrack.... what is with that... I'll let you judge for yourself.
All the footage in South Australia is total pox. There are some real weird shots in this film, for instance the obsession with filming cars driving and then coming to a stop, the bizarre footage of Martin Lama in the gym before he sends India... (I assume this is meant to show the hours of hard training required.)
The most disturbing part of the film is the title sequence, where two guys who have obviously gone crazy living in the dirt at the pines for too long perform a very bizarre piece of entertainment. One guy does fire twirling and fire breathing while the other guy boulders in the background completely nude, except for some weird paint stuff on his face. Decide for yourselves, but I found it real strange, not to mention boring.
This film goes for way too long, has the worst editing ever, is boring for the most part, but hilarious as well. Still, this is a B grade classic and will be even funnier in years to come.

nmonteith
3/12/2003

I think Joes review was a bit harsh! Yep, the sound track is shocking and the filming and editing in parts is appaling - BUT the film captures a great period of climbing in Australia - when us aussies finally started climbing harder than Wolfgang's famous ascent of Punks in the Gym in 1985(?). The routes filmed are major Australian testpieces and a lot of work has gone into organizing the climbers involved to repeat these routes. I have watched this video again and again over the years - and I always apprciate looking back on the video after I have been to an area that is featured. It is thouraly worth watching if you appricate Australian climbing history. Just remember folks - no one makes money shooting climbing films in Oz!

climbau
6/9/2003

I agree with Neil, The film has plenty of good points. Definitely worth a look, this was cutting edge climbing footage and is worthwhile if only from a historical viewpoint.

manacubus
2/13/2004

I don't think Joe's review was too harsh. To say this is an amatuer production is a gross understatement. As Neil said, the routes and the amount of work in getting the footage is amazing - but it's just a shame it couldn't be pulled into a more professional production.

This video is something to watch once to see all the routes you've heard about. Its repeat-viewing-value is low!
kp
11/24/2006

Another aus climbing letdown. Nowra, Kalbarri & marty on india are the only worthwhile footage...


Anonymous
2/26/2008

lent my copy to a "friend"...haven't seen it since. where can i get another?
Home | Guide | Gallery | Tech Tips | Articles | Reviews | Dictionary | Forum | Links | About | Search
Chockstone Photography | Landscape Photography Australia | Australian Landscape Photography

Please read the full disclaimer before using any information contained on these pages.
All text, images and video on this site are copyright. Unauthorised use is strictly prohibited.