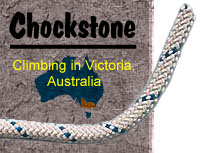 Sponsored By
ROCK
HARDWARE

| | |
| --- | --- |
| | For All Your Climbing Gear! |

Mad Rock: Mad Rock "Bottle Nose" Quick Draw. This is one nice looking quick-draw. Top Straight gate is BLACK body/yellow gate. Bottom Bent gate is YELLOW body/black gate. Both karabiners are 24 9 9 kN. 150cm (6") black NYLON dog bone (22kN). Set of Qty 10 Q/D's. $225.00
25% Off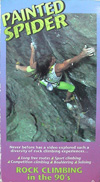 Climbing Movies Reviewed
[ Books | Movies | Screen Shots | Best Stuff | Aussie Titles | Latest Reviews | Reviewed Only | All ]

Painted Spider
(Doco) Rock climbing in the 90s. Long free routes, sport climbing, competetion climbing, bouldering, soloing.
| | | | |
| --- | --- | --- | --- |
| Format | Video | Category | Non-Fiction |
| Title | Painted Spider | Mins | 85 |
| Starring | Peter Croft, Merry Braun, Deanne Gray, Dale Goddard, Bobbi Bensman, Ron Kauk, Jim Karn, Bird Lew, Scott Frye, Don Welsh, Hans Florine | RRP | |
| Director | Mike Carville | Reviews | 2 |
| Edition | Spire Productions, 1992 | Ave Rating | (4.00 of 5) |
User
Comments

Mike
7/31/2002

I was really quite impressed with Painted Spider. Unlike some climbing videos, it is far from a "home movie" kind of thing. This is one professional production. It's essentially a documentary of a series of American climbs, with each route being filmed from at least three different cameras simultaneously. The film maker has obviously gone to considerable effort to get on the rock, close to the action, offering a lot more than the usual bum shots and distant views. Creative intros, interesting interviews, superb routes, famous climbers, basically I'm finding it difficult to fault this production. Perhaps if I had to be critical I might say that the segment on competition gym climbing is a little drawn out and may not appeal to all, but even that was well shot and interesting. There is a fair amount of sport climbing too, but it's all good stuff.



Above: Don Welsh on "A Steep Climb Named Desire", and Scott Frye on the sea cliff route "Endless Bummer".

First up, after a 3 minute intro, we are shown about 8 minutes of studio interviews with a couple of old climbers Dick Leonard (inventor of nylon ropes?) and David Brower. Intermixed with black and white footage of them climbing on hemp ropes in tennis shoes, we hear accounts of an ascent on Ship Rock complete with dynamic hip belays.

A 12 minute segment follows, detailing Merry Braun and Deanne Gray's ascent of "Astroman", (5.11?) on Washington's Column. Again, great camera work, makes this all female team a delight to watch, with each pitch being shown in detail. Do the forged friends date this ascent? Early 90's, I think. Though a lot of people still prefer them over the flexible stem, so who knows. Belays off a figure-8, run outs, a fall on trad gear, hard moves, and of course the scenic value of the climbers make this clip interesting.



Above: Ron Kauk on "Aqua" and Dale Goddard on "Cannibals".

A quick 1 minute look at Ron Kauk cruising up the "Midnight Lightening" boulder problem is followed by about 4 minutes of Don Welsh on "A Steep Climb Named Desire", a 5.13d sport climb in California where most of the film action takes place. Preplaced draws are clipped smoothly as Don flows up the line, offering tips with a voice over narrative. Scott Frye runs up a 5.13b sea cliff next called "Endless Bummer" at Mickey's Beach, after which we see Kauk again, this time taking on "Aqua" a 5.13b at The Emeralds, without preplacing his draws.



Above: Bird Lew takes on a trad lead of "Panic In Detroit"

Dale Goddard follows with a run up "Cannibals", a 5.14a, while he offers his philosophy on climbing and life in general. Bill Sinoff fires up "Shut Up and Climb", 5.13a at Cave Rock, Nevada with a head mounted camera, giving us a dizzy look at the climber's perspective of this very steep route. And a graceful Bird Lew takes on a trad lead of "Panic In Detroit" 5.12c.

The highlight, as least for me, follows with 5 minutes of Hans Florine on "The Backbone", a 5.13a at Smith Rock. Following a double arete for 140 feet, this segment is well shot, with the camera work so good you can imagine yourself on the rock, making the moves - or at least thinking "no way can I stick that crimper", but of course Hans does.



Above: Hans Florine on "The Backbone". Awesome footage!

We then get close to 20 minutes coverage of a US championship gym climbing event at City Rock gym, California. This segment is probably the least interesting, but it's still well filmed from multiple camera angles, and if you want to see a lot of falls, albeit in a gym, this will appeal. Both the mens and womens events are shown, with the winners being Bobbie Bensman and Hans Florine. Interviews with the course setters and climbers add value to this section.

Lastly we see two more segments. For 7 blood curdling minutes we are shown Peter Croft free soloing 900 feet of "The Rostrum", in Yosemite Valley. When he goes to double smears and works both hands into a finger crack I was ready for the worst, but the dude cruises it in style. Totally amazing to watch. Finally the film concludes with Don Welsh on "Primrose Dihedrals" 5.11c, desert climbing in the Utah Canyonlands.



Above: Peter Croft soloing "The Rostrum". Yes, that red dot is him.

In summary, this is one climbing documentary worth watching. With novel and varied camera angles that takes us close to the action, this is no amateur production. The narrator's explanations do tend toward a target audience that is perhaps not familiar with climbing, and there is a lot of sport and gym climbing scenes, but nether of these aspects seems to degrade the result, which is one very watchable film. Enjoy!
Anonymous
4/21/2011

This video was done in the early 1990''s and was ground breaking at the time. Heavy cameras and gear prevented most photographers from getting these types of shots - closeups on the walls. Only very skilled climbers, photographing very skilled climbers could make a film such as Painted Spider. Congratulations to all who made this video available and captured the newly emerging sport of sport climbing.
Home | Guide | Gallery | Tech Tips | Articles | Reviews | Dictionary | Forum | Links | About | Search
Chockstone Photography | Landscape Photography Australia | Australian Landscape Photography

Please read the full disclaimer before using any information contained on these pages.
All text, images and video on this site are copyright. Unauthorised use is strictly prohibited.