Plaza Strip, Taipan Wall, Grampians
[ Overview | Images | Map | Forum | Trip Reports ]

Quick Stats
Climbs
***
**
*
Hardest
Longest
Rock
Access
7
0
1
2
26
20m
Sandstone
30 mins
[ This guide contributed by Neil Monteith. Disclaimer: Rock climbing is a dangerous sport. None of the information contained in this document has been verified. Treat all fixed gear with suspicion, route grades may be incorrect and the rock may be poor. The editors of this document take no responsibility for any injury arising from the use of this information. If there are mistakes in this guide then let the editor know by emailing nmoneith@yahoo.com. ]
On small cliff on far right edge of Taipan Wall. Walk past Lower Taipan Wall on tourist track, continue up slab then follow track as it hooks 180' back left and heads towards Mt Staplyton. When the track turns right, bush bash in for 50m to cliff. Alt access to to walk directly right of Spurt Wall to the Sheeps bouldering cave. Another 50m right and above is the crag.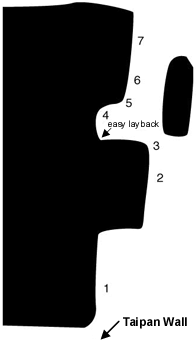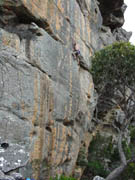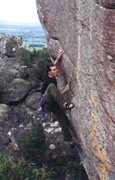 Above Left: Plaza Strip Topo. Above Middle: Mark on Technorganica (23). Above Right: Nick McKinnon gets in quick for the second ascent of Bass Rush (23).
1) Foot-Spa 15m 19
20m left of Bass Rush on short grey face. Climb the blank face on horizontals (small SLCD), then finish up juggy crack. Nick McKinnon, Adam Demmert & Neil Monteith 23.9.2000

2) Bass Rush 15m 23 *
Steep start up wall with big moves leads to thin face. 4 ringbolts and double RB anchor. Neil Monteith, Nick McKinnon 3.9.2000

3) Pentridge Smack Delivery 13m 24
Arete 3m right of Bass Rush. Boulder problem rounded arete past 2 rings leads to easy naturally protected slab. Reachy crux. Nick McKinnon, Neil Monteith & Adam Demmert 23.9.2000

4) Evil Elf 20m 17
Thin crack splitting wall above easy layback crack 10m right of Pentridge Smack Delivery. After reaching big break at 15m keep climbing upwards to belay on large ledge. FFA Andy Hein (US), Neil Monteith 03.12.2000.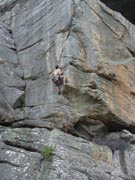 5) The Finisher 15m 19 *
5m right of OM. Climbs slab then crack on left side of mossy overhung orange prow. Despite appearances this route is clean, has huge jugs and good gear. Belay in cave and rap off Technorganica's anchors. FFA Nick McKinnon, Neil Monteith 03.12.2000.
Right: Neil on second ascent of The Finisher (19).

6) Technorganica 18m 23 **
10m right of easy layback. Sustained and thin climbing up orange wall. Four RB's and some small/medium wires for crux. Rap off ring and chain. FFA Neil Monteith, Andy Hein & Nick McKinnon 03.12.2000.

7) Project 20m 26?
Face 5m right of Technorganica. U-bolt anchor at top
---
Further Reading:


The Plaza Strip - Neil Monteiths web site, for more pics and latest updates.


Home | Guide | Gallery | Tech Tips | Dictionary | Forum | Links | About | Search
Please read the full disclaimer before using any information contained on these pages.
All text, images and video on this site are copyright. Unauthorised use is strictly prohibited.