[ This guide contributed by Neil Monteith. Disclaimer: Rock climbing is a dangerous sport. None of the information contained in this document has been verified. Treat all fixed gear with suspicion, route grades may be incorrect and the rock may be poor. The editors of this document take no responsibility for any injury arising from the use of this information. If there are mistakes in this guide then let the editor know by emailing nmoneith@yahoo.com. ]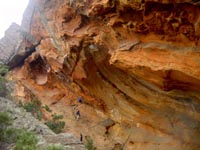 A small but amazing area tucked away in a couple of caves on Muline Creek. The easiest line is Pocket Full Of Dreams (23), a semi-trad line up immaculate pockets then some very spaced flakes. The hardest is Nathan Hoette's sport climb masterpiece 'Flower Power' (33). Walk up the old vehicle track a few hundred metres south of Muline Creek to a T intersection. Walk 20m right then head into the bush (rock cairn) hopefully following a track which gets better the closer you get to this crag. Located directly below Emu Rock. Walking time 25 minutes.
Right: Australia's master of the steep stuff throws another lap on the 'warm-up' of Muline - Thrash and Dangle (24).
Path of Garth 15m 29
Located in cave with large 'hole' downhill and closer to the road than Muline proper. An easy approach pitch from the left is required to access the cave.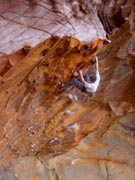 Thrash and Dangle 15m 24
Killer roof on the best rock anywhere. The left trending route on the left end of the crag.
Right: Nick McKinnon thugs through the rounded jugs of Thrash And Dangle (24).

Malcolms Route 20m 30
Steep amazing line just right of Thrash and Dangle.

Eye of the Tiger 20m 30
The most impressive 'line' of the crag and located two routes right of Thrash and Dangle and climbs the left side of the big cave. Sloper traverse start, downclimb the lip then climb immaculate steep face to anchor way out right. First ascent by Scott Walter.
HB Project
Half bolted. FH's leading out left from Pocket Full of Dreams. Uncompleted.

Pocket Full of Dreams 25m 23
Trad and two bolts. In the centre of the crag. Boudlery start to enter very pocketed wall past two bolts. Step right in little cave and up pumpy flake conclusion to chain.

After Midnight 55m 26
Bolts and trad. First pitch - tough bouldery moves past bolts lead to steep left facing corner. Thin trad up this to ledge. Second pitch goes up wall above past 4 bolts.
Desert Rose 20m 27
Bolts and trad. Route right of After Midnight. Bolt to short left diagonal (cams/wires). Up past more bolts trending right.
Dameon Flower 20m 31
Bolts. Steep wall of imaculate rock. One of the best sport routes in Victoria.
Flower Power 20m 33
Bolts. Line directly right of Dameon Flower. Steep thin and desperate! One of Australians hardest routes.
Wild Orchids 17m 30
Bolts. Tough rightwards heading line right of Flower Power. Slopy.
Jumping Geraniums 17m 27
Bolts no anchor. Left leading varient with the same start as the unamed 26 on the far right side of the crag. No anchor as of yet.

?? 15m 26
Bolts and cams. Route on far right of crag. use cams to get through top.

Home | Guide | Gallery | Tech Tips | Dictionary | Forum | Links | About | Search
Please read the full disclaimer before using any information contained on these pages.
All text, images and video on this site are copyright. Unauthorised use is strictly prohibited.