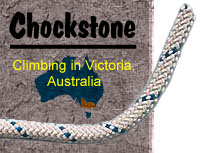 Sponsored By
ROCK
HARDWARE

Turpins Falls, Redesdale
[ Climbs | Images | Map | Forum ]

Quick Stats
Climbs
***
**
*
Hardest
Longest
Rock
Access
2
0
0
0
23
12m
Basalt
5 Min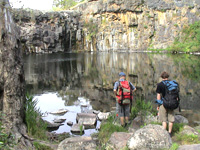 Bring the togs! Turpins Falls offers more of a place to swim and picnic than it does to climb. A great spot for a dip after a hard day at nearby Black Hill. There are only two routes going at grade 23 and 22 respectively. Both are ring bolted and hard for the grade, leading up steep to overhanging terrain over brittle, mud encrusted rock. The lines begin on a block that requires some dubious mucking about in order to get both climber and belayer onto it without falling into the swimming hole. Said pool, however, provides an excellent dip, especially in summer. In a wet winter the water can become a white torrent, raging down the stream and cascading over the falls into the deep pool with thunderous strength. In a dry spring and hot summer, however, it's reduced to a polite little trickle, just enough to refill the black depths of the pond, and stir the occasional surface slim around a bit.
To access to Turpins Falls, head to Kyneton, then take the Edgecombe road towards Redesdale, slipping past Black Hill, and continuing on. At Langley head left down Manns road towards East Metcalfe for 2.5km, then left for 2.6km, then right for 1.3km and finally turn off right to the carpark and picnic area. Alternatively, coming down from Redesdale turn right just after Barfold (nothing but a town hall) down a dirt road where the highway curves around a bend and some letter boxes appear. Follow the roads signs after that. There's about three or four turns to make over a few kms of dirt track. Once at the car park, walk down the steps to the river.
Below Left and Middle: Ben leading "Slippery When Wet" the 12m grade 22 right most of the two ring bolted lines. Note the moat around our belay block and the crafty traverse line off the first ring bolt. (Alternatively you could abseil down, but it's quite overhanging). We all got stopped by the overhanging terrain at Ben's high point (bolt three), despite the huge jug from which to launch. Below Right: Kent trying to get past Ben's high point.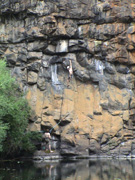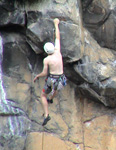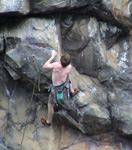 The area used to be a favourite spot for local young'ns. On a hot summer day you could expect no less than 20 or so, esky toting youths to be leaping and diving from the cliffs into the deep water below. However a couple of recent tragedies, one involving a death, have decreased enthusiasm for the place. Signs now warn that diving from the rocks is forbidden. Bouldering right out of the water is possible though, and rather fun if you don't mind the slippery feet.

Walking and rock hopping up stream along the river bed used to be a pleasant adventure, but the river bed has become over grown with plants and slime, possibly due to a lack of water to scour it clean. Furthermore, during the period of writing this report, the mineral spring, which admittedly wasn't much in the first place, has all but fizzled out in our recent drought.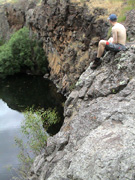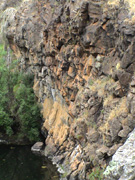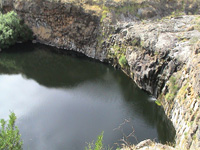 Above Left and Middle: From this perspective the steepness of the routes is more apparent. Above Right: View of the deep, black swimming hole. Water is falling, albeit only a trickle, on the right of this shot.
| | | | |
| --- | --- | --- | --- |
| Name | Height | Grade | Stars |
| Wet, Wet, Wet | 12 | 23 | |
| Slippery When Wet | 12 | 22 | |
---
Further Reading:
Northwest Victoria, A Rockclimbers Guide - A climbing guide book, edited by Chris Watson, Bill Andrews and Michael Hampton and available from local climbing shops, or the VCC.
Home | Guide | Gallery | Tech Tips | Articles | Reviews | Dictionary | Forum | Links | About | Search
Chockstone Photography | Landscape Photography Australia | Australian Landscape Photography

Please read the full disclaimer before using any information contained on these pages.
All text, images and video on this site are copyright. Unauthorised use is strictly prohibited.