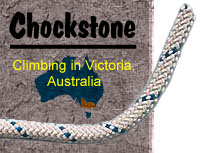 Sponsored By
ROCK
HARDWARE

The Pinnacles, Mt Cole National Park
[ Climbs | Map | Forum ]

Quick Stats
Climbs
***
**
*
Hardest
Longest
Rock
Access
17
0
2
1
20
45m
Granite
15 Min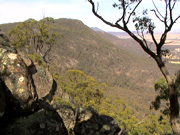 The Pinnacles resides not far from Ben Nevis in the Mt Cole National Park. If I had to choose one word to describe it, I'd have to go with "disappointing". Whilst the area is certainly beautiful, the outcrop fairly tall in places, and the remote, heavily forested region atmospheric, it isn't a patch on the nearby Red Rocks, and in fact will probably remain in my memory as loose, fractured rock, littered with debris, lichen and moss with a trackless bush bash approach, perilous descent gullies and a lack of quality climbing even on the two star routes that lured us there in the first place. Never-the-less, if you took one look at the 200m Red Rock's cliff and got a trifle unnerved, the Pinnacles could serve as an alternative, much smaller destination to salvage the trip. And I guess there is something in the sense of adventure that comes with fighting your way up some mossy crack. Bring a wire brush, helmet, and a good sense of nagivation.
Right: View from the Pinnacles in late summer.
Access is not straightforward (read expect to get lost), however, I will attempt to describe it firstly as per the guide book, then secondly via the method we eventually discovered. Do the accustomed Ben Nevis approach, but instead of going left down "Ben Nevis Road' continue straight down "McGuiness Road" for 4.1kms from the initial left off the main Mt Cole road. Along the way you'll have to take "Colliers Gap" road (signposted), and avoid several lesser tracks which are not signposted. Eventually you'll arrive at an old overgrown 4WD track leading left into the forest. Park here, and walk 100m down this old track then take a vague right and contour around a rocky ridge (keeping below it), until you arrive at the plateau and the left (southern), end of the outcrops. This approached worked, sort of, but I believe our eventual method was better. Here it is: Instead of 4.1kms, go more like 4.8 and take the old 4WD track on the left for a further 400m or so. Depart the track and go bush heading left for about another 400m until you strike the right, northern end of the outcrops. Descend down the steep, slippery gully, and you should be in the vicinity of Mind Over Matter. Scramble up along the base and you'll soon be staring straight at the finger crack splitting the middle of Transitory Wall.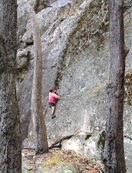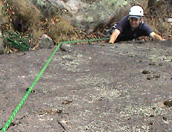 Above Left: Mind Over Matter, 20m grade 20 takes the streak of moss just left of the tree. Above Middle: Ben working the undocumented route on clean rock 3m left of "Mind Over Matter". Above Right: Bolt on "Pleasure And Pain", the other route on this little slab, which gives you an example of moss situation.
To put it plainly, expect to loose at least 2 hours hiking in, identifying routes, and finding one worth climbing, and this is assuming you own a copy of the guide book. I would like to say, start on such and such a route, but frankly I can't recommend any of the documented routes. The only clean rock seemed to exist on new climbs not in the guide. We threw a top rope over a route about 3m left of "Mind Over Matter" (pictured above middle), on the clean part of the slab that appears on your right if you descend down the gully via our method described above. If anyone wants to stick a couple of bolts in and claim the FA I'd say it goes at grade 18, and has a very fun cross over power move in the middle, that would earn it a star. "Mind Over Matter" was totally overgrown with moss, as was "Pleasure And Pain" next to it.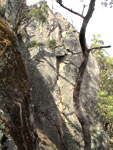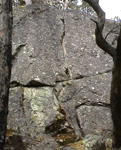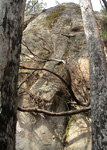 Above Left: Transitory Wall. The finger crack in the centre is Transitory, 32m grade 16. The ArÍte to it's right goes at grade 20. Above Middle: Bold Eagle, 12m grade 18. Above Right: Ice Breaker, 40m grade 17.
In the interests of actually leading something in this area, I took us up "Transitory", the 32m grade 16 finger crack, that splits the big face of Transitory Wall, found in the next gully south of the described descent. (i.e. Transitory Wall faces north). I did not enjoy the lead, nor did Ben have fun on second. I took doubles of cams sizes .1,.2,.3,.4,.5,.75,1 & 2 and used them all as well as half a dozen small wires. This should give you an idea of how little I thought of the integrity of the fractured rock, which I half expected to tear free at any moment. Spitting dirt and moss I gardened my way up, only to find a semi detached, coffee table sized block barring the exit moves. I tried a variant finish on the left, but couldn't gain purchase on the lichen. Finally returning to the block, which if it blew would have landed right on Ben, I grovelled over it to the tree belay above. Admittedly the thing didn't wobble, but what it was attached by I've no idea. It was possible to back the one live tree up with a large bollard. We rapped off the tree to descend.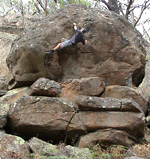 "Cardiac ArÍte" 40m grade 20 with five bolts just right of Transitory, looked good, if someone wanted to vigorously clean it. Descending off the back of Transitory we found the crack climb "Bold Eagle" 12m grade 18 also fairly inviting, again if it wasn't so heavily vegetated. The other two starred climb, "Ice Breaker", proved to be just as lichenous, and also sported a fallen tree at the base, creating a nice, painful impact zone.
Right: Ben bouldering at a little outcrop found during the drive into the Pinnacles, just before the ancient road cuttings.
All up the Pinnacles is a pretty disappointing crag given the proximity of the excellent and clean, "big wall" Red Rocks at nearby Ben Nevis. However, there is plenty of potential for new routes, if you are sufficiently motivated and have the skills and equipment. And I guess there's some fun climbing to be had, at least if you're up for some gardening.
| | | | |
| --- | --- | --- | --- |
| Name | Height | Grade | Stars |
| Hooghly | 12 | 12 | |
| Howrah | 12 | 12 | |
| Huntsman | 25 | 12 | |
| Just | 45 | 12 | |
| Mr Marchfly | 40 | 10 | |
| Ice Breaker | 40 | 17 | 2 |
| Bold Eagle | 12 | 18 | 1 |
| Bantam | 25 | 5 | |
| Baby Face | 10 | 16 | |
| About Face | 13 | 18 | |
| Cardiac ArÍte | 40 | 20 | |
| Transitory | 32 | 16 | 2 |
| Dirty Boulevard | 35 | 16 | |
| Pleasure And Pain | 9 | 17 | |
| Mind Over Matter | 12 | 20 | 1 |
| Batting A Hundred | 15 | 16 | |
| Bullant | 15 | 15 | |
---
Further Reading:
Northwest Victoria, A Rockclimbers Guide - A climbing guide book, edited by Chris Watson, Bill Andrews and Michael Hampton and available from local climbing shops, or the VCC.
Home | Guide | Gallery | Tech Tips | Articles | Reviews | Dictionary | Forum | Links | About | Search
Chockstone Photography | Landscape Photography Australia | Australian Landscape Photography

Please read the full disclaimer before using any information contained on these pages.
All text, images and video on this site are copyright. Unauthorised use is strictly prohibited.