Mt Korong, Inglewood
[ Climbs | Map | Forum | Trip Reports ]

Quick Stats
Climbs
***
**
*
Hardest
Longest
Rock
Access
10
0
0
2
20
55m
Granite
5 Mins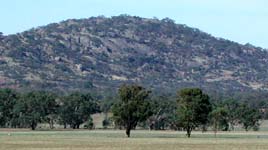 Driving north-west out of the little township of Inglewood your climbers instincts will draw the eye left towards Mt Kooyoora and the good climbing at Melville's Caves. Should you be foolish enough to resist said instincts and turn your head rightwards instead, Mt Korong will beckon with a siren song to the granite lovers. "Look at those slabs, and the blocks... got to be something good up there". High expectations, always a mistake when exploring a little known crag. Bring a wire brush. Better make that two.
Mt Korong is another course granite outcrop, similar to Melville's Caves at Mt Kooyoora about an hours drive from Bendigo. Most climbs are cracks. Expect foot holds and crystals to snap, and lots of moss. In fairness, there is at least two good, documented routes (Wychitella 18m 20 finger crack, and Spurlion 55m 13 run out slab), worth tracking down. However on our trip, we found nothing inspiring of a lead, so perhaps just grab a few slings and a big length of static rope with which to build top rope anchors. This will also save you lugging the rack about the place. If someone were to invest the time and effort to vigorously clean the lichen, moss and dirt from the various cracks and edges, and sink a few well needed bolts, the place would have a great deal more appeal to the average climber. As it stands it will probably only interest locals. There is a curious absence of fixed gear. I know that further bolting at nearby Mt Kooyoora is now-a-days banned, so perhaps this ethic also prevails here? Not sure.
To gain access from Inglewood (see: approach map), continue up the Calder for another 20kms (past the mountain) then head right down a dirt road signposted "Serpentine 32km Mt Korong 8". You'll find the entrance to Mt Korong Scenic Reserve after 6kms. Go through the gate. The road is closed from mid-July until late October. Climbing areas face south. Wychitella block is 300m on your right above the (dry?) dam. The large obvious crack is Kikimora 16m grade 16. Spurloin Slabs are 1.2km west, a few minutes drive on your hard left.
For a recommended starting point, head right as you enter the gate, and park very shortly at the picnic table. Looking directly uphill you should see the prominent crack of Kikimora 16m grade 16. Grab top rope gear and head up the steepening incline. There are some large blocks at the top that can be lassoed with a good bit of static (25m at least). Kikimora (16) begins as wide crack that can be laid back, or for more humour, body jammed. It's quite a laugh on TR, but with the loose block at mid way, and the wide crack start, hard to protect for a lead. More protectable, but far more serious is the 18m grade 20 finger crack of "Wychitella" found just right a few feet. It's very enjoyable on TR, but a lead is not to be taken lightly, it's certainly harder than it looks from the ground unless painful finger locks are your speciality.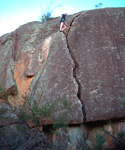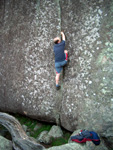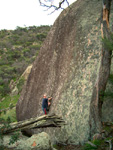 Top Right: Wychitella Block at the Dam Area. Above Left: Kikimora (16). Above Middle & Right: Wychitella (20). Below: Bouldering.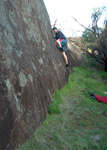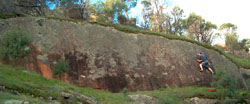 Before you leave this area have boulder on the nearby crimpy traverse we named "The Realm Of Madness", for no particular reason other than it sounded cool. The lower moves were mostly free of moss, making it possible to complete nearly 15m of traverse on small edges. Quite fun.

The Slabs Area

(Approach: 12 mins)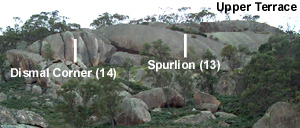 Had you driven hard left (not straight up), when entering the park, you would (after a few minutes), have come to the slabs area. There is a lot of rock here (far more than at the Dam Area), but without someone putting in work with respect to bolts and cleaning, there is only limited climbing. The pick of the documented routes here is "Spurlion" a 55m grade 13 slab, which begins on a large hollow flake and offers no trustworthy gear what so ever, except for one obvious placement, mid-way up where the vegetated, tiny seam crack momentarily opens to fist size beside a bushy shrub (pictured below left). Using the static to set a TR, we tossed the 60m down the line, and easily belayed from above to experience the otherwise very enjoyable route. I don't recommend a lead, unless you're keen to solo.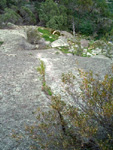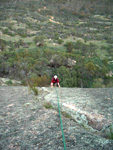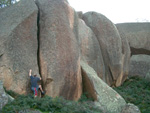 Above Left: Peering down the vegetated crack of Spurlion (13) slab from the mid-way shrub. Above Middle: Topping out on Spurlion (13) Slab. Above Right: Body Jam crack left of Dismal Corner. Above Far Right: Blocks behind Dismal Corner.
To approach the Slabs Area, identify "Dismal Corner" 20m 14, and the large cracked blocks left of the obvious slabs. Drive that little bit further until you draw level, and then hike straight up. This way, you'll avoid the worst of the bracken, which grows to chest height at it's thickest, and makes for quite a challenging trek. Arriving beneath "Dismal Corner" you can scoot along the base of the slabs (Spurlion is 70m right), or work you way up the left of Dismal's block to gain the summit. From here you can TR Spurlion, and move along the top of the slabs to the Upper Terrace.
A few metres left of Spurlion (looking up from below), there is a bolt on the first moves of another (much steeper) slab route, which I can only assume is a project, since there is but one bolt that we could see.
There is evidence of people camping or at least sheltering in the cave below and left of Dismal Corner block.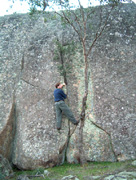 The Upper Terrace

(Approach: 15 mins)
Atop the slabs there are some hefty blocks, about 12m high. At the far right you'll find a series of thin cracks, which comprise the documented routes in this area. More serious cleaning would be required before a lead is practical. Behind the gum tree on the rightmost block, is ROC 8m 7 offwidth. 10m left of it is a 12m grade 14 hand crack "Backs To The Wall", which looks uninspiring, and 6m left again, is "Saturday Night In Sioux City" (19) a thin seam crack, that will need heavy cleaning.
Right: Backs To The Wall (14).
| | | | |
| --- | --- | --- | --- |
| Slabs Area | Height | Grade | Stars |
| Dismal Corner | 20 | 14 | |
| Spurloin | 55 | 13 | 1 |





| | | | |
| --- | --- | --- | --- |
| Upper Terrace | Height | Grade | Stars |
| ROC | 9 | 7 | |
| Backs To The Wall | 12 | 14 | |
| Saturday Night In Sioux City | 12 | 19M0 | |

| | | | |
| --- | --- | --- | --- |
| Dam Area | Height | Grade | Stars |
| Little Corner | 10 | 9 | |
| Out There | 10 | 13 | |
| Kikimora | 16 | 16 | |
| Animal Farm | 22 | 10 | |
| Wychitella | 18 | 20 | 1 |
---
Further Reading:
Northwest Victoria, A Rockclimbers Guide - A climbing guide book, edited by Chris Watson, Bill Andrews and Michael Hampton and available from local climbing shops, or the VCC.
Chockstone Forum Topic - Discussion of Mt Korong.
Home | Guide | Gallery | Tech Tips | Articles | Reviews | Dictionary | Forum | Links | About | Search
Chockstone Photography | Landscape Photography Australia | Australian Landscape Photography

Please read the full disclaimer before using any information contained on these pages.
All text, images and video on this site are copyright. Unauthorised use is strictly prohibited.