Interview: Simon Carter
[ More Interviews ]

Date: 25 October 2003
Intro: Simon Carter is well known to Australian climbers for his stunning climbing photography. Even a cursory glance through his outstanding coffee-table book "Rock Climbing In Australia", will have you drooling with vicarious anticipation for the skilfully depicted routes, and chances are one of his climbing calendars or posters already adorns your wall. Climbing for the last 20 years, his work, which has taken him to all corners of the globe, has won awards and found it's way into publications such as Climbing, Rock & Ice, and Stern magazines. He's had the pleasure of climbing and working with innumerable big name climbers. He runs Onsight Photography a local photo library and publishing company. He's climbed routes such as Serpentine (29) and Monkey Puzzle (28) in the Grampians, Slinkin Leopard (28) and India (28) at Arapiles and established FFA's such as Evil D (29) and Not To Bad (28). Born in 1966, Simon completed a Bachelor of Arts in Outdoor Education at La Trobe University, Bendigo. But who is the man behind these amazing images and what has his climbing life been like? Well, let's ask him.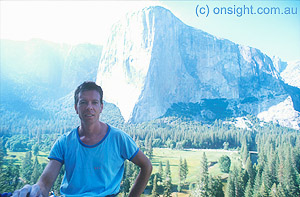 [ All photos by Simon Carter ]
A group of local climbers relax on couches in the morning sun in the backyard of Steve Monks' Natimuk abode. Some head off to the Grampians or Arapiles for the day. Simon Carter & Monique Forestier are on a rest day.
Q: So what came first, the passion for climbing or the passion for photography?
To go right back to it, the photography came first. I was actually into that when I was about 15, and then soon after got into climbing and quickly become obsessed with that. Both climbing and photography have always been two major things in my life, but they've sort of alternated in priority.
Q: Can you think of your first experiences with climbing and where that all started?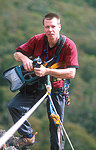 I got into climbing at high school when I was about 17. It mainly came about because the school had an outdoor education course and we built a climbing wall and I just got totally into bouldering. I was pretty pathetic at first and just wanted to get better. Then some local Canberra climbers started taking me out and it went from there.
Q: You completed Bachelor of Arts in Outdoor Education at La Trobe University, Bendigo, in 1990. I went to the same Uni a year later. Good old Bendigo, eh? How'd you find the course? Did you spend a lot "would be study time" on the local rock, such as Mt Alexander, Mt Kooyoora, Black Hill, Camels Hump, etc?
Yeah! [laughs]... The course was just brilliant. Fantastic. I got a tremendous amount of out it. Later I decided it probably wasn't exactly what I wanted to do as a career though. In a way it's actually probably had a lot of benefits for what I'm doing now. It helped me develop some philosophy, which has come in really handy as an underlying basis for the business. But you're right, the course gave me lots of opportunity to go out climbing. I didn't so much go to Mt Alexander or Kooyoora, but I'd duck over to the Grampians or Arapiles every chance I'd get. I think one year I logged about 50 extra days climbing. So it was great like that too.
Q: You hit Arapiles, full time, during 1992/3 for eight months. An extended stint like that has probably appealed to more than one local reader. Would you recommend the experience?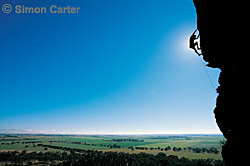 Totally. I think it was a fantastic thing for me to do at the time and I'd recommend it for anyone else who is considering it. I actually spent 3 months at Arapiles, went to New Zealand for 2 months, then came back for another 3 months. Of course that's good for your climbing, but one of the things I found really interesting about it how in our society people rarely take time out like that these days. Like living in a tent for 8 months. It gives you lots of opportunity to reflect. I guess that was when I decided I'd give the business a go. That sort of time is invaluable — time for reflection, get ideas together, plan, and do things at a different pace than normal. As an experience I couldn't recommend it enough. I also think too, for climbers these days... I mean Arapiles has a certain style of climbing that takes a long time to master. You don't get all those skills in the gym. As a way of rounding out your climbing, then it would be beneficial for many climbers.
Q: You started Onsight Photography back in 1994. By that stage you must have already had an ample stock of quality photos. A lot of people are of the opinion that it's impossible to make a living from climbing. Was it scary launching the business? Has the business exceeded expectations?
People always said to me it's not possible to make a living out of climbing photography in Australia, and certainly history tended to reflect that. No one had really. Glenn Robbins had given it a fair crack, but had pretty much given up. Glenn Tempest was doing it in a way but his income was always supplemented from other activities. Yeah, it was pretty scary. It did take a lot of commitment. And definitely the business has far exceeded any expectations that I had at the beginning.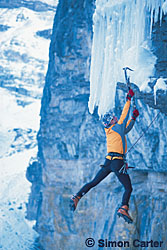 I was basically in a situation where climbing photography was the thing I most wanted to do with my life and I just decided that I really needed to give it a go, otherwise I'd never know if it was possible. Unless I was totally committed to it I'd never know. But yeah, I gave it a go and it's gone great, though obviously it's not been easy. I think for the first 5 years I lived off a shoe-string and probably survived off less than the dole. It's not the kind of business that most people would consider.
Q: You're doing what you love though, yeah?
Yes, of course. It's a labour of love. That's why I did it and why I still do it. Even if it makes money it's got to be a labour of love, because it's still a lot of work at the best of times.
Q: Climbing and photography have taken you to some distant parts of the planet. CANADA, FRANCE, ITALY, MALAYSIA, SPAIN, SWITZERLAND, THAILAND, U.K. and U.S.A, just to name a few. How does the climbing overseas compare what we have in Australia? What are some of them more exciting and remote place you've climbed?
There's such a variety of climbing overseas. I mean we've got a variety of climbing in Australia, but... I guess the biggest difference is the number of climbers and how big a sport it really is overseas. The general technical standard is really high. Mind you we've got some bloody good climbers here. Europe: Sport climbing; we don't have that volume of great sport climbing crags in Australia. For that matter we haven't got an El Cap either, but we've got a lot of good stuff, so I think we compare pretty favourably. The main noticeable difference to me is that there is a lot less climbers here. It's a smaller sport. It's a lot less professional in many ways too. Like, right throughout. For example, top-end climbers aren't supported here anything like the way they are overseas. Nor does the industry here support photographers and writers. We don't have the various industries that support climbing. All the big gear manufacturers are overseas. Everything's just so much smaller here. It makes it so much harder for anyone who wants to be professional or run a business that might benefit the sport. For example, there are several climbing photographers overseas that make a pretty good living out of it, so what I do is not remarkable in that sense.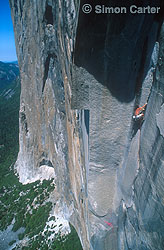 Q: I've got here: You are currently shooting in the US - well you're obviously back. So how did that go? Did you talk to any big name US climbers?
That was a fantastic trip. It was five and a half weeks. Mostly in the US and a bit in Canada. It was really productive. I got some fantastic photos. Spent 2 weeks around Moab. Went up to Devils Tower. 11 days at Yosemite and Tuolumne. Then 5 days up at Squamish in Canada. I came away with really good results from each area. Probably the highlight was Yosemite and shooting the Huber Brothers on El Cap [ pictured right ]. I was photographing them when they set a new speed record. They climbed Zodiac in 2 hours 31 minutes, which was the fastest ever ascent of El Cap via a 6th class route - meaning a route that normally takes several days.
Q: How did you manage to keep up with them when you were photographing it?
That wouldn't have been possible so I didn't even really try. I walked around to the top of El Captain and abseiled down 60m. I photographed them on the 4th, 3rd and 2nd last pitches and then topping-out. I had plenty of time to work out my angles and lenses and decide when to try and jumar and when to stay put and shoot. Though it all happened very quickly as soon as they came into view. They climbed the last 5 pitches in about 15 to 20 minutes. So yeah, I was very hard-pressed to change film, change lenses and jumar. It was quite a challenge. Just watching those guys in action was gob-smacking. Highly impressive. Totally bold, totally confident piece of climbing. I was just blown away. It was a lot of fun to photograph that!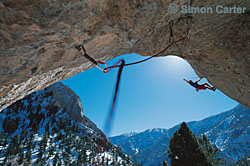 Q: You've worked with some fantastic Australian and international talent including Lynn Hill or locals Malcolm Matheson, Simon Mentz, Julian Saunders, Steve Monks [who was here just before] and Monique [sitting across the table]... yeah, what can you tell us from watching those people climb.
I'm very lucky with what I do with my photography that I get to work with really top climbers, see them in action, and often get to spend a fair bit of time with them. I find that totally inspiring. It can also frustrating when I see someone do a move really easily and think "Oh that can't be too hard", and then might get lucky enough to get a shot at it and realise how heinously hard it actually is and get totally spanked! So, great climbers, climbing well, well they just make it look all too easy!
Q: I'll mention Lynn Hill [ pictured right ] specifically, mainly because she's fairly short... ["five foot one I think"]... how does she manage to make up for that height?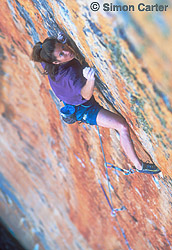 I think you've got to make the best of what other assets you've got to overcome limitations. I think we all have limitations, whether it's height or power or whatever. Lynn's an example of someone who might not have as much reach but she can use more flexibility, or a more dynamic aggressive sequence of moves to overcome something. Obviously she's got incredibly good finger strength so she can pull on really small holds that other climbers might not even consider to be holds. Some really hard routes do require a certain amount of reach, but a lot of the really hardest routes in the world just aren't reach problems. They are often more technical and the ability to hang on really small holds is so very important.
Q: Given that you've watched, very closely and photographed, a considerable number of talented climbers, not to mention your own abilities, can you see something that separates the seriously good climbers from the rest of us mortals? I mean, is it all just genetics or what?
The one thing that a lot of the best climbers have is that they are naturally, genetically talented, but the other thing that is at least as important is just how dedicated they are and how hard they train. I think a lot of the very best climbers have thought intelligently about their training and take a very serious approach to it. That seems to be a common thread. Driven, smart, talented people.
Q: Naturally you'll have a fair amount of say in setting your shots up with respect to choosing your angles and waiting for appropriate lighting, but given the dynamic nature of the sport it must be difficult to control all elements. Do your subjects take kindly to shouts of "Hold That Pose!", while on lead?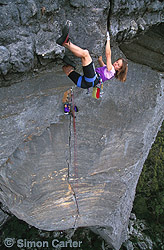 Usually not! [laughs]. I do put a lot of thought into the lighting, the angles, the composition, and I'll actually sometimes go to a cliff without a climber and I'll abseil down or I'll walk around, check out angles, and look through the viewfinder with different lenses. Or I'll watch a climber on a route when the lights not good and figure out exactly what I need to do. Some shots are best in slightly overcast light, others in sun. So I often figure all that out beforehand and then go back to the route and shoot it at the best time. Other times I try to photograph someone who's trying to onsight a route and you've just got to work with the best you can do, and work quickly. So in that situation you can't say "Hold that pose!". You've just got to get it or not. I like doing both types of shoots. They both have challenges. The people I work with are often very keen to be there and happy to be doing it.
Q: You've won awards such as "The King Albert Medal of Merit", for achievements in the field of climbing/action photography and "Best Feature Photography" from the Society of Publishers in Asia. Has this kind of recognition opened doors?
Yeah it has been useful for the business. Dealing with clients, it's been valuable to have those awards. Give you a bit more credibility I guess. So in that sense it's opened doors business wise, but I wouldn't say it's important to a huge degree. Certainly I don't feel it's important enough to warrant entering photography competitions and trying to win awards for the sake of it. But on a personal level the King Albert medal was really very satisfying. I mean, I couldn't think of a nicer bit of recognition for a climbing photographer. It was really cool. The whole award ceremony thing in Switzerland was heaps of fun.
Q: What about the respect and congratulations of fellow climbers, especially locals - how does this fame feel when you're just out for a quiet Arapiles trip or something?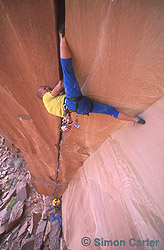 I don't feel like I'm famous. I don't think most people know who I am. They probably see me at the crag and I don't think most people would recognise me.
Q: That's because you're behind the camera instead of in front of it I suppose?
Yeah. But I'm just a photographer. I don't deserve any special treatment. Sometimes I can sense it, but I don't know.
Q: I understand you're also keen to convey an appreciation of our natural environment to viewers of your photographs, and impart the importance of being careful not to damage it?
Well the environment is just a key part of rock climbing. It's an essential thing that separates it from a lot of other sports. Photographically it's the environment that is so spectacular. It's also the thing that differentiates one climbing photo from another. I think a lot of climbing photographers fall into the trap of just honing in on the action, and that can be fine, but to do that all the time is a real big mistake. You're in these incredibly beautiful settings and to ignore that is just crazy. To me it misses the point. What I do in my photographs is seek out what is special or unique about the place and try and emphasize that in the photograph.
Q: You had a climbing accident a few years ago, when a belayer let you fall eight metres to the ground. You were lucky to walk away with only minor injuries. Can you relate the story? Has this incident affected your "lead head" or your perception of risk?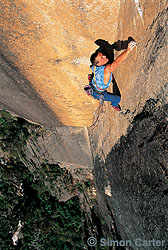 Well it's pretty involved, but I was on a top-rope and ended up basically falling about 7 metres and landing on my back, and was very lucky to walk away. It did shake me up for ages. Took a very long time to get over it and I think still to this day I am very safety conscious. I need to be aware that my belayer is paying attention. If I'm not sure my belayer is concentrating then I do have a serious problem about leading. I think what doesn't kill you makes you stronger; as the saying goes. I think it's good to have one near miss in your life, if it doesn't hurt you, because it does make you really aware that climbing is dangerous. Most accidents happen when people get complacent.
Q: If we can swing the topic around to climbing photography, can you let us in on the secret - what's the best way to get those amazing shots that you're renowned for? Any tips for us amateurs?
Some of those points I touched on earlier. Think ahead. You've got to work out your compositions, your angles, look through lenses. One common trap is that people think because they are photographing climbing they have to be on abseil. A lot of my best shots have been taken from the ground, or cliff-top or some other vantage point. I guess the point here is: think laterally. Look at what you're going to photograph, step back from it, and think "How can I best capture what I'm trying to capture here?". I think if you have a bit of direction it certainly helps. And as I said earlier, I often look for what's special or unique about the scene and figure out how I can bring that into it.
Q: What sort of camera gear do you pack for shooting a day of climbing? You're images are incredibly sharp and detailed. You must have some serious lenses. Do you have a preference of film stock? Do you shoot with 35mm negs, slide film, large format negs? Brand preferences? Have you done much work with digital? Are you a fan of the format?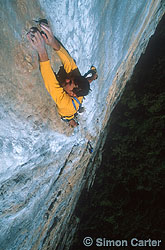 I'm shooting 35mm slide film. I haven't moved to digital yet and that's probably a little way off.
Q: Do you take multiple cameras?
I take one camera body, Nikon F100's, but I generally carry about 6 different lenses. You're right, they're serious lenses and that's a key thing. I use fixed lenses. I've got rid of my last zoom lens simply because the quality is not quite as good as you'd get from a fixed lens. Zooms also aren't as fast. So if you're shooting in low light and you want optimum quality then fixed lenses are the way to go. As a result I end up carrying a lot of glass up to the crag and the camera bag weighs a lot!
Q: Never dropped a lens off a cliff?
Never dropped a lens, never dropped camera, never dropped a roll of film, but I've dropped about 30 lens caps. [laughs]. I carry spare lens caps in the camera bag. Just "Oh, there goes another one", and I'll pull a new one out.
Q: Do you have an all time favourite photo you've taken? What in particular makes the shot outstanding?
That changes all the time. I wouldn't like to pin it down to just one shot. I've probably got a dozen that are just my favourites but it's always evolving. I guess when something is new, like any time you see a photo for the first time it has more impact, then after a few years it tends to fade a little.
Q: I've seen pictures of some of the wild rigging you construct to get the best angles. Hanging, suspended several metres outwards from the cliff, from what look like light steel poles. How long does it take to set up something like that? Is it comfortable?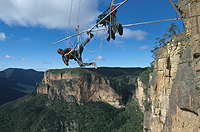 What you're talking about there is this aluminium frame that I call the "photo-frame", and I actually don't use that very much. In fact, I haven't used it for years because it is so much hassle to set up. There a very few instances where it will help you get a better photo. And that again is one of the traps. You simply don't need a "photo-frame" to get great climbing photos. I actually get quite a few queries from overseas climbing photographers about the photo frame, and I'm actually sick of it. They are like sheep. I tell them you don't need it.
Q: What are some of the lengths you've gone too to get the perfect shot?
Well I've spent days on the same route, trying to re-shoot it in better light, or because this or that didn't work out for whatever reason. There might be days invested in rigging a route, getting gear up to the place and sussing out the angles. So yeah, several days can be invested in one shot and even then it might not work out as well as you'd hoped. Other times you get lucky and pull off a great shot in an afternoon. Shooting at El Cap was probably the most horrendous amount of work for nothing.
Monique: Like that hike we did.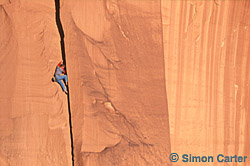 Yeah, sometimes you can put in a huge amount of work and not get anything. Monique is referring to a day in Yosemite when walked around to the top of El Cap, got to the summit, snow storm hit us, and we turned around a walked out again will all our gear. We were planning to stash it.
Monique: We had so much gear! We were hammered and it was like four o'clock in the afternoon.
It was a 32 km round trip and our packs were well over 20 kilos. Full camera, ropes, hardware. Yeah, got nothing from it in the end.
Q: You've been called a perfectionist with photography, can you comment on that?
I think it's a fair comment and I'm always trying to perfect my work, but I think that's almost an essential characteristic for a climbing photographer because you can't sit on your laurels. You've always got to be striving for something better. Otherwise you're not thinking about it, you're not pushing yourself, you're not challenging yourself to go to new places. I also think that the general standard of climbing photography, especially in Australia, is not particularly high. There are not many people trying to do new stuff. Overseas the standard is quite high in places, particularly in America there's a lot of climbing photographers who are really good, so if you want to sell your work internationally you've got to reach to that level.
Monique: One thing I like is you'll get some shots back and something won't be quite right, and just to go re-shoot it, to get the perfect shot.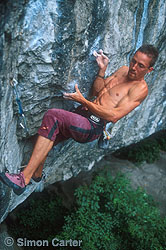 I think too when you've been doing something for a long time you can assess it well. And I guess all I'm doing there is trying to assess it the way a photo editor will, and like I say the standard is quite high in places. Believe me, the world does not need more ho-hum climbing photos.
Others: Have you had much published overseas?
A lot yeah, heaps. For the last few years I've been getting 90% of my photo income from overseas. I could almost live without the Australian side at all. The market for climbing photos overseas is huge. The market in Australia is just small.
The other thing too is that a lot of the magazines where I've had work published overseas is just not seen in Australia. I sell a lot of shots in Europe and America - those magazines will never hit a newsagent over here.
Q: We haven't seen any of your photos in Rock for quite a while. Why's that?
Yeah, you're right, I haven't had any photos in Rock for about three years. Basically I stopped contributing when it became clear that they weren't willing to actually take a legal responsibility for the photos while they are in their possession. It's a really unfortunate thing. I'd like to have my work in Australia's only climbing magazine, but if they are not willing to take responsibility I'm in a bit of a bind. Yeah, it's a pity, but it's only just helped focus me on the overseas market and on areas that are more profitable for my business. It's actually not been a bad thing for my business at all, but I think it's a real pity.
Q: Given that climbing is all about movement and action, have you ever considered expanding your work with still photos into video or film?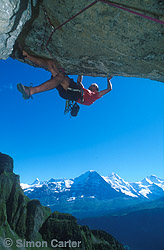 Yeah, I've thought about it, but no, I'm not interested in it. I just love still photography. I prefer to capture one image that is perfect. Video has got a lot of advantages for climbing, but I'm just interested in still photography. I'm not about to switch over anytime soon.
Q: A copy of your coffee table book "Rock Climbing In Australia", sits in a prime position on my bookshelf, as I suspect it does with many a climber. Depicting some of best climbing Australia has to offer, obviously an incredible amount of work went into creating it. I've read you spent at least a year full-time on it. Many of the climbers shown have names locals will recognise as leaders in the sport. Was it hard getting willing subjects rounded up? Can you tell us a bit about that year? Even just visiting every decent crag in Australia must have been an enjoyable but challenging task?
There was one year, maybe 10 months, spent full time working on the book, but it's really a culmination of four years work because I'd done a lot of photos previously. But when I got the contract to do the book I spent 10 months full-time on it. No, it wasn't particularly hard getting willing subjects. Everyone was incredibly helpful, really enthusiastic to show me around their local crags. It was a lot a work, but it was also a lot of fun. Really great to have a project like that. Most of the time I'd spend about three weeks on the road, then a week back in the office, then three weeks on the road again. It was enjoyable and it was challenging, but the best thing was it gave incentive to visit a lot of the crags that I probably wouldn't have visited otherwise. I think it was fantastic and as a result I got some great photos. I was a great process.
Q: Have you got plans for a world climbing book, in a similar vein to your Australian publication?
Arh, yes, exactly. That's what I'm working on now and I'm in the process of trying to find a publisher. I've got all the material that I need for it.
Others: Wow. Excellent!
Q: I love your sequence [ pictured right ] of Malcolm Matheson ("HB") cutting completely loose to dyno what looks like a sloper on Mirage (27), Taipan Wall. He's something of a living legend, did he tag it first go?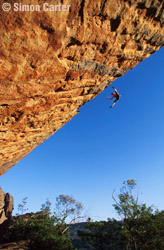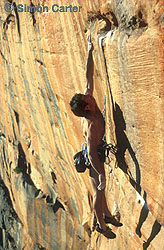 He'd actually climbed it before we went there to do photos. The concept of the dyno came to him at night or something. In a dream or something [laughs]. I think it might have had him baffled for a bit as it's such a blank piece of rock.
Q: Because he's completely free of the rock...
Yeah, it's a massive dyno. When we went there for photos he did it second shot.
Q: Julian Saunders plummeting off "Shattering Reflections of Narcissism" (29) at Millennium Caves made the front cover of your book [ pictured far right ]. The whole sequence of pics is outstanding, portraying well the bold steepness of the route. What in particular made you choose that shot over some of the others for the cover?
The cover choice of anything is always an involved process and there are lots of factors. The actual choice of book cover was not entirely mine. I worked with the publisher on it and we wanted an image that captured Australian climbing - the essence of Australian climbing. Like you could see that it was Australia and you could see that it was climbing - simple as that. It also needed certain graphic elements, space for text, and that sort of thing. When you see a photo on the cover of a magazine there's all these sort of considerations that come into play. How it fits the layout. What it says.
Q: I notice on your web site you've focused your photographer's eye on Tasmania's Totem Pole [ pictured below right ] several times. It certainly is an attractive line. However I've been told it's a horrendous bush bash to get in and "that shot", the one depicting the pole starkly vivid against the sea scape, is very difficult to take?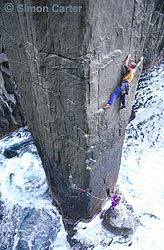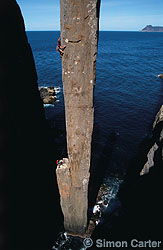 Oh yeah, it's quite a lot of work.
Monique: Easier to take the photo than climb it [laughs].
[laughs]... Yeah, apart from the fact that you've got to walk for nearly 2 hours you've only got to abseil a little bit. So Monique's right, it's only a short abseil and if you get the right light, and everything else comes together for you then it's actually not hard.
Q: You documented it's first free ascent in 1995 and Monique making the first onsight ascent of the entire route early this year. Was that inspiring to watch?
I should say a bit more about the Totem Pole, because I've photographed it four times and, you're right, I am totally obsessed by it I guess. It is truly a phenomenally unique formation. The first time I saw it I was just blown away. I'll probably even go back again. Such a good place to hang out and such a beautiful scene to try and photograph. Watching Monique onsight the Totem Pole was totally awesome. It was a fantastic lead, both pitches. It was a really exciting day for us.
Q: What the hardest grade you've ever led?
Serpentine (29) and Evil D (29) are about the hardest things I've led.
Q: The FA of Evil D, was the sort of crowning achievement for you climbing wise?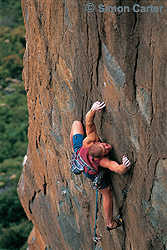 I guess sort of. It didn't really feel it at the time. It's probably more because I haven't done anything much since. [laughs].
Monique: Why did you stop climbing hard? Was it that the business took over?
Yeah, the business has got in the way basically. Like I did the 8 months full-time climbing back in 92/93 and soon after that started the business. And since then I've just not had the time to put into climbing that I would like. And now the thing is I'm older and it's even harder. It's just a time issue. The photography and the business has taken precedence. It's frustrating sometimes, but that's just the way it is. You make choices in life and move on.
Q: Just to finish off with a few generic questions, like what's you're favourite crag in Australia, or the world?
Arh, that's not fair having to pick one! But in Australia I'd have to say something like Tiapan Wall. Not so much for climbing, unfortunately, but for photography. Favourite crag for climbing... I've got a few. On an international scale. Hmmm, wow. Hard one actually. Because a crag I find interesting to climb at might not necessarily be photogenic. And places I love for photography are not necessarily places I could climb or would want to climb as much. Internationally, places like Ceuse in France. Great for climbing, great for photography. Just trying to think where I want to race back to... Thailand, yeah that was fun.
Q: Do you have a climbing hero or heroine?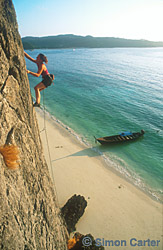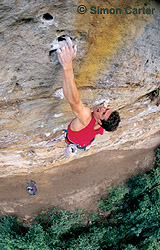 That's not a fair question either because I can't pick out just one person. There's so many great climbers who have inspired me. I can't name one.
Q: What would you rather be doing, photographing or climbing?
I guess there are times when I'm really, really happy to be photographing and rather be doing that than climbing, particularly when I see someone struggling up something horrendous. But in general, I'd probably prefer to go climbing. I tend to separate the two and say "this is a day for climbing" or "this is day for photography". I don't mix the two as much as some people might think. I find that if I try and take photos on a day when I want to be climbing then it will stuff up my climbing. If you want to get good photos you're just going to have to forget about any idea of climbing for the day. They're just not really that compatible at the same time. You have to choose.
Q: What does the future hold? Any trips planned?
The future just holds more trips overseas and trying to balance that with office work and getting the book and other projects happening. The balancing act between trips away and the office is always the tricky thing. Just more of the same really; more trips, more office work. Hopefully more time for climbing.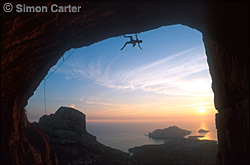 ---

Further Reading:


Onsight Photography - Simon's action photography company, with an on-line gallery of 100's of climbing photos, many from around Australia.
About Onsight Photography - A brief overview highlighting Simon's professional achievements.
Through The Viewfinder - An interview with the Canberra Tribe in January 2001.
King Albert Foundation - Simon won a King Albert Medal Of Merit Award.
Rock Magazine Profile - Issue 37 contained a write up of Simon's life as at March 1999.
Home | Guide | Gallery | Tech Tips | Articles | Reviews | Dictionary | Forum | Links | About | Search
Chockstone Photography | Landscape Photography Australia | Australian Landscape Photography

Please read the full disclaimer before using any information contained on these pages.
All text, images and video on this site are copyright. Unauthorised use is strictly prohibited.