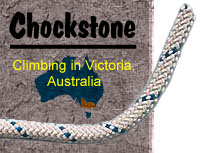 Sponsored By
ROCK
HARDWARE


Chockstone Forum - Trip Reports
Tells Us About Your Latest Trip!
Author

| | |
| --- | --- |
| Buffalo Aidfest November 2013 | |

16-Mar-2014
2:08:24 PM

On 15/03/2014 simey wrote:
>Nice work phillipivan - a good effort and a good read.

Thanks very much guys.

I've made a number of edits to fix grammar and expand upon a few points, but it's probably only worth rereading if you have an especially unsatisfying job.
18-Mar-2014
1:38:42 PM

I am retired, so have had the luxury of re-reading the thread several times, and each was enjoyable!

Your use of the word rivet (in several places), initially confused me for a bit. What you are referring to are actually carrot bolts, though you will find the odd rivet (much smaller, particularly for depth, than carrots), on Holden Caulfield.

I have now decided that what you referred to as a free-able chimney, is actually the slot/hole behind the 'boulder' located just below the plaque on Wilkinson ledge. I initially thought you were referring to the final pitch offwidth of LG.
The boulder-slot is unrope-freeable*, but cajones would be needed for that tactic on the final (offwidth) LG pitch.

*I wouldn't do it and advise caution...
As an example, I once slipped and almost fell out of the boulder-slot due wet rock and trying to push an overly large wombat up to my partner on the ledge above. I was roped at the time but gave myself a lot of slack rope so as to move up freely, so to speak.
On that occasion I got tangled up in the excess coils that caught up near the base of the slot, otherwise I would have shot out of it, like off a slippery-dip into the void, ... to eventually (hopefully) twang like a bungy jump gone wrong!

18-Mar-2014
5:55:20 PM

Yeah, Im muddling rivets & carrots. Also, to be honnest, I just wanted to squeeze a cycling reference in there for my own amusement cf. on the rivet.

And you are correct about my references to the chimney being the 'boulder-slot'.
10-Sep-2015
5:57:43 PM

** Continuation of my original TR that was shortened due to hacker issues...

• Pat's keen attitude built on his sound climbing experience, to overcome his initial hesitations regarding the scary element of testing thin aid. His analytical mind soon sorted the sequencing within his aid routine for maximum efficiency gains while leading Cream Machine.
• Macciza; the sage old master of aid and also conversely minimalist climbing; being supremely confident and calm in fearful situations; ... this especially evident while belaying sbm! Heh, heh, heh. ;-)
• Sbm's clever disguising of his secret protégé like status of Macca; ... by being the epitome of infectious enthusiasm all bottled up in a mild mannered superman looking for a wide crack to change within!
• Phil Box: Another sage of aid with more than enough gear to back up his experience, was the everywhere-photog with a particular flair for a different perspective! I am sure his quiet words of encouragement and clarification of technique where required, whilst hanging off a rope in near vicinity to aid-climbers having thin gear moments, was of benefit to them too.

Sat night was a mellow campfire affair on a cold evening, while we waited for an update from the team on Ozy. Contact was established at near enough the designated time of 9 pm-ish, so we all relaxed again, though it was evident that Phil and Huw were in for a long night of climbing still ahead.

Sunday morning came too early, as is the way on such weekends for those of us ensconced in warm sleeping bags; though team-Ozy were no doubt well pleased with the warming rays of sunshine as they topped out and updated us about same.

Peoples eyes tell such stories...
Despite weariness and adrenalin competing for centre stage in their psyche upon return to camp, they were obviously blown away when they received a standing ovation for their success, upon arrival.

What to do now as an anticlimax to that event?
Hmm. Why not go to Devils Couch and consolidate / build yesterdays skills further? ... So that is what we did, though Macca said he'd catch us up there as he was off to get some vegetarian food, which explains why he knocked back the spare can of dog-food I offered him from my scoff stash!

Pei and The Gymp clean aided the overhanging arch of Loose Fit, then turned it into an hypothetical leader-rescue scenario under the capable tutelage of Phil Box.
Pic?

Initial belay on Loose Fit!
Pic?

Pei belayed by The Gymp on Loose Fit.
Pic?



The Gymp in rescue mode.
Pic?


Meanwhile sbm, and later Pat, led Faust & Elizabeth, while Thommo belayed and jumar-cleaned it?
On Pat's lead he kept the dreaded-krab-shift morph to falling-shuffle-dance thing going, by hanging around on a 'progress-piece' for a bit, then allowing it to spit him off before getting a chance to put in the next 'good for pro' piece!

Aah the education on these weekends is unrelenting, as I could tell they were having fun when I heard the rope zing while I was nearby belaying Ben-E!!

Ben's lead of Damning My Soul involved more limit-testing when he deliberately left behind a hook taped to the face as pro to spice up his ascent.
Pic?


So in the spirit of the occasion, I self-belay-aid cleaned his pitch while he made friends with a local lizard that was curious about his making of a well constructed belay.

After I arrived at Ben's belay he kind of (sandbag?)-suggested I hook the first moves above it, instead of taking the easy crack option of the continuation of DMS.
After mentally conferring with the lizard who told me that the direct line above was a goer, I decided to play the sandbag game and turn it on its head, so seven or eight hook moves later I topped out the short 10 m headwall.

About half way through that lead, Ben enquired as to how it was going.
This brought a short connection back to the wider world for me, due the concentration factor I was applying to my situation of pretty much facing a FF2 onto Ben/belay ... and then beyond; had sealed it off quite nicely.
Interestingly I found that the mind-crux had already come and gone with a committing move about two hooks earlier, though the higher I got the thinner the hook moves became as the climb angle started rolling off to less steep. The key move remaining above me turned out to be a reverse palm-smear (mantle of sorts), physically on top of a tenuous hook to keep it in place for my right foot-weighting, while at the same time sharing bodyweight on my left foot with its own hook / ett combo; which incidentally though supporting my left foot, was the only hook-move that I wasn't especially happy with during the lead, due it being the second less than optimal setting after the first blew-out...


Ben hook-aided the line as second, though his rapport with the Lizard might have been less strong than mine, as finding some of the upper hook placements took him a little time to determine which were the best non-ones to use!

Mind games are an interesting (and engaging), thing; and this was highlighted yet again to me after we had packed up the top belay and were sidling off along a narrow ledge back to the descent gully.
We were unroped at the time, and I noted that Ben who was ahead of me, was taking appropriate due caution while easing around a bulge above the ledge, that tended to put ones balance out towards the drop-off.
At the same spot I was unusually totally comfortable on this occasion, due feeling like I was on a highway compared to the lead I had just finished!

We arrived back with the others who were packing up under threat of imminent rainfall, as they intended departing directly back from Devils Couch to the far-flung locations they had travelled from.
We said our hoo-roos, and I noted that Ben, now better versed in the art of pain and suffering than previously, had taken the biggest loaded pack/haulbag of any of the group on day two to the cliff; ... obviously to extend his fitness, and this also demonstrates he has taken to the aid version of the game like a duck to water!

View of Cathedral / Hump from Devils Couch on the return to the cars.
Pic?

Those of us remaining a further night at Catani, got back to the cars just as the rain started properly; and we spent the remaining leisurely evening at Catani hanging out in Pats ¼ acre Taj ent-Mahal, till Bultitude + Rowan arrived with our pre-ordered hamburgers for dinner (thanks again guys), which included a vego one for Macca!

Pat's Taj ent Mahal (background) and nearby slum area...
Pic?

That evening I spent time observing the last minute Defender of the Faith preparations of sbm/Bult/Row; and amongst giving advice when asked for, I wryly thought to myself, this brings back memories of the start of my own steep learning curve, as I listened to comments they made about indecision-items, like "oh, throw it in the haulbag anyway, as it doesn't weigh much". Too bad they missed out on Maccas minimalistic-approach presentation of yesterday morning!!
;-)

A couple of 'firsts for me' on this w/end were witnessed by the assembled throng –
Saturday evening saw me forego my traditional end of day cheers-beveridge of choice, in case I was needed to drop down the North Wall and say hello to the party finishing their climb there that day wee small hours of the morning!
Sunday morning saw me upgrade my 1960's daypack to a newfangled padded waistbelt BD Stubby Haulpack, courtesy of previous selling connections made on Chockstone.

~> The Buffalo Aidfest continues to grow; and I look forward to the next one.

(Many thanks to Phil Box for the use of his photos for this Trip Report)


Postscript.

Lizards and Talons are your friends. 10m M8
From the belay at the top of pitch one on Damning My Soul, continue straight up headwall on hooks. The line is slightly left of the flake located above the continuation P2 starting crack of DMS, and 3m R of DoL.
No pro worth having for the 7 or 8 run-out hook moves above; ... and that is why Talon-hooks are indeed your friends.
FA done in etts and approach shoes - Rod, Ben_E
24.11.13.






| | |
| --- | --- |
| | There are 24 messages in this topic. |
Home | Guide | Gallery | Tech Tips | Articles | Reviews | Dictionary | Forum | Links | About | Search
Chockstone Photography | Landscape Photography Australia | Australian Landscape Photography | Landscape Photos Australia

Please read the full disclaimer before using any information contained on these pages.
Australian Panoramic | Australian Coast | Australian Mountains | Australian Countryside | Australian Waterfalls | Australian Lakes | Australian Cities | Australian Macro | Australian Wildlife
Landscape Photo | Landscape Photography | Landscape Photography Australia | Fine Art Photography | Wilderness Photography | Nature Photo | Australian Landscape Photo | Stock Photography Australia | Landscape Photos | Panoramic Photos | Panoramic Photography Australia | Australian Landscape Photography | High Country Mountain Huts | Mothers Day Gifts | Gifts for Mothers Day | Mothers Day Gift Ideas | Ideas for Mothers Day | Wedding Gift Ideas | Christmas Gift Ideas | Fathers Day Gifts | Gifts for Fathers Day | Fathers Day Gift Ideas | Ideas for Fathers Day | Landscape Prints | Landscape Poster | Limited Edition Prints | Panoramic Photo | Buy Posters | Poster Prints