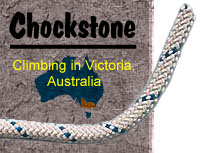 Sponsored By
ROCK
HARDWARE


Chockstone Forum - Crag & Route Beta
Crag & Route Beta
| | | | | |
| --- | --- | --- | --- | --- |
| Area | Location | Sub Location | Crag | Links |
| VIC Buffalo | The Horn Environs | (General) | The Horn | [ Horn Guide ] |
Author

| | |
| --- | --- |
| Bolting at The Horn, Mount Buffalo | |

4-Mar-2013
12:30:01 PM


>
>One of the factors strongly influencing what makes a bolt 'good' or otherwise
>is WHO put it in.

WHO are you? You clearly have no idea about the people you are making comments about
4-Mar-2013
2:52:23 PM

On 1/03/2013 One Day Hero wrote:
>On 1/03/2013 rolsen1 wrote:
>>>>Personally, I believe that ALL Victorian and Tasmanian climbers act
>in the best interests of both
>>>>the environment and rock climbing in general.
>>
>You need to realise how stupid your statement is! Care to enlighten me
>as to how you arrived at this utter bollocks?

I reckon I've only meet one totally jerk for whom climbing was only about him. But it was a short meeting and my judgement was probably clouded because they were already on the climb we wanted. Yes, there are tools in many campgrounds but I can't see how that can be extrapolated to suggest that they don't care or act in the best interests of our crags.

>
>>You need to realise that only a tiny percentage of climbers post on chockstone.
>
>Non sequitur much?

I meant, while it appears that idiots abound as far as major chockstone posters go, I don't think they are representative of the general Australian climbing population, or of the larger chockstone readers.

Also, you're not from Victoria or Tasmania ;)
6-Mar-2013
3:01:44 PM

With all due respect to all parties, I'm taking the liberty of speaking freely for a final occasion.

I haven't kept up on the thread but having been there and climbed, inspected, photographed, and measured these are my final thoughts. I haven't done a whole lot of climbing in the last year or two, so all these bolts that were being talked about at The Horn didn't really make a lot of sense to me. Besides, I don't really see routes up there but features instead; I don't know the names of most. The fresh bolts on the face at the bottom sounded pretty bad because it they were so obviously superfluous, but I was willing to accept that the flake had broken on the LHV so I was holding off judgement until I had a look.

I'm mystified by what I saw up there. It's just astounding. I've invested too much time already, have other stuff to do, can't imagine that all of these bolts will remain anyway, and you shouldn't teach a pig how to sing but I had so many "WTF....?" moments up there that I'm going to bore you with some final details and be done with the issue.

On the walk to the summit I noticed that there is a gleaming rap anchor out to the right of The Pintle, next to the prominent natural horn. I don't remember a bolted anchor there but its pretty grotesque anyway; it's the one piece of hardware everybody can see from everywhere and seemed to reflect perfectly at any angle or time. Aside from why the horn can't be slung, if you're having a massive epic 20 meters from the tourist railing, I don't know why there would need to be a rap anchor there at all. Is it for TRing or lowering off bolted routes? Again, what's wrong with the leave no trace solution?

I chucked a rope off the top and headed for LHV. Got to the top of the route and there's a bolt with a rap ring at the edge of the ledge back down to the Pintle regular route. I want to be sure this is clear. Walking off to the climber's left is YDS 2nd class; it's not nearly exposed enough nor uses the hands to even be 3rd. This isn't isn't even on the Ewbank scale that bottoms out at 5.2. Off the right side of the boulder, where the bolt is, it is maybe four meters to the boulders. You can scoot, certainly anyone who just did the LHV can, with your back to the rock until your feet are maybe 1.5 meter off the boulder where you can jump or step on your partner who you just lowered down. You can simulrap one off each side. If you can't use the fixed natural anchor, and you can't tie a knot and put it in the crack, and you can't walk down 2nd class then somebody needs to pull you aside and tell you that you're in way over your head. Please don't get the idea that because you can put a cam in a crack (sometimes anyway; I'm getting there) that you're a traditional climber or that you know anything at all about the pursuit of climbing. How somebody could get the idea in their head that this a major problem that needs to be solved by them going up there and setting up a construction site boggles my mind. I'm sorry. I don't know how else to say it.
To do something like this tears the very heart and soul out of traditional climbing. Hundred of millions of years clashes with nature to sculpt these amazing features. Not all are aesthetic, not all allow free passage, and not all allow natural protection from ground to summit. You can walk away and it is like you were never there. When the next party comes they might imagine themselves doing a first ascent, or even practising for one in high mountains far away. A team might have an argument over what to climb and throw the guide book into the bushes and say, "Let's just each pick something that looks beautiful and try it." Maybe they'll climb better then they ever had because they weren't intimidated by numbers or words in a book and they just tried hard but inspired by a quest into the unknown. There would be no bolts sticking out of the rock anywhere to say, "Come this way, its safe here little child". When you add bolts like these you obviously can't imagine all the adventure and freedom that you rob from everyone else who will ever come along.

The bolt on LHV. Like I said, I rapped down to the flake, stood there (1" to 1 1/2" thick), looked around and couldn't find it. I just figured you'd stand on the flake and clip it, particularly since it's a ways to the next piece and the good crack is right there. It's 50 cm below the top and, in my opinion, the top coming off changed the available gear only by adding a horn to be slung if you're epicing. From the same stance you clip the bolt the closest slammer piece of gear (like rig a bigwall haul kind of slammer) is maybe 50 cm below your feet and is a yellow TCU. What I called a .75 Camalot before is a hair smaller and an orange TCU goes deep there; this piece would be at your left knee at is 1400 mm from the bolt itself. 8 inches below the orange TCU is a slammer #5 RP. These are of course both on the left side of the flake. On the right side the .75 goes in about 50cm below the bolt. Although the flake is thinner here I'd lead at my limit off of it although I wouldn't be keen to take an 80 footer through space onto it. Below is a larger (maybe #9) BD Stopper, which is a perfect passive piece for a flake like this; its 80 or 100 cm below the bolt. All in that's four pieces of gear with in 2 meters and if they were all in you could touch any of them from the same stance as you clip the bolt. This doesn't even count slinging the top of the flake which I did and the biner hangs exactly next to the bolt. Again, I wouldn't want to take a 100 footer on it but it's definitely legit gear if you're desperate for a piece here. Also, I'm extremely conservative with climbing gear because I don't trust it; if I say a piece is bomber it is definitely good for an average free climbing fall.

I'm not going to even try and rate the climbing to the top from here but if you just did the bottom of the route you should certainly be solid. From standing on the flake I walked to the top. Not even like Johnny Dawes floating up nonexistent edges on a cloud of ether but like I simply held my rope in my hand and walked up. I had to think about the first two holds to get it right the first time but I did. There's another piece of gear (probably a blue TCU) midway up that is decent.

I have photos of all the gear placements, FYI.

Summary/opinion/suggestion: If you get to that spot on LHV and can't do it without the bolt then you need to tell yourself that you're in over your head and be thankful that you have the skills to plug the rest of your rack in the crack and rap the 30 meters to the ground. If you can't build an anchor, then down climb or jump onto the last piece and lower to the belay. Get your partner to help rig a rap and continue to the ground. Once there, pull the rope and walk back to the top of the cliff (+/- 10 minutes). If you're now lacking the requisite equipment then tie the rope to the railing and check for climbers below. If there are climbers then ask them nicely to grab your gear. If not, toss rope, abseil to gear, remove gear, continue to the ground. Have partner remove rope from railing and meet you at the trail junction. If this looks dodgey then switch to buddy system and one of you remain in place until the other one arrives. If you succeeded in climbing the LHV without the bolt then first take a deep breath that you sailed those waters safely. If you get the idea that there needs to be a bolt there then you might need to sit down with a few more experienced climbers and have a discussion. If you go and actually place a bolt there, and at the top, somebody needs to stop you with words or the force required in ripping this crap out. It is just not cool to take a route that was zero holes from ground to summit and put the first two in it.

I'm new enough here that I'm not going to chop them. However, if I ended up standing there in the company of a qualified individual and they came up in conve
6-Mar-2013
6:00:51 PM

I have been told the rationale behind the rap ring at the top of LHV was that more portly climbers couldn't manage to get through the squeeze to the base of the 3rd pitch and were therefore leaving tat there instead.
6-Mar-2013
6:38:47 PM

On 6/03/2013 singersmith wrote:
>
>The anchor at the top of what I think is Dick Selector is also offensive
>when seen from anywhere above, aside from being retro.

What was the descent from Dick Selector (or Crowlands, which finishes in the same place) prior to the rap anchor being installed up there? I've only done them with the rap anchor there, and didn't notice any natural features to rap off, but then I wasn't looking for them as I had a rap anchor available.

Actually, for that matter, how well does a rope stand up to being looped around a granite horn for a rappel, and then pulled from the ground? That granite's a fair bit rougher than quartzite... (Not trying to justify bolting here, I'm genuinely curious.)
6-Mar-2013
7:23:03 PM

So much added to this tread in the last week I must admit some of it is interesting reading from a number of contributors. Singersmith I think i have read most of your comments as being thoughtful and rational but i have different views to your summary. I have learnt when you leave a comment here the majority of people generally get the gist of what you mean and will gladly further inform and/or persuade you of their views. My philosophical comment about narrow minded intolerant people apply to any cliff uses, that is commercial guides who throw ropes over cliffs or padlock anchors and show no respect for recreation climbers, bolters who show no respect for trad routes. And I did NOT say commercial guides have a right to retrobolt or change the nature of a climb, but for me personally (and I did say it was my opinion only) if I have a group at a crag and a guide turns up with a few clients I will ask my students to step aside and let them go ahead. If a run out section of a trad climb has the potential to be extremely serious then risk management requires that we reduce the risk (ie:top rope only) or avoid it all together. While I know about 3 established climbs at the Horn that had bolts added 3 or 4 years ago, my only crime was to add some rap anchors and a few easier climbs to the right of the crowlands wall in the lower grade 7-9. I have been surprised by the negative reaction to a few easy climbs on rock that had no climbs before, or were climbs near cracks greater that 130mm and only grade 6 or 7 so you simply solo. As the thread has gone on Im trying to understand why a few react so strongly and all i can do to make sense is that some simply want to keep the area for the 16+ climber and have a fear that creeping changes will slowly destroy the hard trad routes. Just looking at a recent thread on Point perp it seems bigger arguments are happening at other crags

Singersmith >it's the one piece of hardware everybody can see from everywhere>

Im baffled what youíre talking about like you have been to a different Horn to the one i visit. If you mean the rap anchors directly above The Songlines then it is very hard to spot and there is also good reason it has been there for quite a while, while most climber never even spot it. In 2006 the RIC was going to place a sign at the top to notify climbers that roping activities were not permitted to use the handrail in any way and rangers made regular visits over summer to make sure it didnít happen. We use to spend 4 weeks there each summer during that period. Bolt were placed to make it possible to climb peroxide. The rap anchors made it possible to complete LHV, Big Fun, The Songlines, They Dance Alone, Buttock, Change of Heart, Rent A crowd, then cleany rap back to base, climbing to the handrail and raping and retrieving rope was not only prohibited but would often result in rope becoming snagged in boulders and cracks 2nd pitch of Pintle. There is also a rap chain top of Crowlands wall and one top or Profanities which are a little more visible and which you may also find hideous. You may think you have some sort of ownership of the area but im sure a number of other FA in the area have no concerns about being able to cleanly descend off climbs without leaving countless amounts of frayed and bleached tape or cord behind.

Good comments earlier about climbers and egos. Ive asked a few FA who put routes up 20+years ago what motivated them to do it. They freely state it had a lot to do with ego, they wanted to make a name for themselves, however I get a sense another reason grows as time goes on, that they want to give back, or pass something on which they personally gained so much from. To see people enjoying their climb years later is more important than having their name to a route that has never been repeated. For people to say ego is not a part of it Ö honestly! Why is it there are so many routes in the 18+ grades at Buffalo? A .Because there are few climbs in the lower grades. B. Because there is no hedonistic self-glory in putting up a grade 10. C. Both A and B but mostly B
6-Mar-2013
8:25:11 PM

On 6/03/2013 Dave_S wrote:
>On 6/03/2013 singersmith wrote:
>>
>>The anchor at the top of what I think is Dick Selector is also offensive
>>when seen from anywhere above, aside from being retro.
>
>What was the descent from Dick Selector (or Crowlands, which finishes
>in the same place) prior to the rap anchor being installed up there? I've
>only done them with the rap anchor there, and didn't notice any natural
>features to rap off, but then I wasn't looking for them as I had a rap
>anchor available.
>
>Actually, for that matter, how well does a rope stand up to being looped
>around a granite horn for a rappel, and then pulled from the ground? That
>granite's a fair bit rougher than quartzite... (Not trying to justify bolting
>here, I'm genuinely curious.)

There is a large leaning bolder about 2 metres tall and the width of 2 average men 10 metre to the right of crowland wall which often got a tape tied around it. While nylon on nylon is not a good thing when pulled, climbers who ventured up that wall would pull through the tied off tape over pulling around the abrasive boulder, still with the boulder back from the edge4 metres the front edge of that wall could be harsh enough on rope regardless
7-Mar-2013
8:03:11 AM

Singersmith: The rap bolt on top of Pintle LHV appears older. Also, the scramble off the back is troublesome for the larger, I had to take my helmet and harness off to squeeze back around the front.
7-Mar-2013
9:18:41 AM

I've never used that rap bolt, but I thought it was a reasonable idea, and didn't object when I saw it there.

I've never done the squeeze but the downclimb was a bit dicey and I've belayed people down it in the past. Which now I think about it, kinda backs Singer's view, you can manage these things without bolts.

However the far superior method I've used for the past few years is to leave your rap rope fixed in place on top, then you could grab it from the top of LHV and rap the 4-5m down to the base of Peroxide.

7-Mar-2013
9:41:29 AM

On 7/03/2013 anthonycuskelly wrote:
>The scramble off the back is troublesome for the larger, I had to take my helmet
>and harness off to squeeze back around the front.

I dunno, I'm 6 foot 4 and weigh 90kgs, so would certainly be on the larger size of climbers, and I had no problem getting through there. From memory I chimneyed along a bit higher rather than walking along the bottom of the crevasse.

I really don't think there's any need for a fixed rap there. Especially as it avoids the quintessential Buffalo experience of grovelling through sharp granite squeezes.
7-Mar-2013
10:05:28 AM

Cam, I'm not much smaller, though I did go along the bottom of the crevasse.
| | |
| --- | --- |
| | There are 271 messages in this topic. |
Home | Guide | Gallery | Tech Tips | Articles | Reviews | Dictionary | Forum | Links | About | Search
Chockstone Photography | Landscape Photography Australia | Australian Landscape Photography | Landscape Photos Australia

Please read the full disclaimer before using any information contained on these pages.
Australian Panoramic | Australian Coast | Australian Mountains | Australian Countryside | Australian Waterfalls | Australian Lakes | Australian Cities | Australian Macro | Australian Wildlife
Landscape Photo | Landscape Photography | Landscape Photography Australia | Fine Art Photography | Wilderness Photography | Nature Photo | Australian Landscape Photo | Stock Photography Australia | Landscape Photos | Panoramic Photos | Panoramic Photography Australia | Australian Landscape Photography | High Country Mountain Huts | Mothers Day Gifts | Gifts for Mothers Day | Mothers Day Gift Ideas | Ideas for Mothers Day | Wedding Gift Ideas | Christmas Gift Ideas | Fathers Day Gifts | Gifts for Fathers Day | Fathers Day Gift Ideas | Ideas for Fathers Day | Landscape Prints | Landscape Poster | Limited Edition Prints | Panoramic Photo | Buy Posters | Poster Prints