12-Feb-2013
10:38:52 PM

On 11/02/2013 martym wrote:
>On 8/02/2013 IdratherbeclimbingM9 wrote:
>>On 8/02/2013 Eduardo Slabovic wrote:
>>>You clearly cant cut it anymore so you should sell your rack to me.
>Especially
>>>if you have a $50 #4 Camalot.
>>>
>>I have a $50 #6 Camalot if you want it...
>>~> It has only been used once.
>>
>>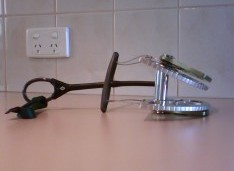 >
>That's unreal - what's the story behind that cam??
>Did you back your car over it or is that from a horizontal gone wrong?
>>Heh, heh, heh.

& ajfclark replied;
>A friend tried to juggle cams on the lip of Buffalo gorge and dropped it. M9 went and found it.

It was a while back, and I was climbing with a friend on Defender of The Faith on the North Wall of Mt Buffalo. She was sorting gear at the first belay above Comet Ramp ledge, and pulled the excess rack out of the haulbag at the time, in preparation for the upcoming pitch.
Somehow that cam became detached in the process, and fell from that height, bouncing a glancing blow off Comet Ramp ledge and going the remaining distance to the gorge floor.

It was surreal, watching it 'float' downwards, till it struck the glancing blow off angled rock, and continuing it's journey, of approx 200 m all up...

I later recovered it, as it had actually never been placed prior to that, and after checking with it's original owner have been granted the item.

BD informed me that they don't sell spare axles... ~> so apart from being a paperweight, the only useful item on it is the sling; however I have kept it in case I ever need spare trigger wires for my other cams.