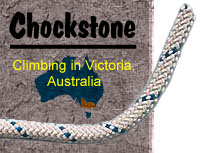 Sponsored By
ROCK
HARDWARE


Chockstone Forum - Trip Reports
Tells Us About Your Latest Trip!
Author

| | |
| --- | --- |
| Yosemite Valley - June 2010 | |

22-Jun-2010
10:20:10 PM

"Shit. The rope's stuck."
Familiar words perhaps. Abseiling, not an aspect of the sport I really like. And sometimes the rope gets stuck. But in this case it was more serious.
We were in the process of bailing from The Nose. I had a long-term aim to try to climb it, and somehow between a busy May and some commitments later in June I'd managed to

squeeze in a two-week trip to Yosemite. Jen had been touring around the States since March, and due to some rearrangements in her plans was available to come back to Yosemite

and meet me there.

I'd always thought an attempt on The Nose would be carefully orchestrated. I'd get really fit, climb lots of granite, prepare all the gear really well and be well rested. In

the end, it was 5 hours sleep per night and a hurried gathering of gear the day before I flew. I still don't know where I left the skyhook.

The Nose from Middle Cathedral.

I didn't get in to San Fran until really late due to flight delays. Jen was arriving from Vancouver about the same time. By the time we'd got the car, driven to Berkeley and

checked in to the hotel it was 1am and my head was still buzzing.

Tuesday was the designated shopping and driving day. I'd ordered some items for in-store pickup; a lightweight sleeping bag, a locking pulley. They hadn't arrived so I got

the bag and we drove around to Marmot Mountain Works where I got the pulley and some offset cams, plus a big, cushy harness that was dubbed the 'Jason Recliner'.

A stop for dinner, supermarket and various other bits and pieces ensured it was well dark before we reach the Valley. I'd booked a campsite in the Pines for the first night,

then we planned to line up for a campsite in Camp 4 the next morning. Camp 4 doesn't take reservations, so if you want a site you get in line in the morning. At 7:30am the

car was packed and drove to Camp 4, only to see over 40 people already in line. What? We joined the line, chatting to two Peruvian climbers just ahead of us.


The queue to gain a place at Camp 4.

Around 8:00 the ranger, 'Pinky' arrived to announce there were 44 places available. Our best counting placed at at #46, but it was hard to be sure, so I waited from when she

started processing registrations at 8:30, very slowly getting through them until she reached the person two places in front of me – at 10am. No more places.

In the meantime Jen had gone back to the Pines to put our name on a wait-list, which is processed at 3pm each day. So we had a few hours to go climbing. Glacier Point was

nice and close, so we went and did "Harry Daley" (5.8 *****), a nice 2-pitch route which follows a slabby finger-crack. There was no-one else climbing, which we thought was

good for such a nice sunny day, although a few days later we learned climbers are avoiding Glacier Point due to frequent rockfalls.

At 3pm we were doubly successful, we scored a 'standby' site for that night but also booked a site for the following night. That was more important, for in the morning we

wanted to do the East Buttress route on Middle Cathedral, an 11-pitch all-day 5.10 route. We made friends with a German couple who'd missed out on standby and offered them a

place to stay on our site. In return they cooked us dinner from their RV kitchen. Before that, some climbing was due, so we went up to the Church Bowl for some crack

climbing on Bishop's Terrace, a 2-pitch 5.8 hand-crack. Jams had never felt so bomber.

After waking up early for the past mornings - I blame jet-lag, but the timing was wrong – we overslept the alarm the next day. 7:38!!! Nevertheless we weren't going to miss

the chance, so we ate, packed and drove down to the west end of the valley and left the car around 9am for the 30-minute uphill approach, encountering a bear en route. I tied

on around 9:45, and we topped out around 7pm, then found the descent route. Three abseils later and lots of walking in the dark, we were back at the car around 9:45pm.


Middle Cathedral – The East Buttress route follows the left face.


Pitch 4, East Buttress of Middle Cathedral

In the morning we felt like we'd done something, so took a rest day. The next morning we were up at 6:30am to queue for a campsite, but again unsuccessful. Bugger! This is

getting to be a chore. We did some washing then queued up for a standby site at 3pm, but this time missed out. The day was saved by making friends with one of the lucky

couples, Will and Allison, and sharing their large site.

The next day we were determined to make Camp 4 – this must sound like a Himalayan expedition - so set the alarm for 4:30am to ensure the outcome. Jen was in the queue about

4:45, 4th in line. I drove back and tried to get some more sleep, then got up, packed both tents and was back at Camp 4 at 8:15, expecting the registrations to open at 8:30.

But 'Pinky' had got the better of us and opened the window early, meaning Jen was at the head of the queue before I arrived. Fortunately a mate from NSW, Dave, stood in for

me and a campsite was ours. I strode into Camp 4 carrying a food box and feeling like we'd won the lottery.


Camp 4

Afterwards, we wandered over to Church Bowl again, but this time for some aid climbing practice on an unsuspecting 5.10 finger-crack.

Sunday was the big prep day. We bought some more items at the Mountain Shop, particularly screwgates, and food. Monday was launch day. We only had 4 pitches of climbing,

but certainly we were not feeling relaxed.


Racking up

A 6am start and we didn't rush, departing the car park around 7am, and found the start of the scramble to the first 'roped' pitch, but then belayed one section to be safe,

arriving at the 'real' start around 8:15am. One party was climbing the first pitch with another above them – the queues continue! We waited a few minutes then Jen led off,

combining free with aid moves beautifully.

Pitch 2 was my lead, and a psychological crux – owing to its reputation for dealing out falls with a ledge below. It was mostly an anticlimax – a few free moves up the

corner, then some aid in pin scars, but the offset cams went in perfectly and I top-stepped my way past the difficulties. A short, easy pendulum led to easy aid up the crack,

where I back-cleaned to cut rope drag. Attempting to free the final moves to the belay, I nearly came unstuck when I forgot to unclip my etrier from the last piece – when it

pulled tight I was in the middle of a tenuous move, and had to downclimb to unclip it. The cam rewarded me by promptly falling out, leaving me to finish the pitch with a

longer run-out than I'd bargained for.
At the belay already were two Korean climbers who were moving slowly. It was already 11:30am. Jen joined me and we waited for them to clear, then she led pitch 3, again

getting out of her etriers whenever possible.


Jen leading off, Pitch 3, The Nose. Climbers are visible on the Stovelegs near the skyline.

At this stage we realised we were moving much slower than expected. Sure, the other parties were holding us up, but not by a lot. When I joined Jen at the start of pitch 4

she explained the Korean leader had forgotten his haul line, so the second would have to drag it. Could we wait, and lower out the bag for them? Wot? Yes you heard it,

another logistical screwup by the team in front, and we lost some more time.

Pitch 4 proved much harder than expected, probably due to the strange case of etrier-suction that my feet developed. Some easy free up the corner led to some flared pin-

scars, and I blew more than one cam trying to find a placement that would stick. Then a welcome bolt, but still a 2-metre gap to the lower-off for the next pendulum. I

placed a scary 00 cam in a flake on the right, but still needed more height. A crack'n'up? Blew when I tested it. 00 RP? Blew. Cam hook? No, won't stick. Eventually it

dawned on me that this was going to be easier to free than aid. I placed a very dodgy Rock to gain a few centimetres, then stood on the bolt head and launched, grabbing the

lower-off soon afterward.
The pitch 4 pendulum also had a reputation, but it was easy – sideways free-climbing under tension, with good side-pulls. Fun. I clipped some fixed gear in the next corner

and made the shorter second pendulum, then was on easy ground across the ledge.

Jen followed, admirably working out the logistics on her first major lower-out. Then at the ledge her arms failed her – trying to second a short tricky section free, the

combined weight of water, 2 ropes and the lower-out line overwhelmed her and she took an unexpected swing.


Jen seconding the pendulums, Pitch 4, The Nose.

By the time we'd rested and set up the ropes to rap back to the valley it was after 6pm. Even removing the waiting time it had taken 8 hours of climbing to get this far – not

what we'd expected. It had been a long, hot day. We were feeling defeated, and retired to camp, leaving the ropes in place.

The next day was declared a rest day to regroup and consider options. First thing in the morning I think we were both disinclined to get back on the wall, but after a pep

talk from Tom at the bridge, plus some think time, we'd recovered some composure and went back to camp to pack the haul-bag.


"I swear, some midget beat me up with a pool cue yesterday".


Pep talk from Tom Evans, Commander at the Bridge


After the previous day's weather we packed some extra water - I think in total we had 26 litres, well enough for 3 days. But not enough for 4. We made a plan – if we could

get to El Cap Towers - the end of pitch 14, the next day, we would continue. If not, we expected to make it to Dolt Tower, where an easy escape was possible. I went back up

the fixed ropes to haul the bag to Sickle Ledge while Jen drove out of the park to refuel the car. We set the alarm for 5am.

Jugging the fixed ropes took a while, then Jen led off on the easy pitch 5, and continued to make the next belay, a rope-stretching 60.5m. Another party was coming up fast

behind us, and they made moves to pass, indicating initially they were attempting the Nose in a Day. Bit late aren't you fellas? The illusion fell well apart on pitches 7

and 8 – they were no faster than we were, and decided to bail after holding us up for about 1 ˝ hours. I hung from two bolts, looking at my watch, thinking our chance for the

summit was slipping away. Jen led the pendulums then strung part of pitch 8 together. We had reached the famous Stoveleg Cracks. My lead.


Just hangin' out, belay at the end of pitch 6, the Nose.


Waiting for the way to clear, pitch 7-8, The Nose.

I was expecting to bomb my way up the wonderful hand-cracks, but the combined weight of the huge rack and two ropes had me hanging off a runner only a few metres up from the

belay. I aided the rest of the pitch, then the next one. It was straightforward aid, but slow, and it was around 8pm by the time we were assembled at the base of pitch 10.


Lead climber's view, pitch 8 (Stoveleg cracks).

I fired up my head-torch and took off, freeing the first section for speed, then placing again. The pitch was more hand-crack, great for leap-frogging a BD#3 and Friend #3.5.

I strung together some long run-outs in the dark, conserving my large pieces for the wider cracks that I knew followed.

Eventually, after a nasty altercation with an off-width, and linking pitch 11, I pulled onto Dolt Tower in the pitch dark. Crikey, it's nearly midnight, where did the time go?

The next day, I found my watch had been accidentally altered, but it was still a slow lead. The haul bag got stuck in the dark, and my efforts to free it caused Jen to radio

up that I was causing a Gatorade shower, Oh bugger, sticky clothing? In the end the damage was negligible. After she and the bag had reached the ledge, we forced down some

food and drink and lay down to sleep.


Better clean up this ledge, we're expecting company!

In the morning the die was cast – we weren't ready for 3 more days, so it was time to retreat. Rapping off was daunting and I didn't want to leave the comfort of the ledge.

The descent route uses bolted belay stations on the blank face below Dolt Tower. We waited for a party below to pass us, then rapped off at 10am. Jen found the next bolts,

and I manouvered the haul-bag off the ledge. The wind had picked up. At the hanging belay, we pulled the rope, but the wind flicked the tail around the corner, and our

combined weight wouldn't budge it.

Now what? This is like one of those brain-teasers, but this time it's real. There we were, two of us plus the haul-bag, hanging from 2 bolts, about 300m off the deck, and

with only about 30m of rope at hand. Shit. What to do? A party had passed us at Dolt, but were out of earshot and too far up to help, and the next parties were well

below. The face around us was blank, unclimbable – the descent route doesn't follow the climb. For the first time ever I was contemplating our options of being rescued.

Think, think.

"The only option we have is to use force" I yelled against the wind. Despite being chained to the same two bolts we had to shout at each other to be heard. We rigged a 3-1

pulley system using the hauling pulleys, and pulled. The rope stretched, but then seemed to move a little. We pulled again. A little more. Again. More. "It's moving!".

Sure enough, eventually the knot reached us and the rope followed.


Only 7 raps to go – retreating from Dolt Tower, The Nose.

The next 7 raps were relatively uneventful, but they were almost all hanging belays, and the strong wind meant we had to re-coil the ropes at each station, and feed them out

as we rapped. Otherwise we were sure another stuck rope would be the outcome. 6 hours after we started, we made the last rap to the ground and walked back to the car, then

back to camp for shower and dinner.

Another hanging belay, somewhere around the 180m mark


On one hand, we felt like we'd failed to tick the main objective. On the other hand, we felt Dolt Tower was an objective in itself.

The next day, recovery then some late afternoon climbing at the Swan Slabs near camp. On the last day, the final tick – Central Pillar of Frenzy, a classic 5-pitch 5.9 in the

valley opposite El Capitan.

Central Pillar of Frenzy, Middle Cathedral


Crux of Pitch 1, Central Pillar of Frenzy

The Captain is still there, and next time we'd be better prepared, better psyched and hopefully able to climb faster.


22-Jun-2010
10:50:32 PM

Great trip report. Better luck next time with The Nose. I'm sure you'll smoke it.
22-Jun-2010
11:37:14 PM

Excellent trip report and photos gfdonc.

I could feel your frustration in queuing for campsites and then later waiting for free space on individual pitches of the climb, and as a reader, I too, was feeling frustrated on your behalf!

It must seem like a surreal dream to be simultaneously on your objective, but being thwarted at the same time, and I really hope that the knowledge you have both gained in this first encounter with your objective proves to make it easier to achieve success for you on it in the future.

It boggles my mind that the Korean party could get underway on a major objective like that without a haulrope, and expect others to cover for them. It makes me wonder what they thought they were going to do higher up...

Although the full climb remains as unfinished business I believe that you both have passed the hardest part of the climb, and that is the act of committing to it, as the psyche involved in that act alone can overwhelm many. Your having a turn-around strategy in place and sticking with it when it proved needed is also commendable.

I know your bond with your climbing partner was already strong before that experience, and believe that what you have both just been through will serve to strengthen it further.

Even though the route is well trafficked these days, I am sure the memory of being on hallowed ground will stay with you.

Thanks for sharing your experience of it with us.

23-Jun-2010
8:26:11 AM

That was a mixture of thoroughly inspiring and totally offputting! The climbing looks awesome and the logistics sound frustrating. I've of course heard about the dramas of camping there, but was it particularly busy when you were there? Should I expect to need an alpine start to get a campsite in September as well? Is there a problem with just staying in one of the other campsites? What were there crowds like on middle cathedral and on the rock in general aside from the nose? Glad you got some good climbing in between the frustrations.
23-Jun-2010
8:46:07 AM

I can see why you failed on the Nose - it is because that photo of Jen racking up is all wrong. Every ascent of El Cap must have a preceding photo of 'climbing equipment required to climb a big wall'. This means however that every karabiner and other piece of equipment must be laid out individually on the picnic table in a very precise way and the person in the photo should be just looking at it all, or maybe having cup of coffee. Once you have the photo dialled the climb won't be a problem.
23-Jun-2010
9:19:32 AM

Probably the best TR I have ever read on Chocky. Fantastic photos.

Glad to hear you go some classic climbing in around your attempt on the Nose. Well done all round!

But I am kinda with Wendy on this one. Sounds pretty crazy with camping and traffic on the route. Not entirely my bag...
23-Jun-2010
9:46:19 AM

On 23/06/2010 Wendy wrote:
>Should I expect to need an alpine start to get a campsite
>in September as well?

Yes.

>Is there a problem with just staying in one of the
>other campsites?

Problem is most of them you have to pre-book well in advance (booked out a year in advance!). They are also really expensive, and generally a long way away from the good climbing - and you have to deal with annoying RV Amercian campers.

>What were there crowds like on middle cathedral and on
>the rock in general aside from the nose?

I've been there in May and September - and both times we usually had to queue for almost every route we did. Middle Cathedral queue was about 5 parties from memory - and that was getting up really early! I'm actually surprised that these guys managed to walk up to the Nose and start climbing? We had to queue for a whole day and night for Zodiac.
23-Jun-2010
10:05:49 AM

Great TR report. I'm sure you'll be back!

Simey's post has me barrelled over in fits of laughter. Classic.

If you come with a car you can sleep in, does anybody know what are your options for staying in the valley without forking out $$$ for one of those expensive sites?
23-Jun-2010
10:10:04 AM

On 23/06/2010 superstu wrote:
>If you come with a car you can sleep in, does anybody know what are your
>options for staying in the valley without forking out $$$ for one of those
>expensive sites?

You can't park anywhere without the Nazi rangers knocking on your window with an assault rifle at 2am. You need to have a car permit (only obtained with a camping permit). There used to be some sort of leniency if you parked in front of El Cap as they presumed you were 'on the wall'. The whole place is very crowded and thus very controlled by the police/rangers (the one and the same).
23-Jun-2010
10:15:48 AM

On 23/06/2010 Wendy wrote:
>That was a mixture of thoroughly inspiring and totally offputting!

This perfectly reflects my impressions...

This trip report is exactly what the this community needs. Told as it was, it really reflects the pros and cons of such popular iconic routes. Would I love to climb the Nose? Sure. Is it on my to-be-ticked list? Well, I'd need some convincing. Climbing is so much more that just adhering to the rock-face.

That being said, great, great trip report. I'd love to hear what Jen had to say.

P.S. I always suspected that Jen had nice legs. Who was the midget?
23-Jun-2010
12:15:00 PM




"Baah! All deez tourists are crowding da best routes here ruining it for us locals !"
23-Jun-2010
3:39:13 PM

On 22/06/2010 IdratherbeclimbingM9 wrote:
>It boggles my mind that the Korean party could get underway on a major
>objective like that without a haulrope, and expect others to cover for
>them.
Misinterpretation there, they had a haul rope but forgot to swap it from second back to leader on the change-over. So the second had to trail it, but since Pitch 4 pendulums, they were up sh_t creek unless they had someone to lower it out for them.

They also invited me to clip into an extreme "death triangle" when I came up to the belay, which made me very wary of them & happy to stay out of their way.

23-Jun-2010
4:02:31 PM

On 23/06/2010 Wendy wrote:
>That was a mixture of thoroughly inspiring and totally offputting! The
>climbing looks awesome and the logistics sound frustrating. I've of course
>heard about the dramas of camping there, but was it particularly busy when
>you were there?
Yes, the peak time starts after Memorial Day (end of May).
Crack climbing? You'd love it Wendy. I even learned to love off-widths.

Should I expect to need an alpine start to get a campsite
>in September as well?
Based on what Neil said, yes. But: you get up early, you do it once, then you have a place to camp for 7 nights. In the end I queued up again at 5am so we could stay the last night, it's a pain but easier than the alternatives. Part of the issue is learning the rules of the game.

> Is there a problem with just staying in one of the
>other campsites?
If I had my time again I'd probably book The Pines for several nights then do the alpine start to secure Camp 4 for the last 7 nights. As Neil says, the Pines are full of RVs but they're generally nice sites. You don't get the Camp 4 atmosphere though - that comment cuts two ways, the toilets were disgusting!
The catch with the Pines is that the weekends get booked out months in advance. However you can probably still book midweek sites for September. Also it's $20 per site instead of $5 per head at Camp 4 - so cheaper to stay at Camp 4 if there's just 2 of you and even cheaper if only one person registers! (We counted 11 people on our "6 person" site one night).

What were there crowds like on middle cathedral and on
>the rock in general aside from the nose?
Not terrible considering. Not enough to be a nuisance, and not really worse than the classics at Araps on the weekend.
East Buttress we got a later start than planned - I think there were 2 parties ahead of us but they were a full pitch ahead and we didn't catch them.
Central Pillar is very popular but we opted to start at 12pm. There were 3 groups on the route I think, but we waited about 20 minutes until the first belay cleared and didn't have to share belays for the whole route. While we were waiting, another 2 guys turned up and failed to talk us into doing the Kor-Beck route instead, so they left.
Swan Slabs was very busy as it's close to camp, but it's kinda like the Plaque, always someone on it.

A tip: everyone buys the "Yosemite Free Climbs" book which has a limited number of the major classics (I think around 600 routes). That's not a lot - kinda like the Arapiles Select Select Superselect Guide, and consequently all the (moderate) routes in there see a lot of traffic. If you bought the bigger guide (I don't know what it's called) you'd have a lot more choice, and would be able to avoid the crowds.
That said, the classics are classics for a good reason. If you went to Araps just once, you'd want to do Bard, wouldn't you?

23-Jun-2010
4:40:29 PM

On 23/06/2010 gfdonc wrote:
> Also it's $20 per site instead of $5 per head at Camp 4 - so cheaper to
>stay at Camp 4 if there's just 2 of you and even cheaper if only one person
>registers! (We counted 11 people on our "6 person" site one night).

The other advantage of only registering one person is that you can then use the 2nd person's ID to re-register for the 2nd week. For certain periods of the year (all year now maybe?) you are only allowed to stay for one week at a time. Of course no one does that, you just assume the ID of others to string it out for longer. I was a Polish climber for one week. Our site at one point had 30+ people on it. If everyone just bivis on the open ground rather than putting up a tent then the rangers have no idea who is registered to which camp. Sweet!

The first week is always hell admin, then after that you'll have the system sorted/rorted and its a-ok.
23-Jun-2010
5:31:57 PM

Nice report gfdonc.

Bivy options depend on the time of year. We used a secret spot for car camping - just had to be gone very early plus also slept under the Columbia boulder using the same early start... But this was later in the season once things had quietened down.

The other benefits of being later is little to no queues even on routes such as the East Buttress of El Cap, the downside can be more unstable weather and shorter days...

23-Jun-2010
5:56:54 PM

On 23/06/2010 dalai wrote:
>plus also slept under the Columbia
>boulder using the same early start... But this was later in the season
>once things had quietened down.

The rangers patrolled the entire boulder field at night when we were there. You couldn't bivi under any rocks!
23-Jun-2010
8:34:00 PM

Awesome, inspiring TR, gfdonc. Thanks.
23-Jun-2010
10:03:20 PM

Great trip report.

When I was there in April a couple of years ago there was no trouble getting a site @ Camp 4 in the afternoon. Not many climbing at that time of year.

JamesMC
24-Jun-2010
2:46:35 AM

There is some free camping just outside the park entrances (both West side and East side) that I use pretty regularly (trying to book campsites in the Valley or the Meadows is a huge pita):

Hardin Flat Rd
Tioga Pass

Neither has any facilities, though both have permanent creeks that I would not drink out of without filtration / treatment. The Hardin Flat Rd camping is quite pleasant, but pretty well known and often crowded - usually you can find something somewhere though. It's about 30 minutes drive to the Valley from here and maybe an hour and a half to the Meadows (be very careful if driving up to the Meadows early in the morning or late in the evening - there are LOTS of deer on this road).

The Tioga Pass camping is quite unpleasant - the camping is on an old gravel road bed (take a tarp to protect the floor of your tent), and is pretty exposed (cold and windy). It's also high (3,000m ASL) so temperatures often plummet below freezing during the night. The good news is it's close to the Meadows (20 minutes to Lembert Dome) and you drive right past Tioga Pass Resort which is a great place for breakfast.

Great TR BTW! My recollection is that the first pitch of Central Pillar of Frenzy is pretty horrible (I hate that water polished stuff), but the second is a corker!
24-Jun-2010
9:12:23 AM

Hey Peter, We'll be flying into LA late afternoon and thinking of camping somewhere on the way to the valley that night - have you any suggestions? Thanks!
| | |
| --- | --- |
| | There are 44 messages in this topic. |
Home | Guide | Gallery | Tech Tips | Articles | Reviews | Dictionary | Forum | Links | About | Search
Chockstone Photography | Landscape Photography Australia | Australian Landscape Photography | Landscape Photos Australia

Please read the full disclaimer before using any information contained on these pages.
Australian Panoramic | Australian Coast | Australian Mountains | Australian Countryside | Australian Waterfalls | Australian Lakes | Australian Cities | Australian Macro | Australian Wildlife
Landscape Photo | Landscape Photography | Landscape Photography Australia | Fine Art Photography | Wilderness Photography | Nature Photo | Australian Landscape Photo | Stock Photography Australia | Landscape Photos | Panoramic Photos | Panoramic Photography Australia | Australian Landscape Photography | High Country Mountain Huts | Mothers Day Gifts | Gifts for Mothers Day | Mothers Day Gift Ideas | Ideas for Mothers Day | Wedding Gift Ideas | Christmas Gift Ideas | Fathers Day Gifts | Gifts for Fathers Day | Fathers Day Gift Ideas | Ideas for Fathers Day | Landscape Prints | Landscape Poster | Limited Edition Prints | Panoramic Photo | Buy Posters | Poster Prints