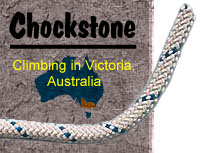 Sponsored By
ROCK
HARDWARE


Chockstone Forum - Trip Reports
Tells Us About Your Latest Trip!
Author

| | |
| --- | --- |
| Ozymandias Direct, rope solo aid 14-16 March 2021 | |

22-Mar-2021
9:53:37 AM

I woke up at 6 am at my home in Mount Victoria on the morning of Friday the 12th and packed my van. I went to Katoomba Woolies and bought muesli bars, wraps, apples, a jar of peanut butter, two minute noodles and four packets of lollies. I then drove to Wollongong and borrowed some cam hooks, lots of small nuts and a small cam from Dave B (Youíd think that youíd need really big nuts to solo Ozymandias, but actually itís much more important to have small ones :D).
From there I drove up Macquarie Pass and down the Hume Highway, stopping only for fuel and a coffee break and got to the south side of the gorge at about 8 pm. I set up my hammock to test it out; Iíd never slept in it before. I was worried that I might be too cold because I had learned from a previous hammock experience that your back is very exposed to the air through the thin fabric, even in a sleeping bag. To address that problem, Iíd bought a ten-dollar 10 mm sleeping mat and I put that in the hammock to act as insulation. The weather was actually quite warm that evening and there were much colder temperatures forecast for the nights Iíd be on the wall, so it wasnít a very good test, but was still better than nothing. I rigged it from the railing of the lookout just above the hang glider launch ramp. I was relieved to find that my back wasnít bent too much and I slept very well. I was mostly warm enough, except that my shoulders got a bit cold just before dawn because a strong pre-frontal wind had started blowing.
The approaching cold front heralded by the wind meant that there was going to be rain and strong wind that afternoon, so I elected not to start climbing that day. I spent the day in emotional agony thinking about my ex-girlfriend, unable to come to terms with the fact and the manner of her rejection. I was hardly even thinking about the climb! I was actually quite relaxed about it. I tried to consciously focus my attention on preparing for the route, but my subconscious mind just wasnít interested. I felt like I should prepare more, but I suppose Iíd already done all the preparation I could do.
I walked up to the Cathedral to try to clear my head, and in the afternoon I had a shower at the Lake Catini campground and then packed the haul bag. It was totally full and extremely heavy, and one of the ropes had to be lashed over the top because there was no room for it inside. As predicted, the cold front came over and it got very windy and rainy in the evening. I had some dinner and went to sleep early.
I woke up at 4:00 am intending to make an early start, but the world outside my van was very uninviting. Evidently the front hadnít blown itself out yet. It was dark, the wind was hissing through the trees and it looked like it would start raining again at any moment. These didnít seem like good conditions to begin my three-day challenge. I boiled the kettle but didnít finish making my morning coffee. I went back to sleep again having decided to postpone for a day.
I woke up again at 8:00 am with the wind still blowing hard, but now the atmosphere was clear and it was nice and sunny. I decided that Iíd walk in that day and bivvy at the bottom of the wall so that I could make a very early start on the climbing the following morning.
I started walking in at 10:00 am. I took a few photos at the lookout, then headed downhill. The walk was extremely difficult with the heavy bag on my back. More than once I slipped and fell out of control, fighting with all of my strength to arrest my movement and get back on my feet. I grunted and swore all the way down, certain that I was doing some serious damage to my body. It was one of the most physically demanding things Iíve ever done.
I got the bag to the base at 12:15 pm, took out everything except my empty water bottles, then walked back down to Crystal Brook and filled them up. I had seven 1.25 L bottles, 8.75 L total. I was back at the base with full bottles at 12:40 pm.
Because it was still early afternoon and the wind had now completely stopped, I figured that I might as well lead a pitch or two to give me a head start for the following day. I started P1 at 1:15 pm. It was harder than I expected. Dave B had led it on our previous two visits. The first piece of gear was a 0.3 cam loaded on only one pair of lobes. I finished the pitch and had rapped and cleaned it by 2:20 pm. I was enjoying climbing so I decided to lead P2 as well. I wanted to at least have the option of continuing to Big Grassy afterwards, so I packed up the bag and attached the haul line. I jugged up, bagged the ropes and started leading P2 at 3:18 pm. It was much easier than I remembered, probably mostly because I did a lot of cam hooking, sometimes linking up to three hook moves. It also didnít feel sketchy at all. I was surprised at how relaxed I felt and how much I was enjoying it!
I got to the top of P2 at 5:35 pm, so it had taken me a bit over two hours to lead it. I rigged an anchor and went to rap down, but couldnít find my Reverso anywhere on my harness. I realized I must have dropped it and Iíd have to go down and find it. It seemed like all hope of getting to BG that day had gone out the window. I rapped to the ground, and sure enough, my Reverso was there.
I had trouble deciding what to do. I was determined to eventually camp in my hammock at the Gledhill Bivvy at the top of pitch 7, so I needed a plan that got me there at the end of a day, preferably in daylight. If I slept on the ground now, it would mean that Iíd have to lead pitches 3-4, 5, 6 and 7 the next day! I could not climb fast enough to do that. Alternatively, I could just lead pitches 3-4, 5 and 6 the next day and sleep on BG, but that would leave only pitch 7 to do the following day, and Iíd end up at the Gledhill Bivvy before midday and Iíd waste most of a day of climbing. The third option would be to lead the linked pitches of 3 and 4 now, mostly in the dark, and set up camp on BG after midnight, then wake up early and lead pitches 5, 6 and 7 to reach the Gledhill Bivvy. It would be exhausting, but as I looked down towards the ground bivvy, the dark, cold domain of the possum, I knew that I could not sleep there. This might be the only time I solo Ozy Direct and I wasnít going to take a lame option like that. The only rad thing to do would be to push on to Big Grassy now. I took a caffeine pill and thus committed to the task: even if I were to change my mind and decide to camp on the ground I would not be able to sleep until very late, so I might as well climb.
I jugged up, hauled the bag and bagged the ropes. I started leading P3 at 8:15 pm. It wasnít too hard and I didnít feel any anxiety. I enjoyed solving the problem of each piece as it came to me. Again, I was surprised at how totally relaxed I felt, up high in the dark, and how much fun I was having. I listened to ďThe MartianĒ by Andy Weir, another story of progress in an inhospitable environment using intellect and equipment.
I linked P3 into P4, and at a ledge only a few metres below BG I went to adjust my backup loop and realized that I had come to the end of my lead rope. I didnít have enough to get onto the ledge. Was I f---ed? No, I was OK. I simply took the haul line from the back of my harness and joined it to the end of the lead rope, transferred my belay device to it, and kept going the final few metres. I reached BG at 11:15 pm. The linked pitches had taken me three hours to lead. I rapped down, lowered out the bag, jugged and cleaned, hauled the bag, set up my hammock and closed my eyes at 12:55 am.
I was warm enough overnight and slept very well. I woke up at 7:30 am feeling very sore, especially in my legs and shoulders. I had no doubt that it was from carrying the bag in, not from the climbing. I had some breakfast: peanut butter spread on a wrap using a bolt plate. I had forgotten to bring a knife. I took a caffeine pill, and as I expected, I soon felt a turd knocking at the door. I squatted on the tiny flat spot on BG and relieved myself in a bag. Iíd done it before on the previous ascent with Dave B, so it was NBD. I wondered if anyone was watching me from the lookout.
I hadnít organized any of the gear the previous night, so I had a bit of a cluster to clear, so I only started leading P5 at 10:00 am. A guy called Duncan descended from above on a fixed rope and we had a little chat and fist bump while I hung on a cam hook. He was going down to work the crux pitch of the free version of the route below BG. It was lucky I hadnít decided to lead P3-4 that day, we would have been in each otherís ways.
I was way better at aiding than when Iíd been here with Dave B last time, and I reached the top of P5 at 11:52 am. I rapped and cleaned the pitch, but didnít haul the bag. I left it sitting on BG and I would haul it at the end of the next pitch.
NB: I did the Ozymandias Direct Variant that most people do in which you do a couple of pitches of Ozy original above BG before transferring to the roof pitch.
I started leading P6 at 12:52 pm. I was worried that I would run out of time to get to the Gledhill Bivvy before dark, so I hustled. I made my moves as large as I could, and linked many cam hook moves sometimes. I reached the end of P6 at 2:10 pm, so that pitch had taken me an hour and twenty minutes. I was now at a very exposed belay under the roof, and again I was surprised at how calm I felt. I looked down, and somehow didnít have any real feeling of height. It was very strange. Last time Iíd been in this position Iíd been shitting myself.
I rigged an anchor, rapped, cleaned, hauled the bag and bagged the ropes. I felt pretty tired, so I took another caffeine pill. It felt like it was getting late, but I took a bit of time to eat some food, decant the piss from my almost-full wide-mouthed piss bottle into an empty water bottle and got a full water bottle from the haul bag. I started leading P7, the roof, at 4:00 pm. It was mildly daunting, but I didnít allow myself to contemplate it too much.
I did the roof in a state of razor-sharp concentration. The caffeine was doing its job. I think I might have been grinding my teeth a little bit too. I felt no fear and stopped in the roof to take photos of the manky gear I was aiding off. Getting over the lip onto the headwall was hard, and I had to use a really bad nut to get it done. Iím very glad it didnít blow. I did not fancy whipping under the roof 150 m above the ground.
The headwall smelt like piss. Evidently a previous party hadnít made use of the piss bottle system. Climbing this pitch was much easier than I remembered, but the gear wasnít the best. At one point I was sitting on a cam hook and I looked down to see that the three previous nuts Iíd put in had come out. I was about five metres above my last piece of gear, hanging on a cam hook! Needless to say I then took the time to put in a couple of bomber nuts in close succession.
I reached the end of P7, the Gledhill Bivvy at 6 pm. I rapped down, pulled myself into the belay using a jumar, lowered out the bag, jugged up (and re-aided) to clean the pitch, hauled the bag and set about rigging my hammock. There was a fixed hanger on the left wall of the corner which was well placed to hang the hammock. It was very rusty and the diameter of its bolt was only 6 mm I think, but it would have to do. I backed it up to a very shitty bash-in carrot about 40 cm away. I aided to the right on two very rusty, droopy carrots and made a three-cam equalized anchor and hung the other end of my hammock from that. I aided back to the belay and hopped in the hammock. Iíd made it!
I hung my food bag on a nearby bolt and took out two items carefully wrapped in newspaper: a 50 mL bottle of my home made bourbon and a small glass tumbler. I opened them up, poured the whole bottle into the glass and sat back and relaxed. I felt very, very content. As I sipped my bourbon I watched the gorge slowly descend into darkness. Every now and then Iíd peek over the edge to look at the 200 m drop below me and I was surprised and thrilled each time at the total absence of fear in me. Somehow I felt totally secure in my $20 hammock from Bunnings. I felt like the king of the world. I got out my phone and chatted to some friends as I might on any other evening. It was surreal.
It began to get quite cold and dark so I got out of the hammock again and put my foam mat and sleeping bag in it. I also put on another jacket outside of my synthetic puffy. It was tough to get stuff out of the haul bag because Iíd brought so many warm clothes and they were just loose in the bag. To get them out of the way I tied them to the steps of one of my ladders. I got back in the hammock and took off my shoes and hung them as far from my face as I could. They stank. I got in my sleeping bag and settled in for the night.
It was dark now, but I couldnít sleep (no doubt because of the caffeine pill Iíd taken). I didnít mind though, because the atmosphere was crystal clear and dark, and I took in the breathtaking view. It was one of those very special and rare occasions when I saw not just ďstars in the skyĒ, but the interior of our galaxy.
I woke up at 7:30 am bathed in sunlight after a very good nightís sleep. My leg and shoulder muscles were still very sore and stiff though. I set my phone up to charge from my power bank and then just relaxed and enjoyed the view. I was in no hurry ó I didnít mind topping out in the dark if thatís what happened ó and I didnít want to leave my awesome comfortable bivvy.
I took a caffeine pill, and right on time, I felt the expected call of nature. I thought that shitting at the Gledhill Bivvy might be the crux of the whole route. How would I do it? Could I somehow squat in my hammock? Or maybe sit in it and hang my bum over the edge? What if I got shit in the hammock? I hadnít settled on a method, but there was no time for further thought. I decided to try just sitting in my harness hanging from a lanyard and pull my pants down. It worked well and I was naturally in a sort of crouching position. I just had to make sure the leg loop elastics from my harness didnít go up my arse like a g-string and I was good to go!
After overcoming that challenge I set about packing up. It was a big job to get everything organized because Iíd left it as quite a mess the night before. I packed the haul bag, untangled and bagged the ropes, and started leading P8 at 11:00 am. This is the fang pitch, and itís a bastard: really very awkward. The rock is very sharp as well, and I wore my shell jacket to protect my elbows, even though it made me too hot. I grunted and swore a lot. Also, at one point I looked down and saw that one of my ladders had come unclipped from everything and the only thing stopping it falling to the ground was that it was pinned between my body and the rock! Climbing the remaining pitches with only one ladder would have been an interesting challengeÖ
I stopped mid-pitch to take a photo of a 4 and 5 cam that Iíd bought from my friend Lydia and to send it to her. She wrote back and we had a little chat back and forth while I dangled ~230 m above the deck. I also had to partially rap down mid-pitch to recover a 4 cam because I needed one near the top and Iíd used both of them already. I had the pitch cleaned and hauled by 1:35 pm.
I felt tired and I took another caffeine pill. When I get tired I get songs in my head. When I used one of my green cams, it reminded me of the "Steamed Hams" sketch on The Simpsons, and in particular the version on youtube where it's been mixed into "Feel Good Inc." by Gorillaz. So that's the song I had in my head: Gorillaz Remix of "Steamed Hams", but it was "Green Cams", over and over again.
I bagged the ropes and started leading P9 at 2:13 pm. I aided up the crack much more easily than when Iíd done it with Dave B. Of course my backup loop went tight just as I was doing the free mantle move so I had a bit of a struggle to get myself up there. Once again I couldnít do the ramp, so I took the cowardís option and lassoed the horn of rock at the top and pulled myself up. I left my gear below the chimney and then French freed my way up, placing and pulling on cams. I pulled my backpack behind me on the haul rope.
Up on the ledge I turned off airplane mode on my phone and saw that Dave D had tried to call me. I called him back and it turned out that he was at Mt Buffalo, watching me climb from the south side lookout. Heíd seen me lasso the horn and I felt embarrassed!
I was getting pretty sick of climbing by that point, but I fought off the fatigue and went through the hassle of getting the haul rope over the chockstone and the trees to the proper hauling position. I rapped the haul line, pulled myself into the belay and lowered the bag. I saw the haul line catch on a little rock protrusion. Iím sure it was the same bit of rock that it had caught on when Dave B and I had done our ascent. That time it had happened in the dark, when we were totally knackered, and it had been a challenge we had not needed. I pulled the bag in again and flung it out so that the rope cleared the protrusion of rock.
As I jugged up to clean the pitch I finally managed to do the ramp free, but it was still sketchy and I would not want to do it leading. I went through the chimney again with all the gear (pain in the arse), then hauled the bag. It was now 4:26 pm, so all of that rigmarole had only taken a bit over two hours.
I didnít bother bagging the ropes, and instead just flaked them on the ledge. I rigged a three-cam ground anchor using a 3 and both of my 2 cams, judging that I would not need a 2 cam on that pitch. P10 was pleasant at first, then awkward, but I got myself up there. I was very impressed that Dave B had led it with only one 4 cam on our previous ascent, because I leapfrogged the two that I had.
I reached the railing and hastily rigged a sling as a single-point anchor. I couldnít be arsed equalizing anything at this point. I rapped the haul rope, flaked it next to the bag, then jugged the lead rope and cleaned the pitch.
When I started hauling the bag it was very hard to do, and I figured that there must be a lot of friction on the rock and so I rigged a 3:1 system. Still the bag wouldnít come up. I looked over the edge and saw that it was caught on the fixed line that had been left in place for Duncan. I lowered the bag a bit, got it unstuck, then had a very easy time hauling it because of the 3:1 system that I had left in place. I threw everything over the railing onto the lookout area and I was finished! It was 7:00 pm. I packed everything up, took a victory photo looking tough, tipped out about 2 L of water that I had left, and then lugged the heavy bag back to the south side car park. Dave D was there in his X-trail reading and I went over and said hello and we celebrated a bit together. He took a photo of me at my van with the bag on my back and a smile on my face. The next morning he geared up and walked into the gorge to do his own solo ascent.

Thanks Dave D for the mentoring. I would never have got my systems in order without your constant criticism. Thanks Neil M for the loan of the haul bag again (Iíll get my own next time). Thanks Dave B for the loan of the small wires, cam hooks etc. and for inspiring me to sleep in a hammock at the Gledhill Bivvy. Thanks Andy Kirkpatrick for his excellent book "Me, Myself and I".
22-Mar-2021
12:06:45 PM

Grats on the send and the adventure, enjoyed the read, made my Monday work day a little less tedious.
24-Mar-2021
6:40:58 AM

Good job reviving Chockstone from the grave! Great read and all time effort. That thing youve got goin out in the valley up here looks mega. Cant tell if its a belay half way up or a very well constructed bail point but it looks mighty heady over there.
28-Mar-2021
7:22:30 AM

Thanks Evan, I'm glad you enjoyed it. What you can see out there is both a belay and a bail point. The next bit of the climb is a tricky challenge for sure, but I think I know how I'm going to do it
19-Dec-2021
9:40:21 AM

Well done Nick, excellent write-up! A nuanced blend of danger, adventure and piss decanting!

It seems that the 'dark, cold domain of the possum' is a running theme, not very welcoming! There is also a good bivy location for one person only on the rock turret opposite the P1 start.
29-Dec-2021
7:14:35 AM

On 22-Mar-2021 Nick Roach wrote a good-read trip report.
Well done for the perseverance to succeed and in overcoming the challenges in that advencha.

Almost enough to entice me to aiding as a gig for a bit.

Almost.
29-Dec-2021
7:47:49 AM

Same Duang Duank. Maybe 10 years ago it may have tipped me over the line, as I had always considered solo aiding Ozy.

Now I'm less inclined to try some of that type 2 fun!
| | |
| --- | --- |
| | There are 7 messages in this topic. |
Home | Guide | Gallery | Tech Tips | Articles | Reviews | Dictionary | Forum | Links | About | Search
Chockstone Photography | Landscape Photography Australia | Australian Landscape Photography | Landscape Photos Australia

Please read the full disclaimer before using any information contained on these pages.
Australian Panoramic | Australian Coast | Australian Mountains | Australian Countryside | Australian Waterfalls | Australian Lakes | Australian Cities | Australian Macro | Australian Wildlife
Landscape Photo | Landscape Photography | Landscape Photography Australia | Fine Art Photography | Wilderness Photography | Nature Photo | Australian Landscape Photo | Stock Photography Australia | Landscape Photos | Panoramic Photos | Panoramic Photography Australia | Australian Landscape Photography | High Country Mountain Huts | Mothers Day Gifts | Gifts for Mothers Day | Mothers Day Gift Ideas | Ideas for Mothers Day | Wedding Gift Ideas | Christmas Gift Ideas | Fathers Day Gifts | Gifts for Fathers Day | Fathers Day Gift Ideas | Ideas for Fathers Day | Landscape Prints | Landscape Poster | Limited Edition Prints | Panoramic Photo | Buy Posters | Poster Prints