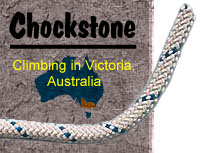 Sponsored By
ROCK
HARDWARE


Chockstone Forum - Trip Reports
Tells Us About Your Latest Trip!
Topic
Date
User
TR: Ozymandias Direct 16-19 March 2020
22-Mar-2020 At 2:39:18 PM
Nick Roach
Message
Wow, that was extremely difficult and scary, but life-changingly exhilarating! It was great to succeed after being forced to give up after two pitches a previous attempt in May last year. I'm impressed at the speed that some people seem to be able to aid up these pitches; we were very slow in comparison. It took us three and a half days from the base to the lookout.

Thanks so much to Dave Dave for the loan of the ledge and bosun chair and for the beta. We couldn't have done it without those things. Thanks a lot also to Neil Monteith for the loan of the haul bag and some little cams. Thanks to Mungo Skyring for the loan of the black totem cam, it was a lifesaver! And thanks to Dave Burt for being an excellent all-round climbing partner!

Day 1: we walked in with our haul bag, gear racked on our harnesses and our ropes and some other stuff in another bag. Dave was reminiscent of a diesel 4WD in low range as he carried the haul bag steadily over pretty tough terrain. I'd started with the heavy haul bag on my back, but Dave's legs are stronger than mine so we swapped. I then carried the rope bag on my back and the ledge in my hands.
We started climbing at about midday. We briefly got to chat to Richard Stubbs who was climbing solo above us. We could see him for a lot of the time we were climbing, but he was always about a day ahead. Dave led the first pitch then I did the second. It was nowhere near as scary or slow as when I'd done it last year (as my first ever aid pitch, how dumb is that?). I took a ~6m fall though when a poorly-placed nut popped out. We decided that we didn't have enough light left to do the third pitch as well, so we set up camp. I slept on the portaledge hanging from the first bolt on P1. Dave slept in the bivvy spot in the bush down the hill and was kept awake by a whole family of possums all night. Meanwhile, with the atmosphere crystal clear and no moonlight, I had an awesome view of the galaxy around us from my spot on the ledge
.
Day 2: I jugged up to the P2 anchor and hauled up the bag. It was very difficult even with our 3 to 1 system of pulleys, but I somehow got it done without getting blisters on my hands. Dave led pitch 3-4 relatively quickly and I wondered if it's just me that's very slow at aiding. Now we were up to Big Grassy, the ledge that is known for not being very big at all. It's only about the size of a small-ish kitchen and not at all flat either. It is pretty grassy though. He pulled up the bag easily because of the good hauling position on Big Grassy. We had some lunch and then I led pitch 5. I was disappointed to find that it was basically no easier than pitch 2 had been, but I got there eventually. Dave jugged up and led pitch 6. He somehow dropped one of our two cam hooks and also a bag with all of our hauling pulleys in it! (no hard feelings Dave, it could have just as well have been me). I had a chance to catch both of them, but I blew it both times. The hauling gear actually went between my legs! It was dark now and Dave's head lamp then went out, so he finished the pitch with only the light I could provide from below with my own lamp. We agreed to leave it until morning to talk about our cam hook and hauling conundrum and Dave rapped to Big Grassy and started setting up the ledge. I jugged up and cleaned the pitch and then joined him. It was about 9pm when we got to sleep and I slept the sleep of the dead.

Day 3: We didn't set an alarm and we slept until the sun woke us up at about 7. We were knackered. We didn't talk about it at the time, but we were both feeling like we might have to bail given our gear losses and exhaustion. I began to silently plan the logistics of getting ourselves and our equipment back down to the ground. The crucial test would be if Dave could haul the gear to the top of P6, under the roof, without having any pulleys. First though we had some breakfast and I had a caffeine tablet, and we both made use of our "poo tube" (or "shit can" as I started calling it). We emptied out four water bottles to lighten the bag, leaving us with four more (2.5 litres each) for the remainder of the day in which we expected to top out. We packed up the ledge, and while I relished some relaxation time in the sun on Big Grassy, Dave jugged up to our high point from the day before, the end of P6. He experimented with a couple of systems and at last the bag began to ascend above Big Grassy, but painfully slowly. Things were not looking good. As I jugged up, chaperoning the bag around edges, I could see that he was working extremely hard, but he'd rigged a clever system that used his bodyweight from his harness to lift the bag. He just didn't have enough range to move because he was tied into the anchor and sitting on the bosun chair. An idea for an even better hauling system popped into my head! I would try it out at the end of the next pitch.
The next pitch was the roof (pitch 7). It was very intimidating to look at. It's about 150m above the deck and the exposure is extreme. It had to be done though, so I racked up and off I went, at first on some dodgy carrots (normal on Ozy), then some pretty good cams under the roof, then some very dodgy gear to get me up onto the headwall. My mouth was dry with fear and I didn't dare look down. Dave and I had a little celebration as I got over the lip, but then I had to concentrate again to aid up the thin crack that now faced me, just as hard as the second pitch IMO but now with only one cam hook.
After a pretty long time aiding on marginal nut placements I got to the belay and clipped in with a wave of relief. It was a hanging belay on a sheer wall with not even enough grip to smear my feet, but there were FOUR bomber bolts and that felt luxurious! (This is the Gledhill Bivvy)
I rigged an anchor and then rigged my experimental hauling setup. The idea was that I would pass the haul rope over a biner and then attach myself to it with my grigri. Using my body as a counterweight I could lift the bag, using a tied-off section of the lead rope to make sure I didn't go down too far. When I had gone down 5 metres or so (and the bag had come up the same amount) I would jug up the haul rope back to the anchor and repeat the process. It worked! A wave of exhilaration washed over me; the roof pitch was done and the new hauling system worked. We were going to the top! I was also glad that I only had to lead one more pitch and that I didn't have to do the fang pitch, which was reputed to be very awkward.
Dave jugged up and joined me at the anchor. We were both smiling. We checked the time and saw that it was still plenty early enough for us to continue to the top and Dave racked up and headed out on some more dodgy carrots into pitch 8, the dreaded fang pitch. I chilled on the bosun chair and relaxed. It was an extremely exposed position, but I felt great - no fear. I ate two muesli bars that I had in my pockets and then snacked on sour lollies that we had in a backpack. I utilized my piss bottle. I enjoyed the view too.
Dave finished the pitch and started hauling the bag. I lowered it out and then I started jugging up. I had to re-aid on the carrots in order to get the rope unclipped, but I was prepared for that and it wasn't much trouble. Dave hauled the bag quickly using the bodyweight and jug-up technique we'd developed.
Dave had protected the pitch well, using long runners to avoid too much rope drag and making it a breeze to clean. The corner that is the second half of this pitch did indeed look very awkward to lead. The rock is like a cheese grater too and ripped my jacket. I'd hate to fall in there. At the belay we were feeling good and there was still a fair bit of light. It was now late afternoon.
I racked up and started climbing this supposed "easy" grade 10 crack. I quickly discovered that there was no way I could free climb it in the boots I was wearing, so I had to aid it on cams. It was surprisingly difficult and the cam placements weren't as good as they had looked from the belay. At the top of the crack I clipped a dodgy carrot and then did a free mantle and was then faced with the ramp. I tried to go up it but I couldn't do it in my boots (I'll definitely wear free climbing shoes for this pitch next time). I tried it barefoot but that was even worse: the rock hurt my feet. In the end I lassoed the horn of rock at the top of the ramp and hauled myself up. Easy.
Next I went up the chimney, which was awkward and too narrow with stuff still clipped to my harness. I used a cam to protect myself a bit on the trickiest parts. I emerged from the chimney onto a ledge. I could walk around! It was a treat after hanging from my harness all day. I found the anchor and then tried to figure out what to do to haul the bag up. It was now dark. I had gone under the big chockstone at the top of the chimney so I had to tie a big knot in the end of the haul rope and sort of fling it underneath the chockstone and catch it on top. I then had to get the haul rope over some pretty big trees, which was a nightmare because I actually got the rope caught in the trees and had to abseil in a bit and disentangle it. It took a long time and I knew Dave would be wondering what was going on. I wasn't sure I had the rope in the right place to haul, even now.
I set up a hauling system but found that the rope went too tight and was obviously stuck. I rapped down to the base of the chimney and found that the rope was caught around the edge of the rock. I got it unstuck and then climbed back up to the anchor. I tried hauling again. Still no good.
Dave had been sitting at that belay for ages now, so I rapped down and told him that I was having hauling problems. He said that he'd already lowered out the bag, so I said he should come up to the anchor. I went back up and he came up to join me. He had a go at hauling too and came to the same conclusion – the bag was stuck. The only solution would be to rap down and free it. Because this was my haul, that would be my responsibility, but I felt absolutely exhausted and very thirsty now and didn't feel that I could do it. I was starting to make mistakes because my thinking was impaired. I asked Dave how he felt. He said he felt fine. I asked him if he could do me the huge favour of rapping off (in the dark, 240m above the ground) and getting the bag unstuck for me. He stepped up and agreed. He went over the edge and quickly found that the rope was just caught on a very small edge of rock. He freed it and I began hauling the bag again. It was a hard haul because of rope drag, but I didn't have to save myself for anything now because we had one pitch to go and Dave would be leading it! As soon as the bag arrived at the ledge I tore it open and drank about a litre of water in one go.
Meanwhile, Dave was breaking apart the bosun chair that had been kindly lent to us. The idea was to use the wood to expand the range of a number 3 cam to do the job of a number 4. We had read that we would need two number 4 cams for the last pitch, but we only had one. It was now midnight and we were feeling a bit desperate. We would make a new bosun chair to give back to the owner.
Dave started leading the last pitch well after midnight. I was relieved that my only job now was to stay awake. I found even that surprisingly difficult. Dave did a great job and got himself up there without even using the wood. He yelled in celebration and then hauled the bag and I jugged up and cleaned the pitch. We'd done it! It was almost 2am.
We considered sleeping at the lookout but instead packed up our bags again and marched back to the car. We cooked some pasta and had a beer and finally got to sleep sometime around 4:30am.
Home | Guide | Gallery | Tech Tips | Articles | Reviews | Dictionary | Forum | Links | About | Search
Chockstone Photography | Landscape Photography Australia | Australian Landscape Photography | Landscape Photos Australia

Please read the full disclaimer before using any information contained on these pages.
Australian Panoramic | Australian Coast | Australian Mountains | Australian Countryside | Australian Waterfalls | Australian Lakes | Australian Cities | Australian Macro | Australian Wildlife
Landscape Photo | Landscape Photography | Landscape Photography Australia | Fine Art Photography | Wilderness Photography | Nature Photo | Australian Landscape Photo | Stock Photography Australia | Landscape Photos | Panoramic Photos | Panoramic Photography Australia | Australian Landscape Photography | High Country Mountain Huts | Mothers Day Gifts | Gifts for Mothers Day | Mothers Day Gift Ideas | Ideas for Mothers Day | Wedding Gift Ideas | Christmas Gift Ideas | Fathers Day Gifts | Gifts for Fathers Day | Fathers Day Gift Ideas | Ideas for Fathers Day | Landscape Prints | Landscape Poster | Limited Edition Prints | Panoramic Photo | Buy Posters | Poster Prints