(Part 1 of 3)
As I happened to be in the Bluies on the weekend, and with all the PR this route is getting, I thought we'd better go and have a look, so we (Yonnie and I) went and did this on Saturday.

The early plan – to climb as a three with Matt – was fortunately changed as Matt found another partner to climb with. We were at the top car park at 8:30 and walked in – first time at Pierce's for me – found the rap 'chains' and were soon joined by Matt and others who were planning to do Bunny Bucket Buttress.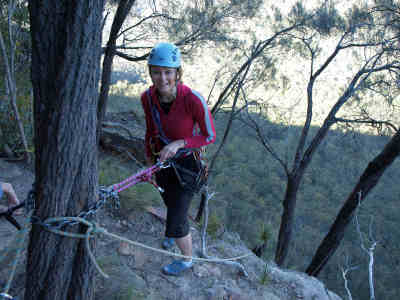 Jen knew where she was going so she rapped off first, then I followed. We tried pulling the ropes but they were soon stuck tight, fortunately the others helped out. Matt found the knot on the rope had wedged itself into a crack, raving to us about the one-in-a-million chance. I did the second rap and got well out of the way to avoid the inevitable stonefall.

We bashed around the base for a while, and found the route just after 10am. This was a bit of a struggle, someone needs to buy Mikl a machete for Christmas. Tip: towards the end there is a very steep hillside/buttress with boulders, I suggest you should go up this rather than bashing through the thick scrub below it. Jen won't be wearing a skirt to work for a while.

Jen led off, a gr 17ish slab to start, then the roof, allegedly grade 22. After a short struggle she pulled on a draw or two and continued. This confirmed the suspicions about the grade, since she regularly climbs 23 clean.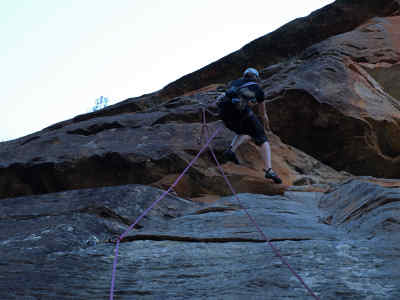 There were more struggles with the off-vertical but thin face above, I couldn't see properly so thought she was doing well until she admitting pulling on most of the draws on that part. A semi-hanging belay with 4 bolts - there was a biner and bracket on one of them, left for future generations.

I followed, complete with pack (3L water plus food and clothes), shoes and SLR, meaning I had low expectations. After a rest and a couple of shots I managed to second the roof part, but had blown up when I got to the face and shamelessly stepped on carrot heads to make progress more quickly – it's hard to pull on draws when they're on your harness!

For the record I thought the roof was hard 23, but then I can't climb 24 so it has to be 23. Apparently you can use a leg jamb on the right, by the time we were on pitch 3 we decided that might have been worth trying, but it didn't occur to either of us at the time.

(continued)