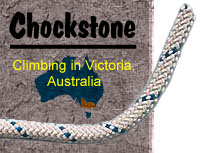 Sponsored By
ROCK
HARDWARE

Climbing & Bouldering in Bendigo

Bendigo is more or less smack bang in the centre of Victoria, Australia. (See map). The nearest outdoor climbing from Bendigo, is Mt Alexander. If you're living near Bendigo and new to climbing, check the "For Beginners" section below.
Climbing in Town


If you're trapped in Bendigo, and looking for somewhere to climb or boulder, there are a few options, most notably the local YMCA "YRock", indoor climbing gym. Climbing options in town are:
Y Rock. 47-49 Mundy St, Bendigo. Part of the YMCA building. This is my local climbing gym. It's small in comparison to gyms in Melbourne, but they only charge a fraction of the price. Phone 0417 371 208 for group bookings. School groups, in particular, make good use of the gym and probably represent the major users during the day, however, of an evening it's often populated with local climbers training for their next outdoor trip, and has a tangible social atmosphere. The gym is open until 8pm most evenings.
You can also boulder for free, on the bluestone walls under the nearby railway bridge (pictured right), but bring the mozzy spray! It's situated where McIvor road begins, near "Abbot Street". The feet can be slippery in parts so bring your climbing shoes. The walls consist of a series of rough hewn bluestone bricks about 3 metres high. Try the walls on both sides of the creek, one is harder than the other. For added difficulty try traverses, limiting yourself to given rows.
Latrobe University Bouldering Wall in Flora Hill. Take Edwards road leading up to one tree hill. The wall resides just off the Uni's upper car park, at the rear of some sheds. It's an outdoor bouldering wall (though sheltered from the rain), with a vertical section, and a nice overhanging section for that extra pump. It's generally populated by outdoor education students, psyching up for their next Melville's caves or Arapiles trip, though they don't seem to mind the occasional non-student climber.

Local Retailers




*Rock Hardware - Visit, phone (03) 5441 8886, or fax Steve Morris at 38 Neale St, Bendigo for all your climbing gear (pictured right). He has the best prices in Australia, at least from my experience, and will mail order your purchase through-out Australia for a small freight cost. Plus he's on for a chat if you need qualified advice, or just want to yak about climbing in general. He has a sizable range of climbing gear to peruse, and doesn't mind spending time with you to make sure the gear is suitable. As well as the usual ropes, slings, carabiners, nuts, hexes, cams, harnesses, helmets, belay/descending/ascending devices, ice gear, and so on, he's also got some great package deals which where 21% off RRP last time I looked. Basically everything in the shop is way below recommended retail price.

Outbound Camping - 83 Mitchell Street, Bendigo. Phone: 03 5443 0070. More for hiking equipment, than climbing, though they do have a small shelf of climbing gear. You'll find Miles quite friendly.

Snowgum - 45 Mitchell St, Bendigo. Phone (03)5443 8226. More for hiking/skiing equipment, than climbing, though they do have a small shelf of climbing gear.

Local Manufacturers


Flashpoint Sports - Maker of climbing holds. I'd imagine they primarily supply indoor gyms and the like, however, if you're like me and muck about with a home wall, they're not a bad source of cheap holds. Ask to look at the "seconds", and leftovers from larger batches. Contact Michael Bishop on 04 1987 5137


Clubs & Organisations


*Victorian Climbing Club - The VCC is based in Melbourne, but they do have regular climbing trips to Arapiles, Grampians, Buffalo, etc. If you join up (about $50 a year), you'll get 12 issues of "Argus", their newsletter, each year and discounts from many retailers, including Rock Hardware in Bendigo. However, more importantly, you'll be contributing to environmental and climbing access initiatives. They meet informally each week, at some of the climbing gyms in Melbourne. I recommend a visit to their web site. Phone 03 9462 3702 or via email info@vicclimb.org.au.
Western Victorian Climbing Club

- The WVCC is based in Ballarat. I'm not sure how much membership costs, but they do have regular climbing trips in which you can participate, and they publish a small newsletter called "Bolder", covering the clubs activities and interests. Fame and fortune may come in the form of being awarded "climb of the month". There is also a small climbing gym in Ballarat that they run, I believe, out of Ballarat Secondary College, Senior Campus, Barkly Street.
Bendigo Outdoor Club Inc. - PO Box 989, Bendigo, 3550. Many years ago I went on a couple of climbing trips run by this bush walking club, not sure if they are still doing them. They used to be called the "Bendigo Outdoor Group", and their newsletter was called the "Bog Paper"!. Phone Mr. Greg Doubleday 03 5447 8156, or try 03 5443 7436, or email buzza@bendigo.net.au.
Bendigo Alpine Club - PO Box 2406, Bendigo Mail Centre, 3554. Officially they are all about hiking, skiing, canoeing, biking, etc. Though I'd imagine at least some of the members would be into climbing as well. Phone 03 5433 6271, or email malparara@bigpond.com.

For Beginners


Based near Bendigo and looking to kick start a climbing career? I suggest you head over to the YRock (see above) with a friend or two and have a play. If you enjoyed yourself and want to pursue the sport further, perhaps getting outside on the real rock, call in on Steve at Rock Hardware (see above). He'll fix you up with a few basic essentials like harness, shoes, etc, and sell you a good book on getting started. Check out Dawn's FAQ topic on getting started, and see the Chockstone book reviews for recommended instructional media.
At this point you might investigate hiring a climbing guide, attending a climbing course, joining a club that offers group climbing trips, or finding a climbing mentor. The concept of the "climbing mentorship", is perhaps the traditional method of getting involved. Find someone experienced and patient enough to take you climbing outdoors and teach you the basics. Obviously this involves becoming friends with an experienced climber. You should be able to find some at the YRock of an evening on most weekdays. I don't recommend buying a heap of top rope gear, a book, and heading out to the crags with some mates to work it out by yourselves, though this method is certainly how many got into the sport. Good luck and above all, be safe!
See also the Links page, for Clubs, Guides & Instruction.

---
Further Reading
City Of Greater Bendigo - General info about the town on the government web site.


Home | Guide | Gallery | Tech Tips | Articles | Reviews | Dictionary | Forum | Links | About | Search
Chockstone Photography | Landscape Photography Australia | Australian Landscape Photography

Please read the full disclaimer before using any information contained on these pages.
All text, images and video on this site are copyright. Unauthorised use is strictly prohibited.