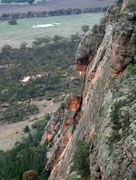 Queens Birthday long weekend found me scratching to get anyone interested in a trip at all, then suddenly we had over 10 takers for an Araps adventure. We all kind of split off into groups, meeting back for meals, so as to what the others got up to I'm not sure, but myself, Kent and Richard, the later of whom is somewhat new to climbing, managed tick a few easier lines between occasional light rain showers.
Right: Watchtower Crack (16) as seen from the descent gully.
The Saturday saw me leading our band up the Watchtower Crack (16), the classic Araps adventure route. For those unfamiliar with this gem of a line, it's four pitches long. P1 (12) and P2 (14) we combined, with Richard struggling to follow through the final moves, but valiantly succeeding, despite the drag of trailing a rope for Kent.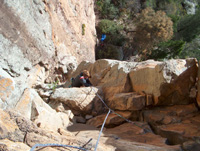 Left: Kent coming up third on P2. Bring lots of slings, or lead on two ropes to avoid drag.
P3 (16) is the crux for some and my favourite, with a delightful chimney start then a short traverse right, under the crack and up onto the face above. Laybacking the wide crack to the belay is then possible though not necessary since nice face holds exist. Two or three rusted carrot bolts provide additional protection. If you had a huge cam you'd use it, though the run out to the belay isn't that bad. A light rain made it more interesting for us. The belay, on a small ledge was probably originally accomplished with only the rusted piton and the smallest RPs, though a bolt protecting the opening moves of P4 can be easily incorporated.
The last pitch (16), probably the crux for us, contains a couple of harder moves, before finishing over very easy terrain. Fortunately the hard bits are steep and thus protected from the rain somewhat. We all topped out at mid afternoon and had a lazy lunch on the summit.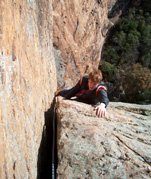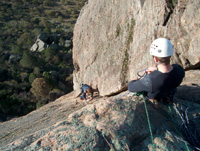 Above Left: Kent arriving at the belay atop P3. Above Right: Belaying the final pitch from the summit.
Saturday night we did the communal pasta thing, with everyone contributing ingredients. A nice fire, lots of good conversation and consumption of alcohol later, it had become quite a feast. Sunday morning found half the crew off to Dec Crag for a day of beginners intro. Others decided to queue for the Bard (though later gave up waiting). That left myself Kent & Richard looking for something to climb again. Rich was not feeling too grand, so Kent & I headed over to Flight Deck Wall, where I led the ring bolted 18 on the left side buttress. The grade 23 roof finish didn't appeal (so I opted for the slippery run out traverse). Several committed moves later and I was at the chains. A fun lead!
Kent attacked Have A Nice Flight (25), but unfortunately chose the wrong path at the crux and had to bail. A situation that was only to come to light later than night at the Nati pub, where upon much discussion of the topic ensured. Tail between our legs, we headed back to the pines for lunch, rounded up Richard again, and took him up P1 of Resignation (10) on Tiger Wall for something confidence inspiring. Sadly he didn't feel up to the task of following the remaining pitches so we rapped off the bolts and TR'ed the 21 below, an awesomely fun little route. Kent took a crack at the 25 to it's right, but gracefully declined to ascend it's polished surface after a gallant tête-à-tête with a mono-pocket. Needing something easy to round off the day, we ran up P1 of Kestral (13), the delightfully thought provoking open book corner nearby. Lots of three dimensional bridging later, and a little whimpering from me as I tried to squeeze through the chimney with the rack and almost got stuck, and we were rapping down again, in the fading light.
The Nati pub beckoned, and we all gathered, crowding the pool tables and filling the dinning room with climbers. (A chance conversation with a certain well known climber, may lead to an interview for Chockstone, fingers crossed).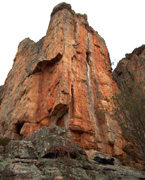 A wet morning found our numbers thinned, and me little in the mood for leading. We hiked into King Rat gully, but I didn't have the motivation to take on King Rat (18), which had been our objective. That overhang just looked too intimidating and the damp gully uninspiring. Yeah, call me a wuss! Instead we turned to that good old trusted mode for confidence restoration: top roping. At Colesseum Wall we decided to get in some much needed crack climbing practice. Christian Crack (20) and it's neighbouring 18 "The Rack", proved to be extremely enjoyable on TR, though the former required me to don the crack gloves before I could convince my flesh to withstand the jams. With the gloves on, it was so comparatively easy it felt like cheating, but dam it was fun!
Right: Christian Crack on the right of the arête, the 22 face route on it's left.
The grade 22 face to the left of Christain Crack proved easy enough to despatch on TR, though it looks like a scary lead. A quick lunch later and we headed back to camp to pack up. Driving out, we were lured by Dec Crag for one last route. Kent TR'ed the 24 there with one dog feeling happy with the effort. I had to haul past every crux move, only climbing the easier start and finish. Ah well, it was still fun. Departing with the humorous sounds of a frustrated leader bashing endlessly on a nut he'd fixed into Little Thor, we drove home much fatigued but also much rewarded by a grand long weekend.
Home | Guide | Gallery | Tech Tips | Articles | Reviews | Dictionary | Forum | Links | About | Search
Chockstone Photography | Landscape Photography Australia | Australian Landscape Photography

Please read the full disclaimer before using any information contained on these pages.
All text, images and video on this site are copyright. Unauthorised use is strictly prohibited.