| | | |
| --- | --- | --- |
| Mt Arapiles / Grampians, June 2002. | | |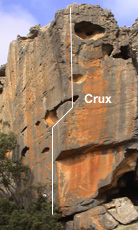 The long weekend presented the attractive prospect of a three day climbing trip to a small delegation of the Chockstone team comprising of myself, Ben and Kent. Enthusiasm mounted as plans were made and the final team assembled in the wee small hours of a foggy Saturday morning. The weather report had not been particularly inviting. However, a little rain had never stopped us in the past so we saddled up and moseyed on out. We made Stawell in a few hours and stopped to do a little hunting and gathering at the local supermarket. Supplies loaded, our journey continued to "Summer Day Valley" at the ever popular Mt Stapylton in the Grampians. Dark clouds had covered the sky by this stage and a cold, brisk wind carried an occasional misty rain, so we formulated a plan of heading into Van Dieman's land thinking the steep walls might be protected from the elements.
By the time we made Sandinista Cliff the sun had poked it's head back out again, so we instead hiked up to Hollow Mountain block where-upon the lads talked me into leading "Golden Showers and Group Sex", (pictured right and below) the 21m grade 20 that follows an arÍte past a series of widely spaced jugs and mini caves. The first few metres can be protected with carefully placed smallish cams, until you reach the first cave, which is big enough to lie down in should you be feeling shagged out. I did the climb on-sight, without even reading the guide book entry and this was almost a serious mistake. In my mind I thought the climb a trad line, with one or two bolts and geared up accordingly. With the word "trad" upper most in my thoughts I somehow I failed to see the first bolt, which resides about mid-way up, just as you swing around and swap sides of the arÍte. It's a wild move on smears, though it's possible to clip the bolt by tunnelling through the mini cave; a novelty move that is completely unnecessary.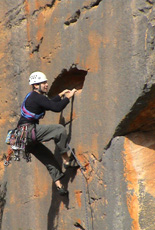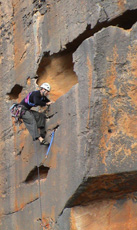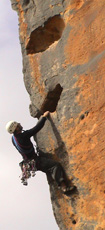 Above: Me leading "Golden Showers and Group Sex", 21m grade 20. Adhering to the provocative title, the route is a hoot of a climb that certainly delivers on excitement and novelty. Watch the

Video Clip (2.3 Meg, 37 seconds).
Warned by my belayer I made the clip, and looked up to see another bolt a mere metre or so above, protecting the crux sequence. I clipped this just before a savage flash pump destroyed hopes of a clean ascent, forcing me to dog. Back on the wall again I powered through the final jugy moves, only to completely fail to notice the third bolt just left of the upper cave. With a few choice expletives I topped out having unnecessarily run it out five or so metres. Again my mind was thinking "trad", and expecting to find gear in the upper cave, which is instead smooth and featureless. An exciting lead indeed!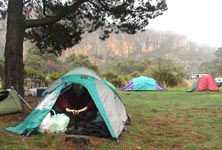 By the time Kent and Ben seconded the line, the light drizzle had turned into a down pour. We huddled in the massive Hollow Mountain cave system, ate lunch and generally filled in time waiting for our fates to change. While the storm past the rock was now well and truly saturated so after a brief exploration we departed. On the way back we checked out Summer Day Valley on the off chance of finding a sheltered line. None was discovered though we did see a copious amount of abandoned gear, including a pack with a rope, and a couple of static lines anchored for abseil. We surmised that the owners must have left in a hurry to avoid the rain. Leaving their gear in place we returned to the car-park, expecting to see a school group or two, but only a couple of cars were there. The mystery of the abandoned gear remained.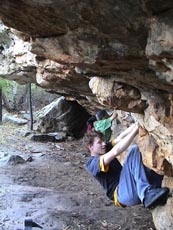 Right: Ben arises from his tent to a misty wet morning at Arapiles. Below Left: The lads bouldering at "The Playground" right side of the upper central gully.
We drove to Araps and set up camp, after Kent discovered the absence of his bivi gear and was forced to pick up a $20 sleeping bag in Horsham Kmart. The eve was spent at the Natimuk pub, where in he regained face by thrashing us at pool. A cold and wet Sunday morning soon greeted our sleepy selves, and we arose to discuss the day's options. The rock was way damp, so we hiked up the central gully track veering right at the last moment to gain a small bouldering area known as "The Playgorund" (pictured left). After a hour or so of pulling on muddy slopers we decided it was time to get up something damp or not.
Surprisingly we found "Mantis", the 30m grade 14 behind the Plaque on Fang Buttress, to be totally dry despite the persistent drizzle. I'd lead it a couple of times before but there was little other choice so we shot up it again, queuing up behind another party. Some frantic dude accosted us, wanting to know if anyone had seen his gear. He left a massive set up above Mantis, including a static line and no less than 14 locking crabs with a mixture cams and nuts. I guess he was expecting to to haul the cliff away to a drier location or something. In any case he'd gotten rained out and left the whole mess up there overnight only returning to claim it at lunch time the next day. An irate notice appeared at the toilet block reporting "Stolen" gear. Presumably he got it all back because the notice was gone the next day.
Below Right: Me leading up "Mantis" the 30m grade 14. The crux is a little roof problem about halfway up. It's just a jug haul, but some people find it tricky. Quite a fun climb, though on this occasion it didn't seem to boost morale. Of note are the birds that live in the little holes near the start of the line.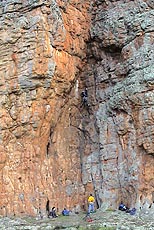 Spirits were at a low ebb so to cheer us up I lead D-Minor, the famously popular grade 14 pinnacle at the left of the Organ Pipes and a personal favourite that never fails to please. The sun came out briefly to dry our backs and things started looking up. We couldn't resist using the D-Minor decent rap as a top rope on "Aardvark", the 18m grade 18; a thoroughly recommended outing. I'd lead it before. The crux is the tricky opening moves, which soon lead to easier terrain, with a second crux at a thin crack towards the top. If you've never done "Lemmington", grade 19, on the opposite wall I can recommend it as well, though beware the traverse.
It started to rain again, so we called it a day, cooking up a big pasta meal with all manner of vegetables and a large quality of salami. It was a culinary masterpiece made special by Ben's Mum's home made sauce that he'd somehow managed to bag. Late evening found us back at the pool table for series two, and morning once again completely failed to be bright and sunny. Disappointed we picked out a line determined to get up something even if it meant climbing through a blizzard. The feat proved unnecessary. While the sun never really broke free of the clouds, the rain held off. We ticked "Dirge", the 85m grade 17 on the right side of the Organ Pipes, stopping at the raps chains above "Tannin" and descending down. The first pitch of Dirge was a choice lead, quite rewarding, with the crux being a couple of layback moves about mid-way. If the second pitch was more than a scramble it would be worth a few stars.
Rapping down "Tannin" I cast an eye over the moves. Tannin, the 40m three star grade 19, had been on my "To Do" list for a few years but I'd always been intimidated by it's apparent steepness and the slippery appearance of the holds. I'd seen a few people flail about on it and opted to avoid it on more than one occasion. This time my companions talked me into the lead, and I'm glad they did. The line is not nearly as steep once you're on it. The moves are well chalked up and very obvious. The gear is great; you'll not need anything smaller than a number 2 nut, nor anything bigger than a #2 camalot. I managed to place a #10 nut so firmly it took a rock to bash it out afterwards. The crux of the route is the little dog leg traverse about halfway up. It looks scary from below when you realise you'll be in for a pendulum fall should you come off. The feet are a little tricky, however, there is gear at the commencement of the traverse and more again at it's conclusion (small cam in under-cling). Once you pop the tiny roof move above you're on a bomber jug and all fears melt away. In fact this exact feeling replicates itself over several sections: sure there are grade 19 moves, but they are broken by comfortable rest stances or bomber jugs, making the line extremely enjoyable. Compared to some 19's such as "Morfdd" that can be desperate flail fests, "Tannin" is without a doubt the best climb I've done at that grade. No wonder it gets three stars! As a final note on this line, beware the washers at it's summit rap chains. They are rusty and flex quite alarmingly, though there are ample trad options for the belay.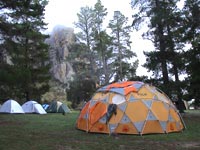 Left: A massive dome tent that dominated the pines campground. The usual array of rainy day activities occupied the Pines inhabitants, including the ever present hakey-sack players, jugglers and slack rope walkers. I was surprised at the number of people present on such a poor weekend weather wise.
We concluded the trip with the obligatory, and hurried top rope of something on the plaque to fill in the last hour, this time "Dramp", the 15m grade 21 that climbs through the cave roof. All up a fun long weekend marred only by the weather. The highlight for me, was my ascent of "Tannin". I think the trip proved that some climbing can be done even this late in the year on a weekend forecast for rain.
Home | Guide | Gallery | Tech Tips | Articles | Reviews | Dictionary | Forum | Links | About | Search
Chockstone Photography | Landscape Photography Australia | Australian Landscape Photography

Please read the full disclaimer before using any information contained on these pages.
All text, images and video on this site are copyright. Unauthorised use is strictly prohibited.