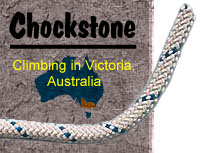 Sponsored By
ROCK
HARDWARE

| | |
| --- | --- |
| | For All Your Climbing Gear! |

DMM: The DMM "Catch" is a towable back-up device (Fall Arrester) confirming to EN 12841:2006 Type A/B. The Catch features a non-aggressive stainless steel cam which is spring loaded allowing it to be positioned on the rope while the user is working.2 left $239.00
20% Off

Climbing Media Reviewed
[ Books | Movies | Screen Shots | Best Stuff | Aussie Titles | Latest Reviews | Reviewed Only | All ]

Climb On
Skills for more efficient climbing - How to rockclimb series.
| | | | |
| --- | --- | --- | --- |
| Format | Book | Category | Instructional |
| Title | Climb On | Pages | 132 |
| Author | Hans Florine, Bill Wright | RRP | $30.00 AUD |
| Publisher | Falcon; Globe Pequot Press | Reviews | 1 |
| Edition | 2002; ISBN 0-7627-1168-X | Ave Rating | (5.00 of 5) |
User
Comments

IdratherbeclimbingM9
8/17/2004

Ever wondered how the elite get up major climbs in minimal time?
..., then read this book and you will not only find many answers but will also have good solid tips on helping you avoid an unwanted bivvy, beat a storm, or simply get more pitches done in a limited time.
Whats more you will learn how to do all this in a reasonably safe manner, though (in my opinion) the book requires an attitudinal change from the traditional concept of 'safe'.

I will start with the negative 1st.
I think the book will date because it has appendices listing speed climbing feats.
Recent history and the competitive spirit amongst those capable, has seen many records broken. I think this trend will continue.
It also contains specific beta on how to do the Nose of El Capitan (Yosemite) in a day, or the Yellow Spur (Eldorado) in quick time; both these regarded by the authors as achievable for many if they apply the techniques contained there-in. This section though interesting is hardly relevant to us here in Australia (assuming that these climbs are not our goal)!
From a historical perspective it is good that the speed climbing feats have been recorded though, as this in itself will prove interesting in years to come.

The attitudinal change I referred to earlier basically amounts to being prepared to 'run it out' further than what is regarded as 'todays' conventional wisdom. This in tandem with simul-climbing, and/or solo techniques to further enhance time saving.
It also builds on the premise that REAL time saving is the addition of all the multitudinous little bits of time that can be gained through being efficient.

Although I have mentioned these aspects as negative I have still given it 5 stars because its the only contemporary book that I know of which deals with these topics. (There is precious little out there as a resource on this issue/s so I can accept its flaws)!
It does list further reading sources, but many of these only deal with the topic/s in anecdotal or historical perspective rather than 'nitty gritty how to' perspective.

OK, re nitty gritty;
It covers Definitions, Ethics, Style, Multipitch climbing, Speed climbing tips / strategies, Simul and Solo climbing, Gear selection, Food & water, Training, competitions and sport routes.

Its contents apply to most genre of climbing whether it be free or aid.

Sprinkled throughout these topics (and their sub-topic derivatives), are many gems of wisdom (from front line practioners) of the art/s of speed climbing / climbing efficiently. The nuances are often subtle, but add up to time saved / gained.

There is a place for this knowledge, as there are many situations where speed = safety, but in my opinion the attitude more than the techniques described (for the most part) are not necessarily for the novice-intermediate climber. Perhaps I am too conservative but my advice is to apply them at your own discretion!!
The "to hell with how its supposed to be done" ethic, flies in the face of fear based on REAL concerns (for me)!

There is however contained in this book, a wealth of easy to apply 'refinements' to your existing system which will provide bonus time savings.


Home | Guide | Gallery | Tech Tips | Articles | Reviews | Dictionary | Forum | Links | About | Search
Chockstone Photography | Landscape Photography Australia | Australian Landscape Photography

Please read the full disclaimer before using any information contained on these pages.
All text, images and video on this site are copyright. Unauthorised use is strictly prohibited.