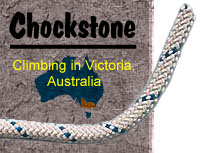 Sponsored By
ROCK
HARDWARE

| | |
| --- | --- |
| | For All Your Climbing Gear! |

Black Diamond: "ATC" Belay device - Suits 9-11mm ropes - Great all-rounder. Anodised Bronze. $25.00
24% Off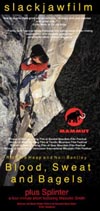 Climbing Media Reviewed
[ Books | Movies | Screen Shots | Best Stuff | Aussie Titles | Latest Reviews | Reviewed Only | All ]

Salathe - Blood Sweat And Bagels
(Doco) Free Climbing The Salathe Wall on El Capital, Yosemite.
| | | | |
| --- | --- | --- | --- |
| Format | DVD | Category | Non-Fiction |
| Title | Salathe - Blood Sweat And Bagels | Mins | |
| Starring | Neil Bentley, Richard Heap | RRP | |
| Director | Slack Jaw | Reviews | 4 |
| Edition | VHS 2000, DVD 2005 | Ave Rating | (4.50 of 5) |
User
Comments

Mike
7/9/2005

At long, long last, a climbing documentary that is not just a bland patchwork of disjointed scenes, each one yet another tick of some distant boulder problem or soulless sport route. Nor can this movie be pigeon holed with the likes of the "home movie road trip" variety. No ladies and gentlemen, what we have here, in "Blood, Sweat and Bagels", is nothing less than an actual plot, a story if you will, complete with actual characters that we can begin to understand, like, relate to and admire.



Rather than a parade of climbers, and a myriad of routes, the movie focuses on two men and one climb: an attempt to free the Yosemite classic of "Salathe Wall". UK climbers Neil Bentley and Richard Heaps set forth from their homes and embark on the adventure of a lifetime. The audience, rather than being forced to endure belayer cam bum shots gets the distinct benefit of a dedicated camera crew (2 camera men, one rigger), who do not make an appearance themselves to spoil the immersing nature of the viewing. Combine this to very skillful editing and the movie takes actual direction.

Maybe I'm biased towards a fondness for trad climbing, and maybe I'm just overjoyed to have found a climbing doco that goes that extra step, but quite frankly I'm hard pressed to find any fault whatsoever with this title. Originally I thought "4 and half stars", then I couldn't think of anything negative to say, so five stars it is!



The movie begins in the UK where we are introduced to Neil and Richard and shown the intensive training that they underwent. Having never been to either the UK or US myself, my impression was that the little crags they were training upon, didn't quite cut the mustard in terms of the Big Wall experience they would soon encounter. Picking the odd sunny day and forcing themselves to finger jam, otherwise layback cracks that looked little higher than 20m in preparation for attempting to free 1km of cliff face seemed optimistic to me. But they go at it with zeal, and it has to be said, they look ripped and ready for anything.

The dynamic duo then make their way to Yosemite (USA), practising on some smaller routes to get a feel for the rock. I've heard of Brits coming over here to Australia and making the mistake of continuing their normal climbing practice of going hard while the sun shines and resting on wet days, only to wind up in hospital after three straight weeks of non stop climbing. I don't know if this is exactly what befalls one of our heros, but he certainly does require medical attention not far into the trip.



I won't spoil the rest of the plot by describing every minute, but suffice it to say they live their dream, and take on Salathe Wall, over 5 days, becoming progressively thinner and more exhausted each day. As mentioned before then camera crew really does let us enjoy the team, their progress, the ups and downs, mental fatigue, and of course the climbing action, a lot of it shot from above, with close ups and steady, quality filming. The fact that the camera crew have rapped down 300 or more metres and camped out on various ledges, probably jugging up and down all day for close ups and audio checks and so on, is unseen and unknown during the movie. I really must compliment the guys on how well this comes across. The sense of there being just two guys battling the wall is outstanding, and really gets the viewer sucked in to the emotional side of it. Will they make it? Can they free this next bit? God, not bagels for dinner again!… It's gold!

DVD Extras include more scenes of training in the UK and US, outtakes, crew shots, photo gallery, and directors commentary which I found quite interesting. There's also a little 4min clip called "Splinter" about some hard dude finally ticking a five year project on his home woodie. All up, quite a lot of material. So the disc is not short on content.



So in summary… one of the best climbing docos I've seen. Lots of trad crack climbing, big wall adventure, great filming, and the thing that's being missing from other climbing documentaries; character development and a plot with continuity and substance. This is far, far from some road trip home movie cunningly edited and jazzed up with a sound track. Blood, Sweat and Bagels is movie that has won numerous Mountain Film Festival awards, and rightly so. Recommended viewing!
richie cunningham
1/31/2005

not the usual flash production u come to expect from slack jaw ...but focuses more on the human interaction when climbing. The ascent is part aid/ free. Highlight footage is probably seeing richard heap brought to tears on an offwidth that seemingly never stops. He leapfrogs his biggest cam for at least 8m. At this stage they gave up on freeclimbing the wall and started to enjoy themselves, a unique concept eh ? Richies pick of the week !

IdratherbeclimbingM9
9/16/2005

Hard to add more after the reviews above, which I agree with.

The actual cut of BS&B is enjoyable in its own right, however I found much detail in the extras, which amounts to lengthy viewing.

They planned on 5 days but it became 6. They ran out of food and water, and were even hungry for bagels after joking about how good these are when one is parched of thirst.
This thirst may have been exacerbated by the accidental dropping of a bottle (2 litres worth). These miseries are usual big-wall fare however, and their typically Brit sense of humour in the face of such deprivations I found suitably dry and to my liking.
Neil 'acts up' a little to the camera on the last pitch jumar out; however he really only looked like he felt, … which I found poignantly captured by the film crew who utilised time lapse photography to good effect. Particular example being Neil slumped on the rope in the heat while shadows lengthened in the valley, ... this was clever editing! Similar was the juxtaposition of their thirst with close up to panned out, shots of the Merced River / view, far below mocking them.

I found their comments on the time taken for the experience quite insightful also. It had me thinking about what I would do with two extra weeks of my life, if given the 'month' it seemed like to them, in the 'doing' process! If this sounds convoluted then you are probably right; but big walls will do that to you; i.e. cause a certain amount of introspection / reflection.

About the only negative thing I found is that the sound volume was variable in places and I found myself turning it up to hear their banter, and then turning it down soon after when the film crew could obviously get closer to make the microphone/s more effective. This was only a minor irritation though, given the enormity of the task of filming in such an environment. They achieved this admirably, to the extent that one of the film crew was getting pumped simply holding a tripod steady to get the classic zoomed in shots.
It was worth it. I praise them for showing dirty fingernails, wry grins from stubbly bearded and grimy faces as well as the vast setting this is played out in ... Genuine experience here for the armchair amateurs to savour, coupled with an enjoyably unobtrusive sound track that reflected the moods encountered, and moments like when playful updrafts dispersed excess chalk from when Neil chalked up during a traverse.

If you aspire to high adventure on a wall then this is excellent viewing. If you are not interested in climbing per se, then it will give insight into what it takes to succeed in getting up a big wall, as well as some of what makes these two individuals tick.

rod
12/1/2008

THE doco for El Cap viewing. I''ve had this for ages now and it gets a run more regularly than anything in the collection.

Some grit and sport in the extras section plus the Malcolm Smith enigma caught in action on Splitter.
---
Further Reading:
Slack Jaw - Details from the maker's web site.
Rock Hardware - Purchasing within Australia

Home | Guide | Gallery | Tech Tips | Articles | Reviews | Dictionary | Forum | Links | About | Search
Chockstone Photography | Landscape Photography Australia | Australian Landscape Photography

Please read the full disclaimer before using any information contained on these pages.
All text, images and video on this site are copyright. Unauthorised use is strictly prohibited.