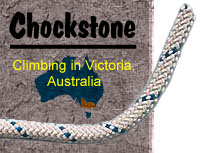 Sponsored By
ROCK
HARDWARE

| | |
| --- | --- |
| | For All Your Climbing Gear! |

DMM: The DMM "Catch" is a towable back-up device (Fall Arrester) confirming to EN 12841:2006 Type A/B. The Catch features a non-aggressive stainless steel cam which is spring loaded allowing it to be positioned on the rope while the user is working.2 left $239.00
20% Off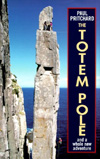 Climbing Media Reviewed
[ Books | Movies | Screen Shots | Best Stuff | Aussie Titles | Latest Reviews | Reviewed Only | All ]

Totem Pole, The
Devestating accident while climbing Tasmania's famous sea stack.
| | | | |
| --- | --- | --- | --- |
| Format | Book (Australian) | Category | Narratives |
| Title | Totem Pole, The | Pages | 216 |
| Author | Paul Pritchard | RRP | $30.00 AUD |
| Publisher | Mountaineers Books | Reviews | 6 |
| Edition | Hardback (April 2000) | Ave Rating | (4.00 of 5) |
User
Comments

Mike
6/20/2002

Technically Paul comes from the UK, but since most of the content of the book occurs within Australia, I've flagged it as Aussie. Anyway...

Paul Pritchard is living the climbers dream. Money in his pocket, travelling the world with his climbing partner and girlfriend Celia, hitting the best destinations and ticking big numbers. They arrive in Australia and finding Arapiles too hot, head down to Tasmania to run up the infamous sea stack "The Totem Pole".

Just getting on it is an adventure in itself requiring a dubious traverse along an old fixed static line. The route goes at high twenties. Paul is nervous about the ascent but it's within his abilities. Celia is not sure she wants to be there. They press on, Paul rapping to the base of the beast in preparation for his lead. Suddenly his world comes crashing down upon him, quite literally, in the form of a large TV sized boulder that has been dislodged from above, possibly by the movement of the abseil line. The block strikes him square on the head, causing brain damage and partial paralysis. The sea fills with blood and Celia undertakes a harrowing rescue.

"The Totem Pole" tells the story of the events leading up to this catastrophic tragedy and describes in detail the following year of suffering and pain, as Paul undertakes a recovery of sorts, attempting to walk again. Eventually the story concludes with Paul's return to the scene of the accident 12 months later to watch an ascent by some climber friends and reunite himself with the object of his misery. It's a powerful book, well written with sections that would stir emotions in even the hardest of climbers.

I found the "flash backs" to periods in time before the accident to be quite interesting. In one instance he describes a leader fall that ripped several pieces of gear, shattering one (later investigation by manufacturer found weaknesses), to leave him decking out and badly injured. He also spends a large portion of the novel detailing his recovery in a diary style of writing that may not appeal to all. Weeks will go by where in the smallest of successes obtained from moving one muscle normally again might well be the highlight. Sounds dull, but in fact it comes across as quite insightful. He kind of rediscovers himself, analyses his climbing lifestyle, relationships to friends, family, etc.

It may no be everyone's cup of tea, but it's a powerful read and makes you think - rockfall can happen to the best of us.
Anonymous
7/23/2002

Although this book has only a glancing relationship with climbing, it is an enthralling and captivating story, even more so than Deep Play. A story of struggle and coming back from the brink. As climbers, we take for granted how luck we are.
Anonymous
7/31/2002

The Totem Pole (1999)
Paul Pritchard

The Essential Gist: Triumphant from winning £2000 on the Boardman-Tasker literary lottery prize, Pritchard and partner head off whooping, on a round-the-world climbing orgy. At almost the first port of call a single brick dislodges from the top of a Tasmanian sea-stack and takes out half of Prtichard's brain. Life changes instantaneously. There follows a struggle to come to terms with changed circumstances both physically and mentally.

60-second summary: This would be a powerful tale anyway, but in Pritchard's gifted hands it is a tremendously moving and heartening story about coping with about as big a life change as you can get without actually pegging it. The story clearly transcends mere climbing of course, but Pritchard's climber's sensibilities make the narrative especially relevant and compelling to the outdoor community. The power of the writing is enhanced by Pritchard's straightforward style, his humour and an amazingly stubborn refusal to give in to defeatist introspection as he struggles to regain some semblance of control over his limbs and life.

Accolades? With 'Totem Pole', Pritchard deservedly became the first person to win the Boardman Tasker for the second time, and it went on to win the Grand Jury prize for best book at the Banff Book festival.

Like this? Try these….Deep Play, Paul Pritchard.

Joe
2/20/2003

A refreshing change... and not what I thought it would be. Makes you well aware of the potential dangers encountered in the sport. This is a good book for people to make their minds up about wearing a helmet.
Anonymous
5/9/2005

I seen Paul do a reading from the book in 2000 in Lancaster. England. I picked up the book there and got a signed copy... very good book especially when looking at the fraility of the human body, plus the willpower and strength of the human body all roled into one...

Whitehorse, Yukon
Anonymous
10/17/2006

I loved this book. Very honest. I have alot of admiration for this man.
---
Further Reading:
Amazon - Details on purchase, reviews, etc.
PDF Intro - A PDF document introducing the book. From Paul Pritchards web site.
Paul Pritchard - His web site.

Home | Guide | Gallery | Tech Tips | Articles | Reviews | Dictionary | Forum | Links | About | Search
Chockstone Photography | Landscape Photography Australia | Australian Landscape Photography

Please read the full disclaimer before using any information contained on these pages.
All text, images and video on this site are copyright. Unauthorised use is strictly prohibited.